"I don't love you:" Homicide suspect accused of standing over victim's body, firing as he lay dying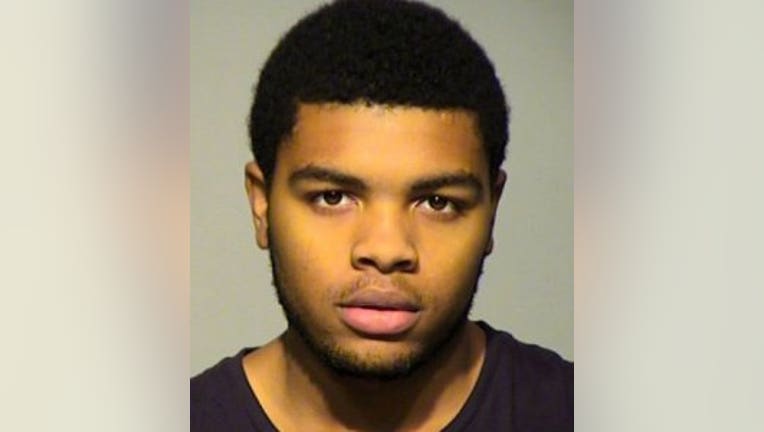 article


MILWAUKEE -- A criminal complaint contains new details about a September homicide in Milwaukee. The suspect in the case was recently apprehended.

18-year-old Marreon Jones of Milwaukee is accused in the shooting death of Martez Fitz, which happened on September 17th near 95th and Brown Deer Road. He faces one count of first degree intentional homicide, use of a dangerous weapon, and one count of possession of a firearm by an adjudicated delinquent.

Police responded to the scene around 8:00 p.m. on September 17th and found a large crowd gathered -- with people yelling "help him, he's shot." Fitz was found lying motionless in the street, with a pool of blood surrounding his head. An officer was directed by a citizen to a gun in the street. A Smith and Wesson long rifle was recovered near Fitz's body. A running vehicle with the driver's side door ajar and trunk open was found near the gun.

Fitz was pronounced dead at the scene. An autopsy revealed he had suffered multiple gunshot wounds and his death was ruled a homicide.

Investigators interviewed a witness, who indicated they knew the victim and the shooter. This person identified the shooter as Marreon Jones, and pointed him out when shown a photo array. Prior to the shooting, the witness said Fitz exited a vehicle, and Jones and two others were walking by. The witness said Fitz and Jones exchanged words, and Fitz was armed with a long, black gun. The witness said Fitz never pointed the gun at Jones, but said Jones raised a black, semi-automatic handgun, pointed it at Fitz and fired five times. The witness said Jones then walked up to Fitz, who was laying in the street and stood over him. The witness said Fitz said "I love you," and Jones said "I don't love you." The witness said Jones then fired at Fitz three more times.

The criminal complaint notes that Jones was adjudicated delinquent in 2014 in a case involving false imprisonment.

An arrest warrant was issued for Jones after the complaint was filed on September 25th. He made his initial appearance on November 4th after he was taken into custody. Probable cause was found for further proceedings -- and a preliminary hearing was set for November 13th.

Cash bond has been set at $350,000.