'I did the homicide:' Man out on bond in domestic violence case accused of strangling wife to death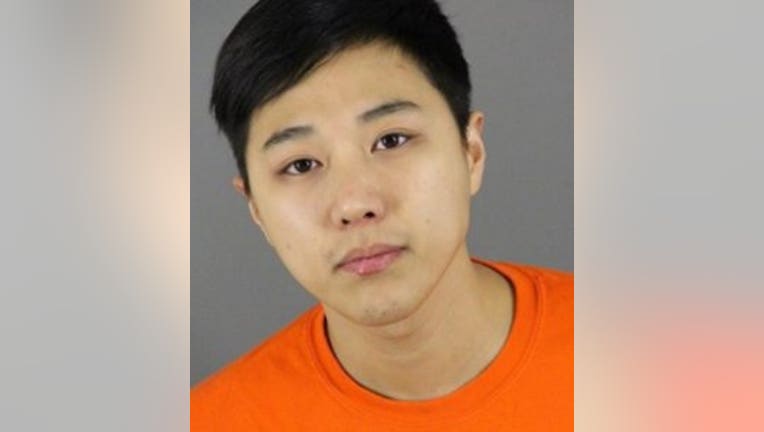 article


WAUKESHA COUNTY -- A Franklin man has been charged in connection with the murder of his estranged wife.

Prosecutors charged Sunkeun Kim, 29, with one count of first degree intentional homicide and two counts of felony bail jumping.

According to a criminal complaint, on Sunday evening, Nov. 18, Town of Brookfield police officers were called out to a condo complex near Bluemound Road and Brookfield Road, after a 911 caller indicated her roommate, Madeline Kim, 27, was dead. The roommate said the front door to the home was ajar, and Kim's body was found on the floor in her bedroom. The roommate said Kim was last seen on Thursday evening, Nov. 15 when she left to go to her parents' house for the weekend.

A neighbor told investigators late on Friday, Nov. 16/early on Saturday, Nov. 17, he woke up to "several loud thumps in a row," with his bedroom adjacent to Madeline Kim's bedroom wall. He said he got up and looked out the window and the lights in Kim's unit were off. He said he noticed a black Toyota SUV parked in front of the unit's garage, and said this was suspicious because he knew the residents were out of town. The complaint notes Sunkeun Kim drives a black Toyota SUV.

The complaint notes at the end of September, Sunkeun Kim made his initial appearance in court in Waukesha County on domestic violence charges, including strangulation, false imprisonment, battery and disorderly conduct for incidents in August and September allegedly involving Madeline Kim. The criminal complaint in that case said on Sept. 22, Madeline Kim indicated Sunkeun Kim had been violent with her after "she had three drinks, and he only allows her to have two." She said he also opened a credit card she received in the mail without her permission -- and told her he wanted a divorce, and she would need to repay his parents for the wedding. She said he slapped her in the face, and when she tried to leave, he took her phone and keys before pushing her onto the bed and strangling her. She said she lost consciousness and "thought she was going to die." She said each time she attempted to leave, she was strangled or hit. She was eventually able to get her phone -- texting a friend "save me." The friend showed up and picked her up.

She told investigators Sunkeun Kim had threatened to kill her, the dog and himself, and showed investigators pictures from late August when he physically assaulted her during an argument about finances.

At this point, Sunkeun Kim was released on $15,000 bond, and ordered to have no contact with Madeline Kim or her residence. The complaint said Madeline Kim told investigators "she was scared of Sunkeun, but loved him and didn't want him to get into trouble." She said she believed the physical abuse would continue, and was progressively getting worse.

Madeline Kim filed for divorce on Oct. 29, the complaint said.

The complaint said Madeline Kim reported Sunkeun Kim contacted her on Oct. 10 at the University of Wisconsin-Milwaukee Student Union. He was charged with felony bail jumping.

After she was found dead, a search warrant was executed at her home, and the complaint said investigators could not locate her cellphone. The complaint notes Sunkeun Kim took Madeline Kim's phone during the prior domestic incidents.

As a result of the prior alleged incidents, the complaint said Sunkeun Kim was required to be on GPS monitoring. Investigators learned of a "tamper alert" related to Sunkeun Kim's GPS device on Monday, Nov. 19, and he reported that he was "having a battery problem with the device over the weekend," and soon arrived at the GPS company. The complaint said of the two tabs on the GPS tracker that would set off a tamper alarm, the top one was compromised. The GPS records revealed Sunkeun Kim was near Bluemound and Brookfield on the afternoon of Friday, Nov. 16 -- less than a quarter mile from Madeline Kim's home.

The complaint said on Tuesday, Nov. 20, detectives observed marks on Sunkeun Kim, including abrasions on his left hand and a burn mark on his left arm. This, after he was approached by the detectives while walking through an alley, who said they wanted to talk to him about his wife. He said he "just heard the news," and followed the detectives to the Waukesha County Sheriff's Department because they had a search warrant for his phone.

While at the WCSD, the complaint said Sunkeun Kim made statements to the detectives without being questioned, including "I don't want to go to prison," and "I need to go home to Korea."

A search of Sunkeun Kim's phone revealed searches for things like "shoehorn ankle bracelet trick," "if you are stabbed in the neck," "carotid bleeding," stun gun and stun gun side effects. These searches were deleted, but recovered by investigators. Sunkeun Kim was then taken into custody.

He told investigators on Friday, Nov. 16, he tried to remove his GPS device in the shower. The morning after his arrest, on Wednesday, Nov. 21, the complaint said caseworkers went to speak with him as they do for all new lockups, and he was advised of the homicide charges. The complaint said he told them "I need you to tell my attorney I did the homicide. Obviously I'm on GPS."

The complaint said an autopsy revealed Madeline Kim was strangled to death and suffered blunt force trauma to the head.

Madeline Kim's mother indicated Sunkeun Kim moved about $23,000 out of the joint bank account for Madeline and Sunkeun during the first week of November, and noted that her daughter was "scared of Sunkeun" and "afraid he would kill her."

Kim made his initial appearance in court in this case on Wednesday, Nov. 21. Cash bond was set at $1 million, and a preliminary hearing was scheduled for Dec. 13.