Hungry? Wisconsin State Fair officials announce 2017 "Sporkies" finalists; which will you try?
WEST ALLIS -- Wisconsin State Fair officials on Monday, June 26th revealed the 2017 "Sporkies" finalists, as the fair gears up to host its fifth annual food competition.

According to a news release from Wisconsin State Fair officials, eight finalists have been selected from 31 entries.

The eight finalists are as follows: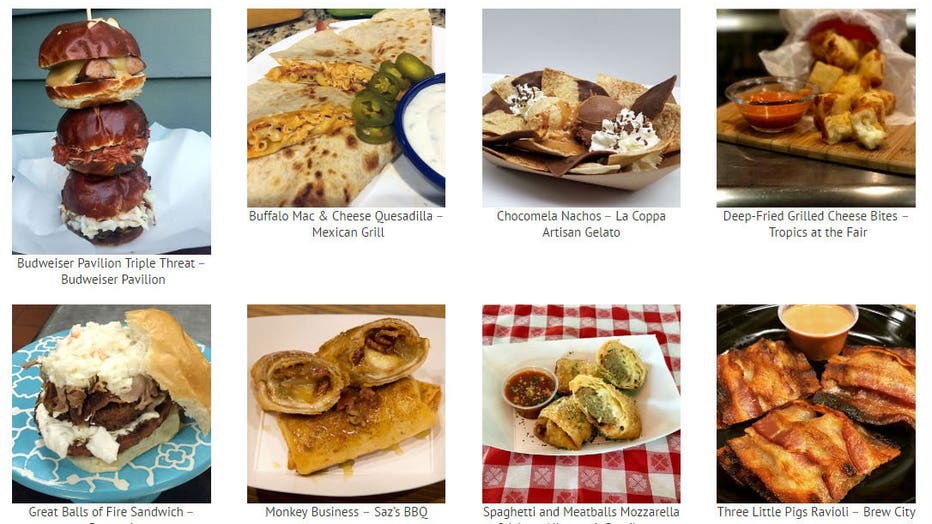 2017 "Sporkies" finalists (PHOTO: Wisconsin State Fair)


CLICK HERE for the full list of Sporkies entries.



Which will you try? VOTE in our poll:



A panel of local celebrity judges, with some help from fairgoers will choose the recipients of four Golden Spork awards during this year's Wisconsin State Fair, which will take place Thursday, August 3rd – Sunday, August 13th.

Judging begins at 11:00 a.m. on August 9th at the Bank Mutual Amphitheater.

"Wisconsin Foodie" host Kyle Cherek will emcee once again, and the celebrity judges include Super Bowl Champion LeRoy Butler, Lori Fredrich, OnMilwaukee.com senior food and dining writer, Steve Palec, Milwaukee radio veteran and FOX6's Nicole Koglin!

The judging panel will also include a lucky fairgoer. Interested foodies will be able to enter the contest starting Tuesday, July 11th at 9:00 a.m. via Twitter and Instagram using the hashtag #SporkiesJudge2017.

Entries must be completed by Friday, July 28th at 9:00 p.m.

You can take part in this competition by tasting the Sporkies entries at the fair, and voting for your favorites. The fourth Golden Spork trophy will go to the "Fairgoers' Fave." Voting can be done on Facebook via a voting app, on Twitter and Instagram using the hashtag #FairgoersFave, or at the Guest Services Pavilion, located on Central Avenue near Central Park and the Exposition Center.

Judging for the #FairgoersFave will be open from Thursday, August 3rd – Tuesday, August 8th, and the entry with the most votes will also be awarded a Golden Spork during the final judging on August 9th.

A 13-foot Spork trophy will be displayed at all Sporkies finalists' locations and all vendors who entered will display a poster at their fair location(s).