He's not yet a candidate for president, but Scott Walker already tops one poll


IOWA -- He hasn't yet officially announced his candidacy for president in 2016 -- but Governor Scott Walker holds a seven-point advantage among voters in Iowa over the rest of the crowded Republican field in the scramble for the party's 2016 nomination for president, a new Des Moines Register/Bloomberg Politics poll finds. Walker's popularity in the Hawkeye State may be part of a one-of-a-kind presidential campaign.

Walker was welcomed in Delavan on Monday morning, June 1st for a Boys & Girls Club of Walworth County breakfast, but he wasn't talking about the state budget or his upcoming appearance in Arizona. He enjoyed breakfast and celebrated the success the Boys & Girls Club has had with young people in Delavan since it opened its doors in November 2013. He was also undoubtedly savoring the positive news out of Iowa this weekend.

The poll, released late Saturday afternoon, May 30th, shows Kentucky Sen. Rand Paul, retired neurosurgeon Ben Carson, former Florida Gov. Jeb Bush and former Arkansas Gov. Mike Huckabee rounding out the top five in the state, which, as the first-in-the-nation caucus, is a critical battleground for presidential hopefuls.

Walker captured 17% of the vote among likely GOP caucus-goers.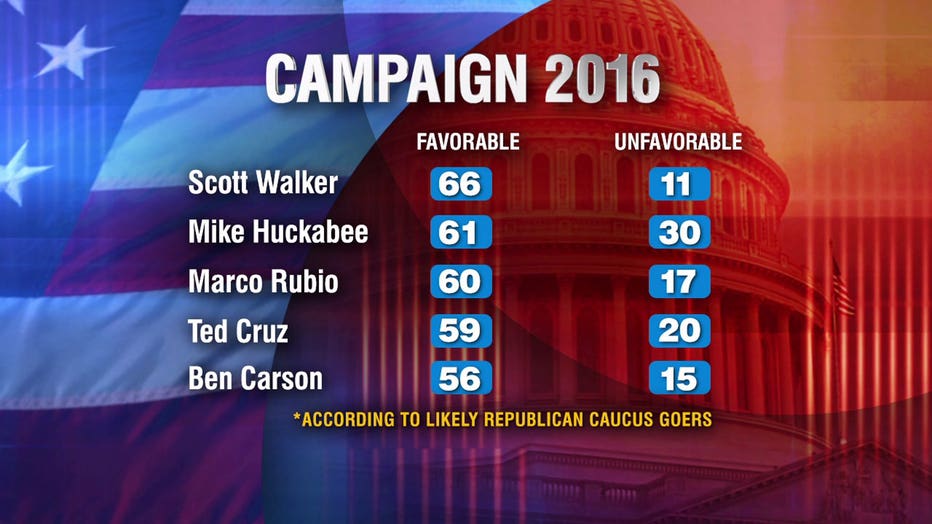 "Flabbergasted by how decisive it was," UW-Milwaukee Professor Mordecai Lee said. "Governor Walker in this poll has really broken out of the pack and it's unclear the one reason why."

Walker's one-point lead in the Des Moines Register's poll in January is now a seven-point lead.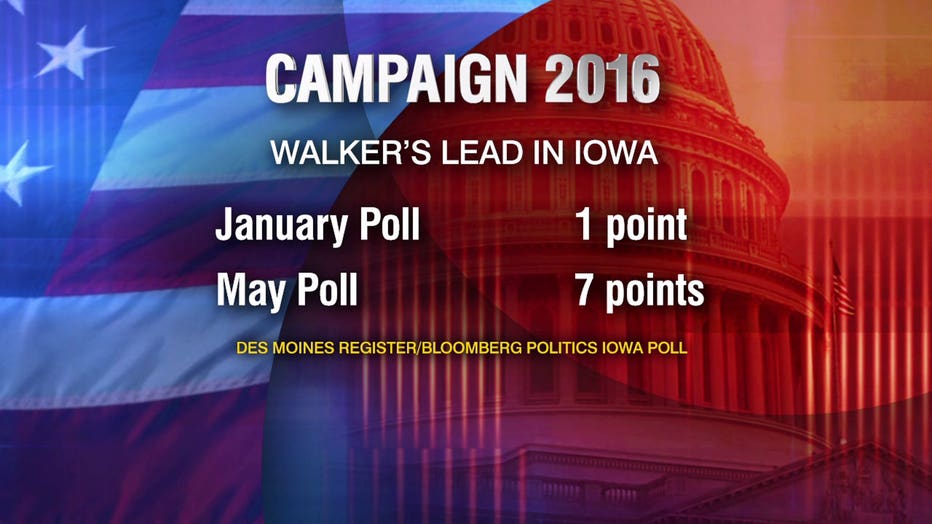 "What some people thought was going to be a flash in the pan -- clearly he's not. He's a fabulous candidate whether one agrees with him or not. He's very sure-footed, he's very intuitive and he's very disciplined," Lee said.

As an example, following Monday morning's breakfast, Walker was asked whether he would sign on to a pledge to pull back on mandatory minimum sentences -- something other presidential candidates are currently supporting.

"Certainly something we will look at. I haven't signed onto anything like that because those are for candidates and I'm not a candidate for anything right now. Should I be a candidate, certainly I would look at that," Walker said.

"He's got all the advantages of being a non-candidate as well as the advantages that he will get when he becomes a declared candidate," Lee said.

Walker is headed to Arizona on Wednesday. There, he'll serve as the headline speaker at a luncheon in Phoenix.