Group protests Marquette layoffs, calls for worker reinstatement
MILWAUKEE - A coalition of Marquette University faculty, staff and students on Wednesday, March 3 held a protest against the recent cuts of university staff and pending cuts to classes and non-tenured teachers.
Nearly 80 protesters closed off 12th and Wisconsin outside the university's Zilber Hall for nearly an hour. The group demanded the reinstatement of 39 staff members fired in January -- in addition to a halt to planned cuts.
Marilyn Lefaivre, a 62-year-old alumna and physical therapist, worked half-time in her position at the university for the past four years. She was fired in January.
"I am here today to say it's been very, very difficult," Lefaivre said. "They can, perhaps at this point in my life, take away my livelihood. However, the passion and the voice is still there."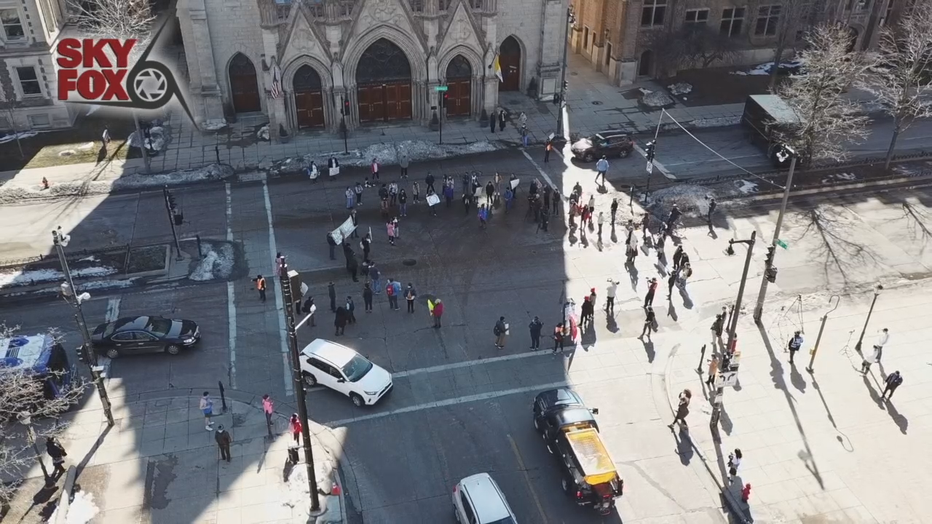 Protest at Marquette University on March 3, 2021
Marquette administration said, as colleges and universities were challenged by the pandemic in 2020, it followed its Catholic, Jesuit mission to work together in the fall to mitigate financial challenges and limit layoffs without impacting tenured and tenure-track faculty and keep class sizes small.
The university said this past fall's class of 2024 was down 16% from the prior year -- the smallest in 20 years; fewer students means fewer course offerings and fewer non-tenure-track faculty contracts being renewed.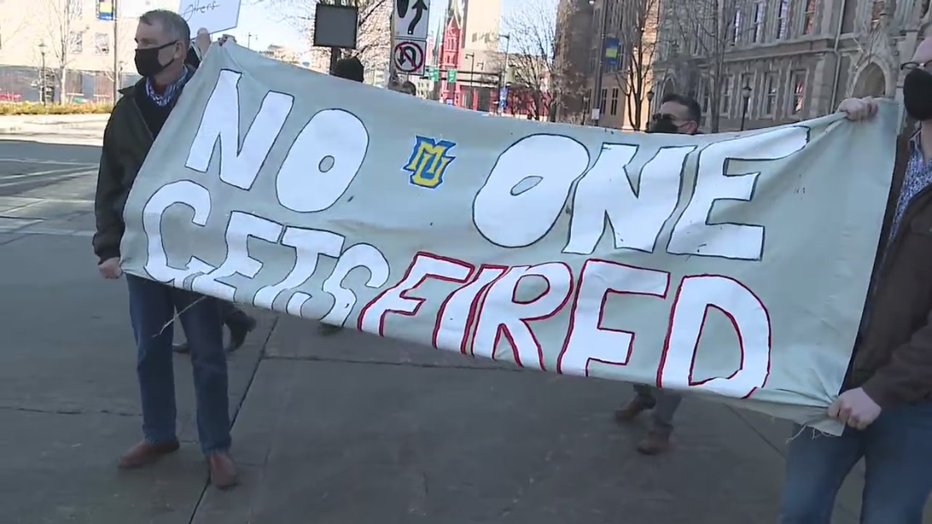 Protest at Marquette University on March 3, 2021
However, Elaine Spiller, associate professor of mathematics and statistics, said the recent cuts and those to come are unsettling.
"You don't know which of your colleagues aren't going to be here next year, and it's a terrible feeling," Spiller said.
FREE DOWNLOAD: Get breaking news alerts in the FOX6 News app for iOS or Android.
There is a concern among faculty who spoke with FOX6 News at the protest that morale is low and further cuts could cause it to sink further. They are also worried about how cuts may impact students' educations and the mission of the university.
Statement from Marquette University
Colleges and universities were forced to eliminate 650,000 jobs in 2020. Guided by our Catholic, Jesuit mission, Marquette faculty and staff worked together this past fall to mitigate our own financial challenges — we were able to limit workforce reductions without impacting tenured and tenure-track faculty. 
There is a direct relationship between the number of enrolled students, course sections and the annual non-tenure-track contract process. Last fall's incoming class (Class of 2024) was 16% smaller than the previous year, making it the smallest class in more than two decades. With fewer students, the number of class sections required for the next academic year will decrease, resulting in fewer non-tenure-track faculty annual contracts being renewed. Marquette is committed to keeping class sizes small to create a supportive learning environment for students. We will continue to be responsible financial stewards, which includes ensuring the university's ability to persevere during national emergencies, and keeping a Marquette education accessible to all students.