Green Beret killed in Afghanistan attended Brookfield Central H.S., Marquette University


MILWAUKEE -- The Green Beret who was killed in Afghanistan this week has ties to the Milwaukee area.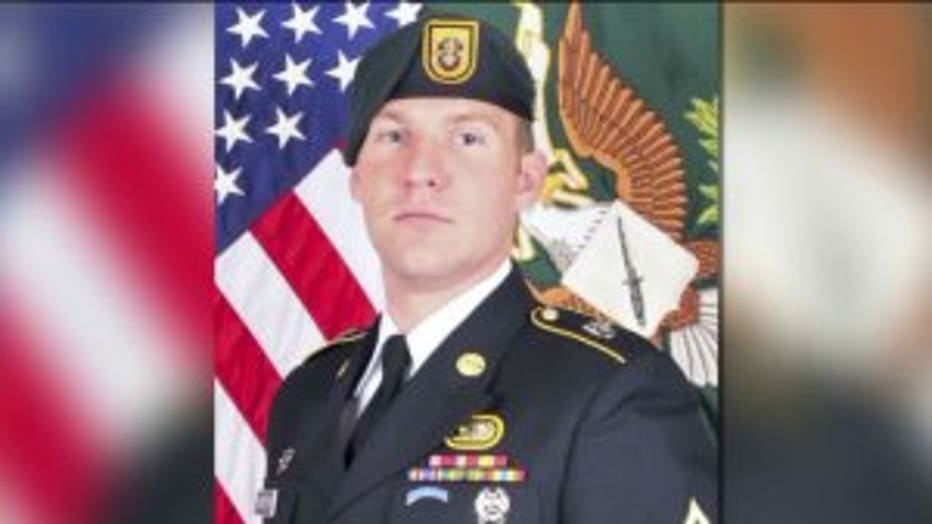 Staff Sergeant Matthew Thompson


28-year-old U.S. Army Staff Sgt. Matthew Thompson is a 2006 Brookfield Central High School graduate. He was the captain of the football team and played trombone in the school ensembles. A moment of silence will be held in Thompson's honor during the football game at Brookfield Central Thursday night.

Thompson also attended Marquette University in Milwaukee -- where he was a beloved resident assistant.

"There was something very pure and authentic about him that people just wanted to be around him and they wanted to have whatever it is that he had that sort of radiated from inside out," Matthew Manning said of his friend, Matthew Thompson.

Manning became friends with Thompson while both were working in O'Donnell Hall on campus. Thompson attended MU from the fall of 2006 until the spring of 2008. Manning told FOX6 News Thompson then transferred to Concordia University in California -- graduating in 2010.

"He wanted to push himself as much as he could and in order to live according to the values that he had and his vision for the world," Manning said.

Thompson was killed by a roadside bomb on Tuesday, August 23rd while on patrol in Helmand Province, Afghanistan. Another American and six Afghan soldiers were wounded in the blast.

Thompson enlisted in the U.S. Army in March 2011 as a Special Forces Candidate. Upon completion of Army Basic Combat and Advanced Individual Training, Basic Airborne Course, Special Forces Assessment and Selection and the Special Forces Qualification Course, he reported to 1st Special Forces Group as a Special Forces medical sergeant in August 2014.

In a statement, the commander of the Special Operations Task Force-Afghanistan said Thompson was "an exceptional Green Beret, a cherished teammate and devoted husband. His service in Afghanistan and Iraq speak to his level of dedication, courage and commitment to something greater than himself."

Those who knew him well say Thompson was one-of-a-kind.

"I can't think of anyone that was as committed to living the best version of their life possible, every day. He was a remarkable human being and he will never be replaced," Manning said.

Marquette University issued this statement on the death of Thompson:

"The Marquette community offers prayers and our deepest sympathy to the family and friends of our former student Matthew Thompson, who died in Afghanistan this week.

Matthew attended Marquette from Fall 2006 to Spring 2008 and was a student in the Klingler College of Arts and Sciences. He went on to complete his education at another institution before joining the Army and becoming a Special Forces medical sergeant.

He served as a resident assistant in O'Donnell Hall during his time at Marquette. His friend and fellow resident assistant, Matthew Manning, said, "He was one of the best humans I ever knew. He was deeply, deeply, deeply loved by his residents and all of us."

The Elmbrook School District released the following statement on Thompson:




"The Elmbrook community mourns the loss of U.S. Army Staff Sgt. Matthew V. Thompson, 28, who died Tuesday, August 23, 2016 in southern Afghanistan. Matthew was a proud member of the Brookfield Central Class of 2006. During his senior year he was varsity football captain and also played trombone in the wind ensemble and jazz band during his four years at Central. We offer our deepest condolences to Matthew's wife, parents and sisters, as well as our sincere gratitude for his service to our country."



Thompson's awards and decorations include the Bronze Star Medal, Army Commendation Medal, Army Good Conduct Medal, National Defense Service Medal, Global War on Terrorism Medal, Inherent Resolve Campaign Medal, Afghanistan Campaign Medal, Noncommissioned Officer Professional Development Ribbon (numeral 2), Army Service Ribbon, Overseas Service Ribbon, Basic Parachutist Badge and Special Forces Tab.