Granddaughter of shooting victim remembers 84-year-old grandfather
OAK CREEK -- Families, friends and Sikh Temple members are trying to come to terms with Sunday's shooting -- during which officials say 40-year-old Wade Michael Page entered the Sikh Temple and opened fire. Six were killed and three were critically injured, before Oak Creek police fatally wounded Page.
Families of those who lost loved ones in the shooting as well as Sikh community members say they appreciate the outpouring of support they've received from the community.
Sandeep Khattra says her grandfather was one of the shooting victims. Khattra says her grandfather went to the temple every day, and never wanted to miss -- no matter what.
84-year-old Suveg Singh Khattra was at the temple with shots rang out Sunday morning. Sandeep told FOX6 News her mother was there as well.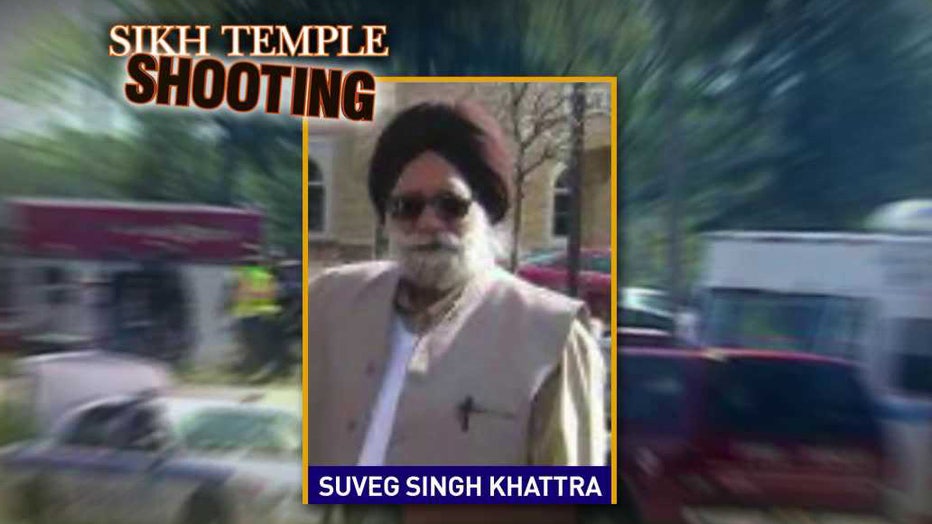 "My mom called me around 10:30 and I was like, 'she's probably calling telling me to come to the temple.' I was like, 'I will go a little later.' Then, my dad comes into my room, and he's like, 'there's a shooting there,'" Sandeep Khattra said.
When Sandeep found out her mother was in danger, she said she immediately contacted her to see if she was okay.
"She said 'I'm safe, but don't come here.' She was whispering so I could barely hear her," Sandeep Khattra said.
Sandeep said she knew something was wrong. She raced to the temple, but said she wasn't allowed anywhere near the perimeter.
"It was like, the longest wait of my life," Sandeep Khattra said.
Sandeep's mother made it out alive, but Sandeep was soon informed that her grandfather had been shot and killed at the temple.
Despite the harrowing experience that broke so many hearts around the world, Sandeep says forgiveness is important.
"We have no hatred for that person, like we said. We`re finding it in our hearts to forgive that, even the shooter, even though it hurt us the most," Sandeep Khattra said.
Sandeep said she plans to get married in December. Her grandfather was looking forward to seeing his granddaughter get married.
CLICK HERE for additional Sikh Temple shooting coverage via FOX6Now.com.