Gov. Evers OKs dentists to vaccinate as millions become eligible
MILWAUKEE - Gov. Tony Evers signed a bill that allows dentists to administer COVID-19 vaccinations on Monday, the same day that more than 2 million more people became eligible for shots.
The Republican-authored bill allows dentists who complete eight hours of training on vaccine protocols and record keeping to administer COVID-19 and flu shots. Dentists in neighboring Minnesota and Illinois are already permitted to give the vaccine.
About 3,500 dentists in Wisconsin could be enlisted to help vaccinate.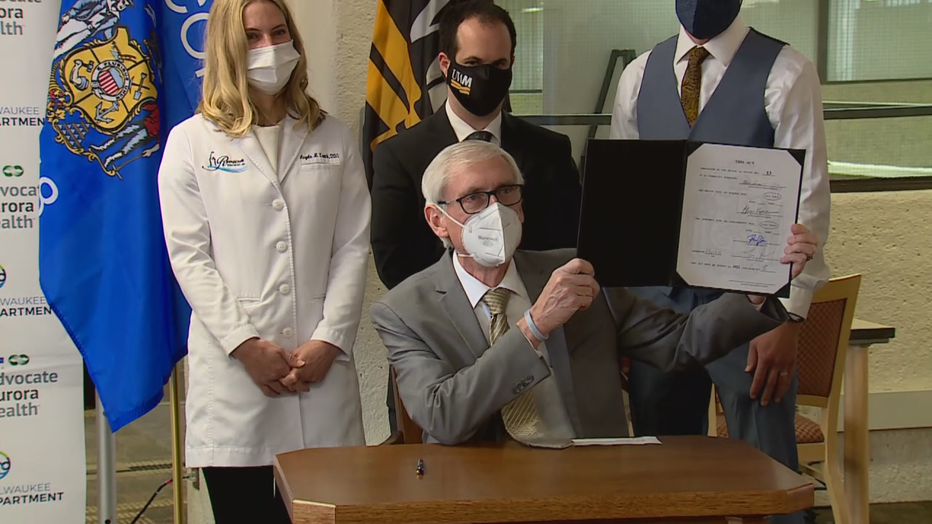 "We want to make sure that we have all hands on deck for this effort and this is just another part of that," said Governor Evers.
Evers signed the bill right after a tour at the University of Wisconsin-Milwaukee as people received shots from nursing students and Advocate Aurora nurses.
"Now we're opening up to the community at large," said UW System President Tommy Thompson. "What better thing. The University of Wisconsin is reaching out and helping. I couldn't be happier and more pleased."
Evers' administration announced earlier this month that people age 16 and up with certain pre-existing conditions would be eligible on Monday, a week earlier than previously announced.
Qualifying conditions include moderate to severe asthma; cancer; diabetes; high blood pressure, Down syndrome; and being overweight with a body mass index of 25 or above. Women who are pregnant are also eligible.
Four months after Wisconsin started COVID-19 vaccinations, high school sweethearts Kathy and Todd Vance, married 41 years, got their shots together.
"I'm this much closer to being able to hug my granddaughters," said Kathy Vance. "My kids live out of state, and I haven't been able to see them for a year."
Kathy Vance has high blood pressure, while Todd has asthma.
"I try to do the responsible thing," said Todd Vance. "It seems right to get it."
As of Monday, one in four Wisconsinites had received at least one dose. Nearly 15% had received two doses, completing their vaccination cycle, according to state health officials.
Food truck operator Katherine Tonn said she wants to go see her dad in Appleton.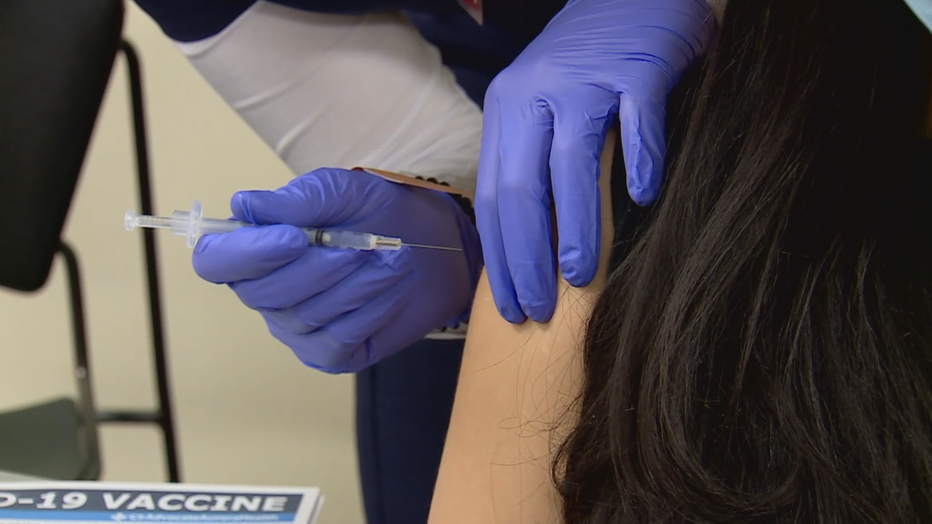 "My dad is 83, and I haven't seen him in a year," said Tonn. "He had his vaccination about a month ago."
State Department of Health Services Secretary Karen Timberlake urged people to be patient as they try to book vaccination appointments, warning some vaccinators may have waiting lists.
The general public will become eligible on May 1, according to state health officials.
FREE DOWNLOAD: Get breaking news alerts in the FOX6 News app for iOS or Android