Good product going bad? Boy gets sick after eating fermented pomegranate seeds


MILWAUKEE (WITI) —  It's easy to find prepackaged fruit when you're cruising through the grocery store, and many parents find it perfectly safe to serve to their children. But, what if something goes wrong inside the packaging?

A Milwaukee mom says her 11-year-old son got sick after eating some prepackaged pomegranate seeds.

"We are walking through produce and he says, 'What about this?' and it's cute for kids, I'm assuming, and it says POM POMS," said Rachel Mishler.

Mishler let her son Dominic get a cup of POM POMS Fresh Arils.

"We get outside and he already had it opened up and he was drinking the juice," Mishler said.

"And, I said, 'Ma, taste this — smell it — tastes like what the doctor rubs on you when you get your shot,'" said Mishler's son, Dominic D'Amato.

"First, I smelled it and it does smell like alcohol. Then, I tasted it and it tasted just like red wine, and then I said, 'You know what? No more eating this,'" Mishler said.

By then, Dominic had already had most of the cup and when they home got home — Dominic wasn't feeling well.

"I told my mom I felt like I was going to throw up and…like 30 minutes later I threw up," Dominic recalled.

Mishler says she called Poison Control and Dominic's doctor because he doesn't have a strong immune system.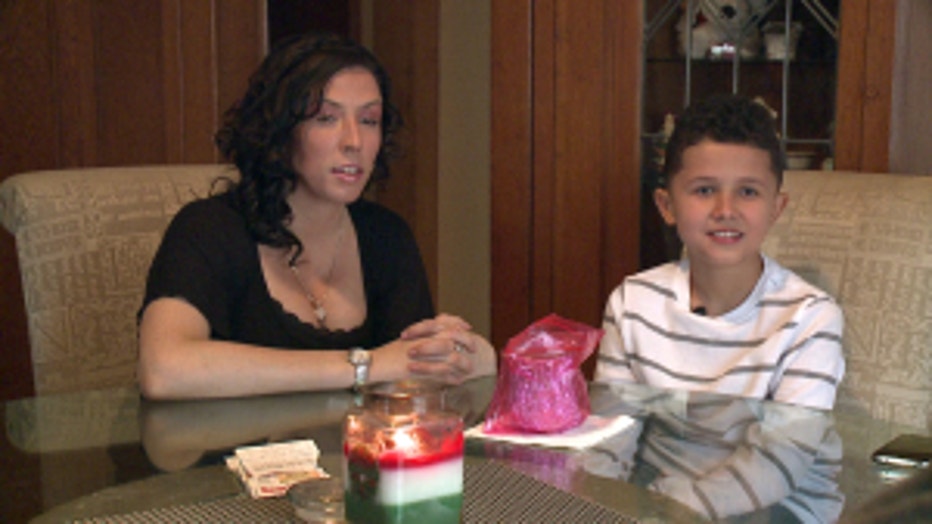 Rachel Mishler and her son, Dominic, share their experience with POM POMS Fresh Arils with Contact 6.


"He's throwing up all night and, finally, he got the gagging and the gagging exacerbated the asthma -- so I was giving him breathing treatments and he said, 'I don't feel right. I don't want pomegranates ever again,'" Mishler said.

Mishler called the store and the manager tried other POM Wonderful products and agreed they'd fermented. The manager pulled the remaining products from the shelves.

Judging from complaints on the company's website and it's Facebook page — other customers aren't happy either.  One customer wrote on the website, "BAD…when I opened the package it smelled and tasted like nail polish remover."

On the Facebook page more comments about fermentation can be found. One user wrote, in part, "…seems pretty normal for your product to go bad. I will not be wasting my money ever again."

Another Facebook user commented, "This happened the last time we bought some, but we were hoping it was just a fluke."

Rachel Mishler says she knows someone else who had a similar experience with the product.

"A nurse I work with said the same exact thing. He told me, 'I think I got drunk off a cup of pomegranate seeds,'" Mishler said.

FOX6's Contact 6 contacted POM Wonderful and the company sent the following statement:




"POM POMS Fresh Arils contain only our fresh fruit with no preservatives.  Fermentation is a natural process that happens to fresh fruit over time, and on occasion, the fruit ferments faster than normal."



POM Wonderful went on to say the product has a limited shelf life and it works with the retail partners to ensure the quality and safety of its products. If you get a bad product, POM says it will give you a refund or a voucher for your next purchase.
Mishler wanted to do more.
"I don't feel that the word has gotten out there. I don't feel like the public is safe," Mishler said.
Mishler filed a complaint with the Food and Drug Administration. When Contact 6 asked the FDA about Mishler's complaint and if there had been others — it responded with this statement:



"FDA does not have any evidence that these types of products that comply with federal and state regulations are unsafe for consumption."



If you're worried about whether or not the product is safe — smell it first, especially before giving it to your kids.