FOX6 Investigators: Video surfaces of another in-custody death
MILWAUKEE -- Before Derek Williams, there was James Perry.
Two years ago, Perry died in a pre-booking area at the Milwaukee County Jail after an arrest by Milwaukee police.  Now, the FOX6 Investigators have obtained the never-before-seen video of Perry's last few hours alive.  And those videos are raising some difficult questions for Milwaukee Police Chief Edward Flynn.
Police arrested Perry at 2:18 a.m. on September 13th, 2010.  He was driving a car that had been reported stolen as part of an armed robbery.  Perry surrendered peacefully.  He was taken into custody.
Eight hours later, Perry had a seizure in his jail cell, fell and hit his head.  Police took him to Aurora Sinai Medical Center.
What happened over the next six hours is now the subject of a federal lawsuit.
"They allowed my son to die," Perry's mother, Angela Garner said.
When a doctor released Perry that afternoon, police say he was walking on "wobbly legs."  He was "somewhat incoherent."  Instead of talking, he "moaned, as if in pain."  He also had trouble controlling his bowels.
When Perry started drooling into his own lap, officers placed a spit mask over his head, prompting some of the last comprehensible words Perry would ever say: "Oh God, help me!"
---
* Key documents used for this investigation:
---
The plea for help is clearly audible on a surveillance tape obtained by Garner's attorney through an open records request.
Perry's plea was ignored.  Minutes earlier, one of the officers holding him in a seated position is heard saying, "He's fakin' it."
If James Perry was suffering, officers didn't seem to believe him.
"How can you say he's fakin' it? You are not a doctor," Garner said.
On that point, Milwaukee Police Chief Edward Flynn agrees.
"They're not the doctors. They're police officers," Chief Flynn said.
Flynn says that's why his officers took Perry to the hospital in the first place.
"'This guy just had a seizure. That's definitely kind of scary. Let's take him to the hospital.' They did, and it was the hospital that said, 'You can have him back. We've medicated him. Here, take him back,'" Chief Flynn said.
Flynn says two of his officers questioned the hospital's decision to release Perry, because he seemed "very tired," "kept trying to sleep," "began drooling" and "would mumble."
"The medical personnel themselves said to the officers -- their words, not ours -- 'We think he's faking,''' Flynn said.
Flynn says his own officer was merely repeating what the nurses had already said.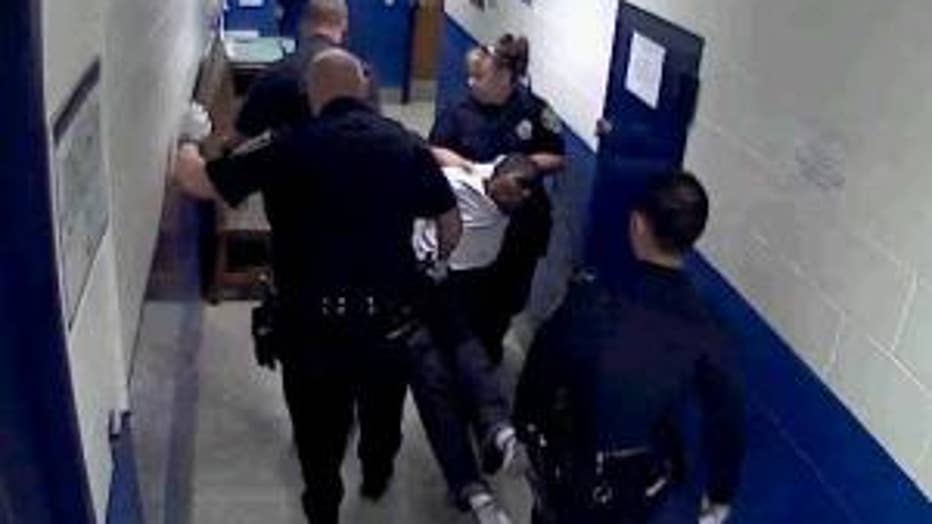 "They're wrong, obviously," Flynn acknowledges.
Flynn has been under fire recently for the conduct of his officers.  Earlier this month, four Milwaukee police officers were charged with crimes for allegedly conducting illegal strip searches.
Prior to that, local pastors and community members were already calling for Flynn to resign over another in-custody death -- that of Derek Williams.
Williams died last year while gasping for breath in the back of a Milwaukee police squad car.
In that incident, Williams is heard telling officers, "I can't breathe, sir."
An officer responds, "Well, you're talking to us. You're just playing games."
10 months earlier, Perry can be heard through a spit mask saying, "I can't breathe with this thing on my face!"
An officer replies, "If you're talkin', you're breathin'."
The nearly identical response begs the question -- are police officers trained to say it?
"They're not trained to respond that way, but it is their common sense experience, generally," Flynn said.
"I don't think you would hear a doctor or nurse make that statement,"  James Gende said.  He is the attorney suing police and the Sheriff's Office for being "deliberately indifferent" to Perry's "obvious physical distress."
"All I can say is if somebody was in my custody and they were showing signs of respiratory distress and asking for assistance. I would get them that assistance," Gende said.
"Our officers were told by the doctor that he had given him medication to make him sleep. The notion that he would gradually lose the ability to walk, that he would gradually grow less coherent and make less sense was consistent to them with what they'd been told by the medical authorities," Flynn said.
Police eventually took Perry to a holding cell and left him there, with the mask still covering his head. When officers came back to get him more than an hour later, there were "gobs of spit, blood and fecal matter" on the floor, according to the custodian who had to clean it up.
Still, no further medical attention was offered.
"We don't have nurses in our jail facility. The County Sheriff's Office does, and so the next step in the process is to take him there," Flynn said.
"Why would you take him back to the jail when you know he still needed help?" Angela Garner wonders.
When they arrived at the County Jail, police declared they were delivering a "combative prisoner," even though the officer who said it would later admit that he never saw Perry doing anything "combative."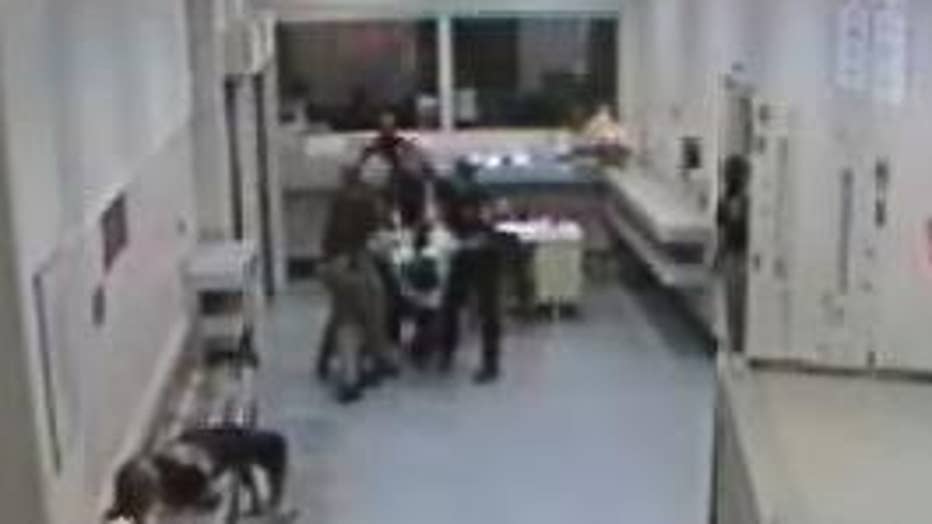 The officers assisted Perry - who could not walk on his own power - to a concrete bench.  Surveillance video from the pre-booking area shows that, as officers helped Perry across the room, his pants fell to his ankles.  His underwear was badly soiled.  A Sheriff's Office nurse saw blood seeping from the spit mask and refused to accept him into the jail.  A police officer called for an ambulance.  Still, however, there appeared to be no sense of urgency.
"I know it looks terrible. Sadly, these are not uncommon events in central In booking processes and procedures. People get sick. People lie on the floor," Flynn said.
Seconds after the nurse left to call in the refusal, the last officer by Perry's side -- a County correctional officer -- walked away.  Perry was still shackled, masked and rolling on the floor.  Three full minutes ticked by and Perry appears to stop moving.
"Do I wish that somebody perhaps had done CPR sooner? Sure, but I don't know if they saw him in need of CPR," Flynn said.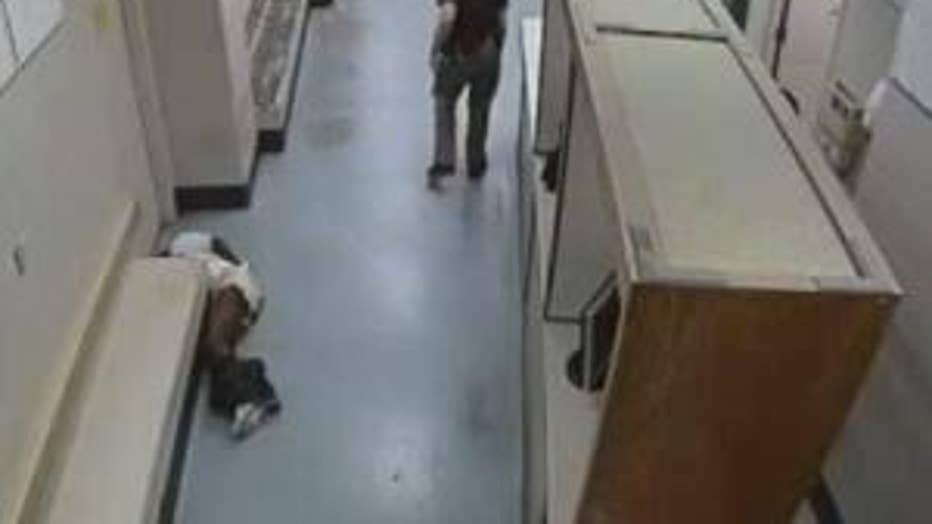 Nine minutes after Perry arrived at the County Jail—and three minutes after police first summoned an ambulance—a member of the Sheriff's Office medical staff finally removes the mask from Perry's head.
She saw "frothy blood" coming from Perry's mouth. He wasn't breathing. He had no pulse. First responders surrounded Perry and performed CPR, but it was too late.
James Franklin Perry was dead.
"I should've been there with him when he passed, but I wasn't," Angela Garner says, choking back tears.
The Milwaukee County Medical Examiner ruled the official cause of death to be "coronary artery thrombosis." In other words, a heart attack.
"We took him to the hospital because he'd had a seizure and he was a self-diagnosed epileptic. He died of something completely unrelated," Flynn said.
"I think if are provided with the videos, they might change their opinion," Gende says.
Gende is suing both Milwaukee police and the Milwaukee County Sheriff's Office. An attorney for the Sheriff declined to comment for this story, because of the pending lawsuit.
"We are the only ones willing to talk about it because our piece of it indicates to us that our officers tried to get this man appropriate treatment," Flynn said.
Chief Flynn says his officers did everything they were supposed to do.
"It's one thing if somebody says they can't breathe and we didn't believe them and a tragedy ensued," Flynn says, in apparent reference to the death of Derek Williams. "Well, the easy fix is, we're just going to get an ambulance from now on.  This is a harder one."
Police have emphasized repeatedly that they questioned the doctor's decision to release Perry after the initial seizure.  The doctor, however, is not named as a defendant in the wrongful death lawsuit.  Neither is Aurora Sinai Medical Center.
The doctor did not return a call seeking comment.  A spokesperson for the hospital released a statement, which essentially says they cannot comment due to federal patient privacy regulations.
Angela Garner just wants someone to take responsibility for what happened.
"You allowed my son to die. Stand up and say it," Garner said.