5-alarm Fort Atkinson fire prompts evacuations
FORT ATKINSON, Wis. - Fort Atkinson residents were asked to evacuate after a five-alarm fire broke out at an industrial building near North Main Street and Oak Street Tuesday afternoon, Aug. 10.
"When I turned onto Main Street from the fire station, I knew that this building would be a total loss," said Fort Atkinson Fire Chief Daryl Rausch during a press conference. "The fire was through the roof at that point." 
Nearly 150 firefighters descended on Fort Atkinson from several nearby counties to help fight the blaze. After about three hours of fighting the fire, a water shortage led Fort Atkinson Fire Chief Daryl Rausch to decide the flames would need to burn out on their own. Rausch expected the fire to burn throughout the night and possibly into Wednesday.
FREE DOWNLOAD: Get breaking news alerts in the FOX6 News app for iOS or Android
"We've drained the city water system," said Rausch. "We've elected to let the balance of the building burn out."
Officials said a transit warehouse caught fire around noon on Tuesday. No one was inside at the time. There were three workers in a nearby facility who were accounted for after the fire. There were no dogs at the nearby Kennel Club.
There were "minor injuries to a couple of firefighters due to the heat," according to officials. Firefighters were working on a 20-minute rotation and a new team of firefighters was set to take over at 7 p.m. Tuesday.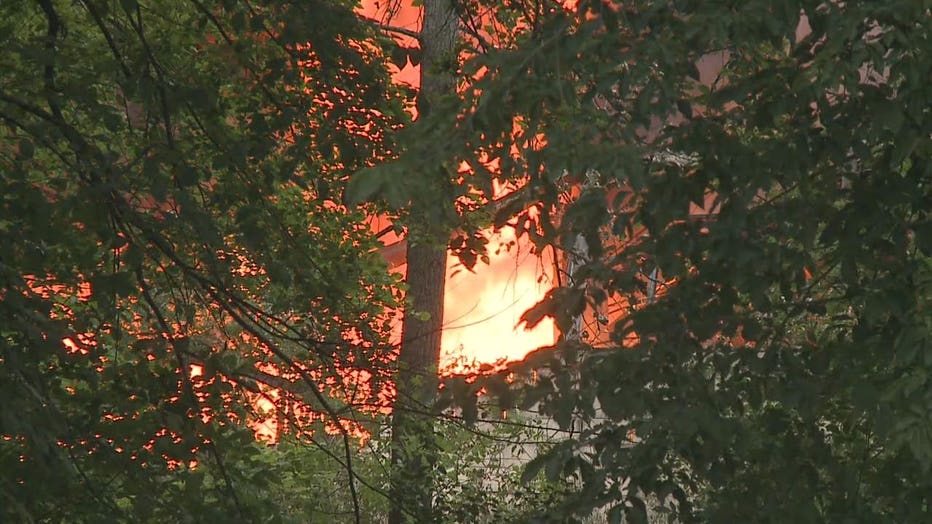 Rausch said the structure primarily housed military tires and some chemicals. It was determined to be a total loss. 
"They used to make military shells here during the war, many, many years ago, and that's not all," said Jerry Meske, neighbor. "There's a lot of oil around because of that."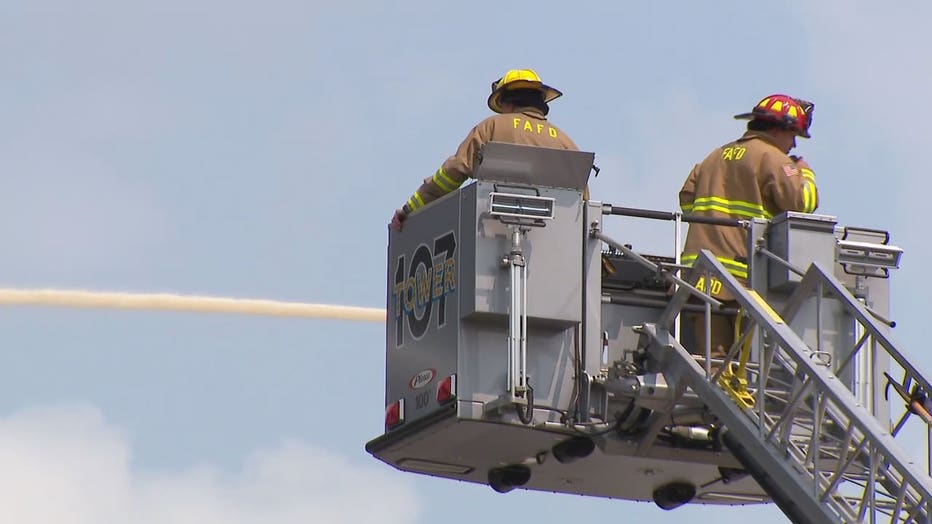 Meske said when he looked up to see smoke, at first, he thought it was a storm cloud.
"Then my daughter came home and she said, 'Oh, there's a fire,'" said Meske.
About 50 people were evacuated from their homes due to the fire. Those without a place to stay were invited to the First United Methodist Church at 320 S. Main Street for shelter Tuesday night. Evacuees were able to return to their homes by around 8 p.m. Tuesday, according to officials. 
A crew of firefighters was expected to stay overnight to monitor the fire, which was still burning as of 10:15 p.m. 
The DNR was on scene tracking runoff and the EPA was monitoring air quality.