Fond du Lac fatal crash, 'repeat drunk driver' gets $1M bond
FOND DU LAC, Wis. - An Oshkosh man charged with homicide by intoxicated use of a vehicle had cash bond set at $1 million, Fond du Lac County District Attorney Eric Toney announced Friday, Jan. 20. 
In a news release, Toney said 56-year-old Brian Sippel is a "repeat drunk driver" with prior convictions in 2004 and 2017.
Sippel is charged with seven felonies in connection to a crash that killed a man on Highway 151 at Interstate 41 in Fond du Lac. It happened Jan. 14.
SIGN UP TODAY: Get daily headlines, breaking news emails from FOX6 News
Deputies at the scene found a white SUV and black car – both with heavy rear-end damage – and a gray pickup truck in the grass near the on-ramp. 
A criminal complaint states the black car's driver was unconscious and did not have a pulse. Despite life-saving attempts, he died at the scene from what was believed to be "extreme head trauma."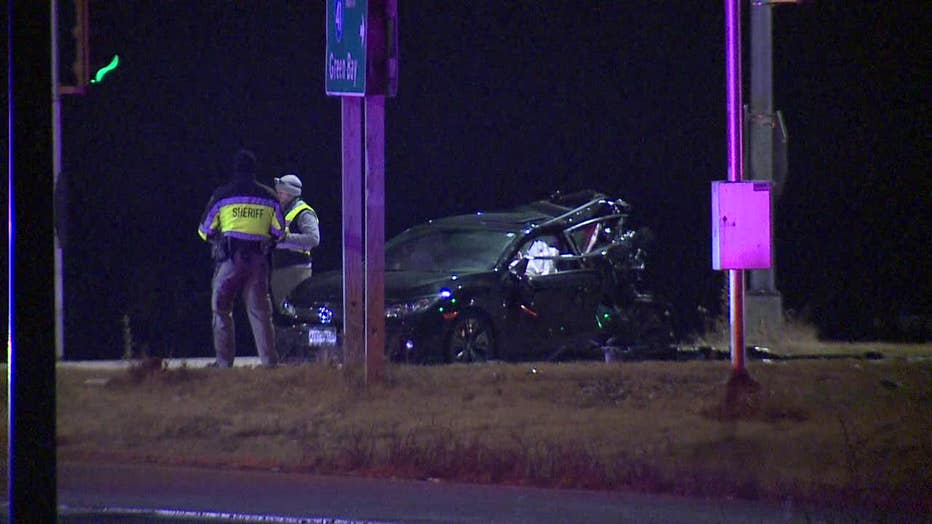 Fatal crash on Highway 151 at I-41 in Fond du Lac
A passenger in the black car was "not completely" alert and had a large cut to the back of her head, the complaint states. Bystanders had removed her from the wreck. She was treated at an area hospital for broken ribs, a collapsed lung, severe head trauma and lacerations. 
The complaint states the pickup truck's front license plate was found inside the black car. It was determined that the pickup truck hit the black car, pushing it into the white SUV. One of three people who were in the SUV said the pickup truck "came out of nowhere."
FREE DOWNLOAD: Get breaking news alerts in the FOX6 News app for iOS or Android.
At the scene, the complaint states Sippel remained in the driver's seat of the pickup truck and said he was OK. Later, at a hospital, he told authorities he "felt like he was hit by a truck."
Per the complaint, Sippel told deputies that he had finished work around 6:30 p.m. – which was roughly 45 minutes after the crash happened. He was slurring his words and had bloodshot eyes. He later admitted to having one drink in St. Cloud. Asked what else he remembered, Sippel said he only recalled leaving St. Cloud. 
Statement from Toney:
"Drunk drivers continue to cause death on our highways and we will continue to aggressively prosecute those responsible in the hopes of deterring future drunk drivers and seeking justice for those affected by drunk drivers. My heart goes out to the family in this case and all the families that have had a loved one stolen from them by a drunk driver."