Folks in Gov. Walker's boyhood town of Delavan excited for presidential announcement: "I think he can do it"


DELAVAN -- A busy 48 hours for Governor Scott Walker. On Sunday afternoon, July 12th, Governor Walker was set to sign the state's $73 billion, two-year spending plan into law. Then, on Monday, July 13th, Walker will announce his bid for president in 2016 in Waukesha.

Politics aside, Governor Walker's bid for president is generating a lot of pride in his boyhood town of Delavan. But that doesn't mean residents think Walker's journey to the White House will be an easy one.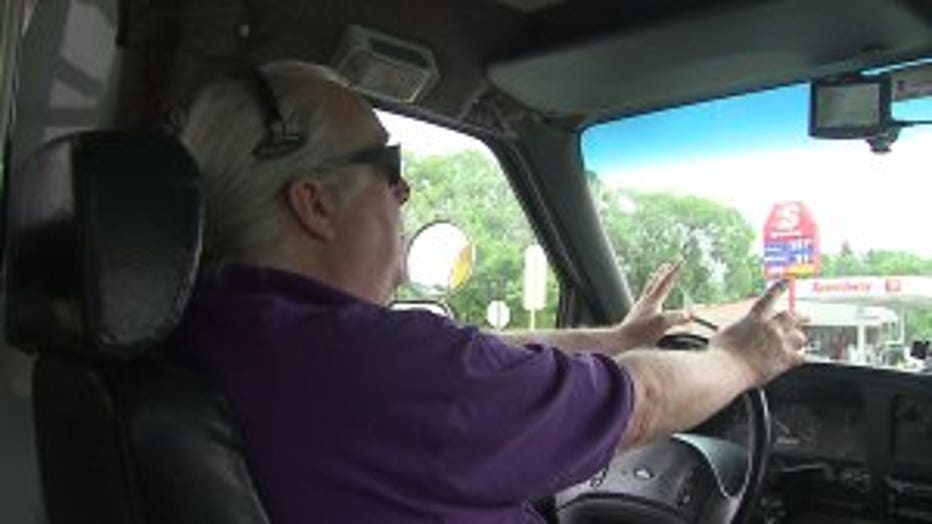 Bob Ryan drives visitors around Delavan


Bob Ryan steers passengers through Delavan's colorful past.

"Of course Delavan Lake, 14 miles of shoreline, five miles long, about a mile wide. The 19th Century circus capital, Harry Houdini, and you know what else we got? I think four or five Frank Lloyd Wright houses on the lake," Ryan said.

Over the last few years, Ryan has added Scott Walker's name to the list of Delavan notables.





"The fact that he's a hometown, Midwestern boy, that's what mid-America really likes," Ryan said.

On Sunday, July 12th, ahead of Walker's big announcement, Ryan dropped passengers off at Delavan's annual Classic Car Show. Delavan's Mayor, Mel Nieuwenhuis was a judge.

"For me and a lot of people, we're excited that Scott is running and he's got my full support and a lot of peoples' support," Nieuwenhuis said.

And Walker will need support if he plans to stand out among a crowded Republican field of presidential candidates.

"There are so many diverse individuals jumping in," Lindy Ann Kloiber of Delavan said.

"I think anybody who is in that mix, I don't think any one clear winner stands out," Kloiber said.

For Governor Walker, Monday's announcement in Waukesha will be the beginning of a long campaign -- a campaign that won't be easy.

"I think it's more like a cobblestone (road), because it's going to be rough just for him to get through the Republican primary," Ryan said.

"I'm not that political, but I'm for the hometown man and I think he can do it," a Delavan resident said.



Walker's presidential announcement will be made at the Waukesha County Expo Center at 5:00 p.m. Monday. FOX6 News will have complete coverage of the announcement Monday. Our live coverage begins at 5:00 p.m. The official announcement is expected around 5:15 p.m., and we'll have it LIVE on FOX6, and streaming LIVE at FOX6Now.com.

Walker plans to campaign in Super Tuesday states this month after formally declaring his bid for the presidency, a nod of acknowledgment that he expects a prolonged battle for the Republican nomination.

Walker intends to campaign in Iowa, Nevada, New Hampshire and South Carolina following a kick-off rally Monday in Waukesha, Wisconsin, a senior Walker aide told CNN.

Later in the month, Walker will visit Tennessee, which also has a primary scheduled on the first Tuesday in March.

In addition, the Wisconsin Republican has scheduled July campaign stops in Illinois, Missouri and North Carolina — three states that will hold primaries on March 15.

CNN will host a GOP presidential primary debate on March 10 in Florida, which also is scheduled to hold its primary on March 15. The March 15 primary is significant, because it is the first time states will be allowed to institute a "winner-take-all" awarding of delegates.

Walker also plans to visit California in July, one of the final states to hold its primary in June 2016.

Governor Walker's office released the following details on Walker's mid-July plans:

MONDAY, JULY 13

Event: Governor Scott Walker announcement event
Location: Waukesha, Wisconsin (Waukesha County Expo Center, 1000 Northview Road, Waukesha, WI 53188)
Pre-program: 4:30 PM CDT (doors to public open at 3:00 PM CDT)
Remarks: 5:15 PM CDT

TUESDAY, JULY 14

Location: Las Vegas, Nevada
Time: Mid-day PDT

WEDNESDAY, JULY 15

Location: Charleston, South Carolina
Time: Morning EDT

Location: Columbia, South Carolina
Time: Mid-day EDT

Location: Greenville, South Carolina
Time: Afternoon EDT

THURSDAY, JULY 16

Location: Merrimack, New Hampshire
Time: Mid-day EDT

Location: Portsmouth, New Hampshire
Time: Afternoon EDT

FRIDAY, JULY 17

Event: Governor Scott Walker Winnebago tour of Iowa

Location: Davenport, Iowa
Time: Mid-day CDT

Location: Cedar Rapids, Iowa
Time: Afternoon CDT

Location: Des Moines, Iowa
Time: Evening CDT

SATURDAY, JULY 18

Event: Governor Scott Walker Winnebago tour of Iowa

Location: Council Bluffs, Iowa
Time: Morning CDT

Location: Sioux City, Iowa
Time: Mid-day CDT

Location: Carroll, Iowa
Time: Afternoon CDT

Location: Ames, Iowa – Family Leader event
Time: Early evening CDT

Location: Marshalltown, Iowa
Time: Evening CDT

SUNDAY, JULY 19

Event: Governor Scott Walker Winnebago tour of Iowa

Location: Cedar Falls, Iowa
Time: Early afternoon CDT

Location: Plainfield, Iowa
Time: Afternoon CDT

Location: Dubuque, Iowa
Time: Evening CDT