Erin sex offender placement, board pulls property from consideration
ERIN, Wis. - The Washington County Board of Supervisors on Wednesday night, Feb. 8 passed a motion removing a town of Erin property from consideration for sex offender placement.
Registered sex offender Eric Dahl was convicted of two felonies in the late 1990s – incest and sexual assault. The plan was for him to stay at a yet-to-be-built trailer near Highway E and Highway K.
"I'm so thrilled. I'm floored," said Chelsea Gutbrod, who lives near the site with her 1-year-old daughter. "I was near tears."
SIGN UP TODAY: Get daily headlines, breaking news emails from FOX6 News
With the board's vote, Chelsea and Max Gutbrod said they will now feel more comfortable letting their daughter walk down the street to her grandparents' house.
"I mean this changes the trajectory of our life and how we raise our daughter on our property and how comfortable we feel letting her outside," Chelsea said.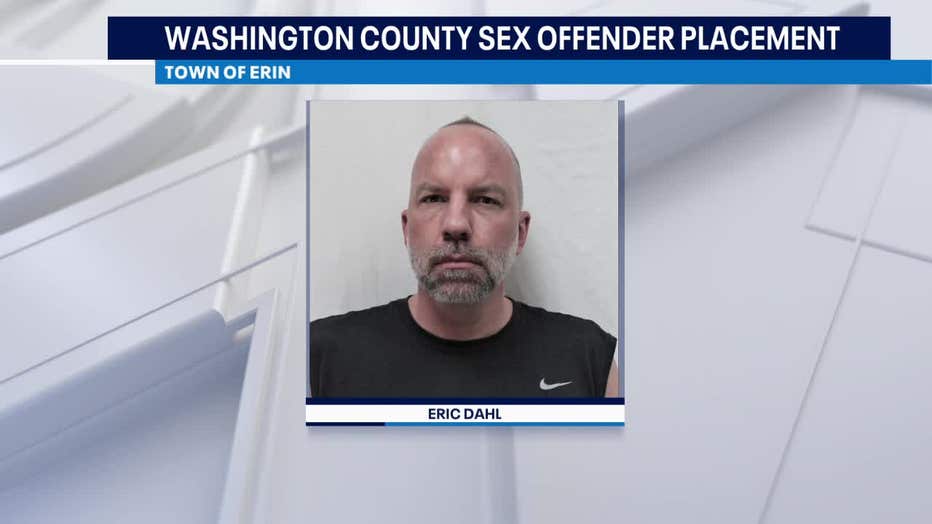 Washington County previously received approval from the Wisconsin DNR to fill a wetland area and construct a trailer pad and well for Dahl. 
"I think we're all concerned about getting this person placed in the safest and more remote location as best as possible, and this corner is absolutely not it," said resident Laura Denissen.
More than a dozen area residents banded together to hire an attorney who had concerns about the county protecting natural resources.
FREE DOWNLOAD: Get breaking news alerts in the FOX6 News app for iOS or Android.
"This site is the headwaters of a 400-acre wetland and environmental corridor. Its environmental importance has really been underestimated," Attorney Don Gallo said.
The county is required by Wisconsin statute to find a spot for Dahl to live. 
"County government is in a tough spot," said Washington County Executive Josh Schoemann, adding that he didn't blame people who were concerned with the proposal. "We're trying to balance our constitutional responsibility, which we do have one, with the interests of the citizens who live close."
Schoemann said the county has considered nearly 45 spots to place Dahl and will continue looking until one is found.