"Driving like maniacs!" 911 calls taken prior to collision between bike, MPD squad car released
MILWAUKEE -- Dozens of 911 calls that came in during a huge motorcycle rally in and around Milwaukee this weekend have been released. Hundreds of motorcycles traveled through Milwaukee on Saturday, August 8th -- and there was a collision between a bike and a Milwaukee Police Department squad car near 6th and McKinley. But before that, 911 calls indicated motorcycles were speeding down the street, riding on sidewalks and running red lights. It has one Milwaukee alderman calling for change. The motorcycles were apparently taking part in the "Miltown Throwdown" event -- an unsanctioned motorcycle rally where a massive group of sport bikes took over the roads. At least one person was hurt in that collision involving the bike and the MPD squad. It was captured on camera. Prior to the collision near 6th and McKinley -- dispatchers were flooded with dozens of 911 calls. Callers reported motorcycles driving erratically and causing havoc on the roads. 911 Caller: "There`s tons of motorcycles near North Avenue. They`re passing in the left lane, right lane, wheelies in the middle, stopping right in front of us."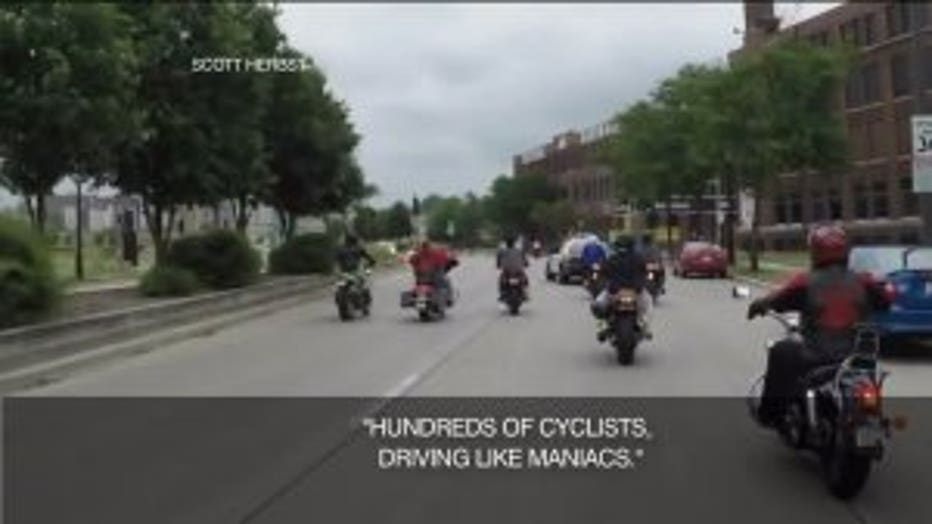 Motorcycles in and around Milwaukee for Miltown Throwdown
911 Caller: "About 1,000 motorcycles. They're doing wheelies and all kinds of crap. There's probably about 500 to 1,000 of them." 911 Caller: "They're going through red lights. They're popping wheelies. I'm concerned they're going to cause an accident. 911 Caller: "300-plus bikes. They're causing a lot of havoc." 911 Caller: "Over 100 of these motorcycles. Some of these (expletive) are standing on their seats -- riding on one wheel." 911 Caller: "They're blowing through at least two cycles of red lights." 911 Caller: "They're going into the city, and they've been blocking traffic and holding the lights -- and go through red lights." 911 Caller: "They're doing wheelies and everything else." 911 Caller: "Running red lights, blocking traffic, won't allow people to go through. At least 200. They're heading toward the lakefront and they're causing havoc. People are scared." 911 Caller: "They're just parking in the middle of the street and they're just harassing motorists and blocking off intersections. They're knocking on their windows. They're blocking traffic. They're taking up both lanes -- going opposite directions."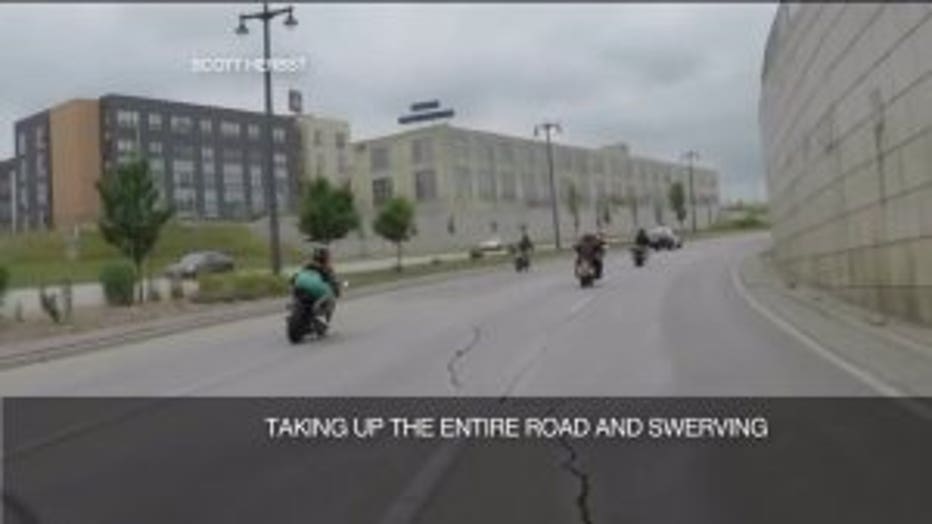 Motorcycles in and around Milwaukee for Miltown Throwdown
911 Caller: "They totally blew through a red light -- three consecutive red lights. They drove into oncoming traffic and one of them swiped the side of my car and left like, a huge scratch on my car door. They're just flying down -- taking up the entire road and swerving in and out of cars -- going the opposite way." 911 Caller: "There's a thousand motorcycles all misbehaving. It's a danger. You need somebody out here. They're filming. They're doing acrobatics. This is not what the highway's for." 911 Caller: "They literally had one guy jump off the intersection. It's kind of like they're taking things into their own hands. I don't know if that's legal, illegal, whatever." Dispatcher: "It's illegal." 911 Caller: "I just almost got sideswiped by three motorcyclists -- driving like freaking maniacs. Hundreds of cyclists -- driving like maniacs. Three of them almost sideswiped me driving in the bicycle lane." "I saw it firsthand. They were riding on the sidewalks. I mean, it was just mass chaos. The behavior that was exhibited this last weekend cannot be tolerated," Alderman Tony Zielinski said. Alderman Zielinski says he wants to see an amendment to current law that would require every rider be fined up to $500 if they choose to take part in these unsanctioned events. The money would be used to pay for police resources needed to keep people safe during these events. "You just can't sit by and let that happen," Alderman Zielinski said. As for that collision, FOX6 News has heard two very different sides of this story. Folks on each side say the other caused the collision.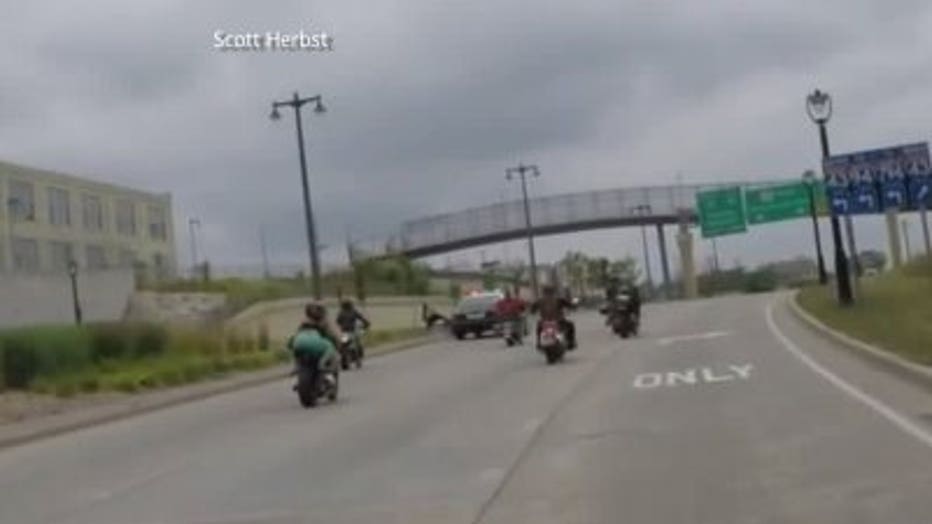 Collision between motorcycle and MPD squad car
Video shows a Milwaukee Police Department squad car cutting back and forth across the lanes of traffic in front of the riders near N. 6th and McKinley. A Milwaukee Police Department spokesman said the officer had gotten in front of the motorcycles in an attempt to bring their speed down and set a pace for the group. He says that's when the motorcyclist tried to go around the car and struck the squad -- and then veered off the road. Warning: This video contains strong language and may not be suitable for all audiences. Viewer discretion is advised.
"We was coming from downtown and you got the police who wanted to escort us out of downtown," said Rio, a motorcyclist who was riding with the pack and saw the incident. "What the supervisor was doing, he was driving erratically across the freeway so he just, he swerved like this, trying to hit somebody. So as Cuffy was going past, he just turned and hit Cuffy off his bike," said Rio. Friends of the motorcyclist involved say the collision seemed intentional, and say the driver was hurt in the incident. An MPD spokesman says the driver reported no injuries on scene -- though a passenger was taken to the hospital. The extent of injuries suffered is unclear. A video posted on Facebook shows a large group of bikes in and around Milwaukee on Saturday. The video shows some of the drivers popping wheelies and even riding on the sidewalk. Warning: This video contains strong language and may not be suitable for all audiences. Viewer discretion is advised.
The driver of the motorcycle involved in the collision was cited for having a suspended license and for failing to yield to an emergency vehicle, police say. Alderman Zielinski has issued this statement to FOX6 News regarding this incident:
"Milwaukee is a town that loves its motorcycles. It is the proud home of Harley-Davidson, and not a summer passes without the rumble of bikes in the streets. Milwaukee has even hosted some of the largest motorcycle parades in history commemorating various Harley-Davidson anniversaries. The vast majority of riders have always been peaceful and law-abiding, showing respect for their fellow motorists and the communities through which they ride. Last weekend, however, the "Miltown Throwdown" demonstrated that there is another side to motorcycle culture. Individuals associated with this event blocked traffic, drove recklessly, damaged property and otherwise made themselves a public nuisance. I witnessed a few of these incidents and did what I could to prevent further harm, but I also decided then and there to do what I could to make sure this sort of thing doesn't happen again. (Wednesday) morning I met with representatives of the Milwaukee Police Department, the office of the City Attorney and the Department of Public Works to come up with an comprehensive strategy. The following was determined: 1.         Those individuals already identified as having interfered with law enforcement and otherwise engaging in the most reckless behavior will be prosecuted to the full extent of the law. 2.         I will be introducing legislation on September 1 to make participation in an unpermitted gathering of this sort punishable by a forfeiture of up to $500. 3.         I will be working with local law enforcement to ensure that they are prepared to react to any future events organized by this same group. Knowing that we live in a time of difficult budgets and regrettable police officer furloughs, I will be working to ensure that the revenue from the forfeitures mentioned above are turned over to the Milwaukee Police Department. The disruption of a community in this way, if the broken windows theory is to be believed, can be every bit as disruptive to residents' mental well-being as a robbery or a burglary. I want to join with my colleagues on the Common Council to do whatever we can to make our city safe for everyone—including those who want to enjoy it on a motorcycle operated safely and legally."