Drivers pay attention: New changes in store in the Zoo Interchange


MILWAUKEE (WITI) -- Drivers pay attention! A major road is shutting down and by Thursday morning, October 16th, your drive to work could look at lot different.

It's the latest piece in the Zoo Interchange puzzle -- the Bluemound Rd. bridge and access to it will be closed early Thursday. Access on and off at Wisconsin Ave. just to the north will also be shut down.

"When we are all said and done we'll have more of a traditional look and feel to the interchange at Bluemound," said Jason Roselle, Project Supervisor.

Also on Thursday, the Wisconsin Department of Transportation (WisDOT) is opening up one lane of traffic, east and west, under Highway 45 on Watertown Plank Rd. WisDOT says be aware, GPS updates are not automatic -- and may take a few days to update the most recent openings and closures.

"All that information will be provided and updated as quickly as we can get it to them," said Roselle.

One more head's up to drivers -- a stretch of Highway 45 under Bluemound will be closed Friday and Saturday night -- while the bridge is torn town. While it'll only take a couple of days to tear down the bridge, it'll take month to rebuild it. WisDOT said the goal it to have this part back open in June 2015.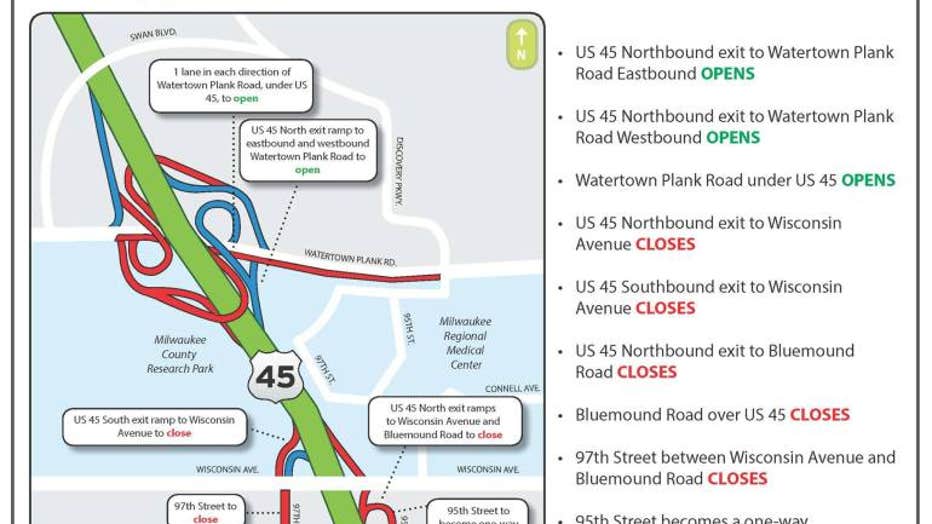 Related stories/links: