Donald Trump "the black hole of GOP politics," so how do candidates like Walker get attention?


IOWA -- Newly-released polls show Donald Trump leading the field of Republican presidential candidates in Iowa -- one week after the first Republican presidential debate in Cleveland. Is all the focus on Trump cutting into the other candidates' opportunities to attract voters?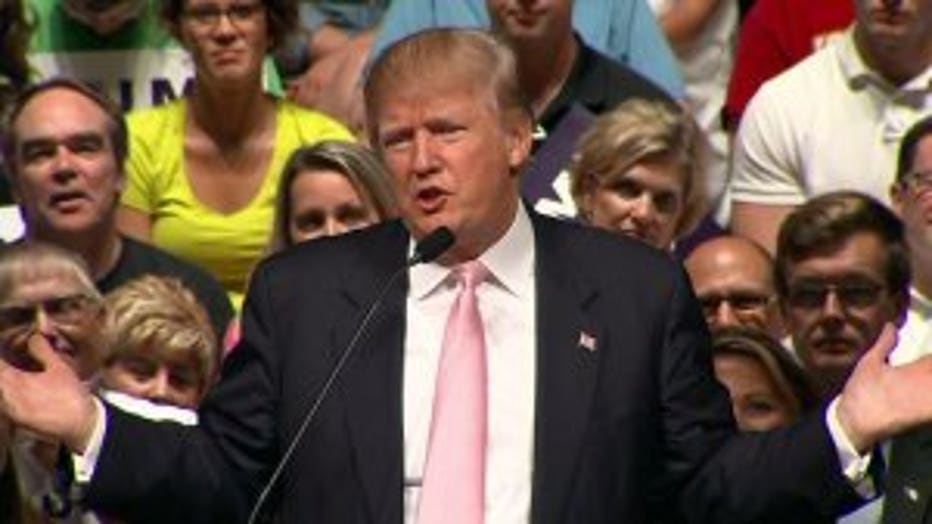 "Donald Trump is sort of the black hole of Republican politics right now. He's just sucking not only the media, but all the other candidates into this gravitational pull," Mordecai Lee, UW-Milwaukee professor said.

The other 16 Republican presidential candidates can either stay on message, or go after Trump to try to grab a slice of the spotlight.

"I think it's understandable that some politicians say 'well, if the media is covering Donald Trump, then if I attack Donald Trump the media will cover me.' But on the other hand, a lot of politicians understand you talk about yourself and you don't let yourself be reacting to other candidates," Lee said.

Earlier this week, when responding to a question involving Trump, Governor Scott Walker highlighted his own gubernatorial policies and avoided using Trump's name.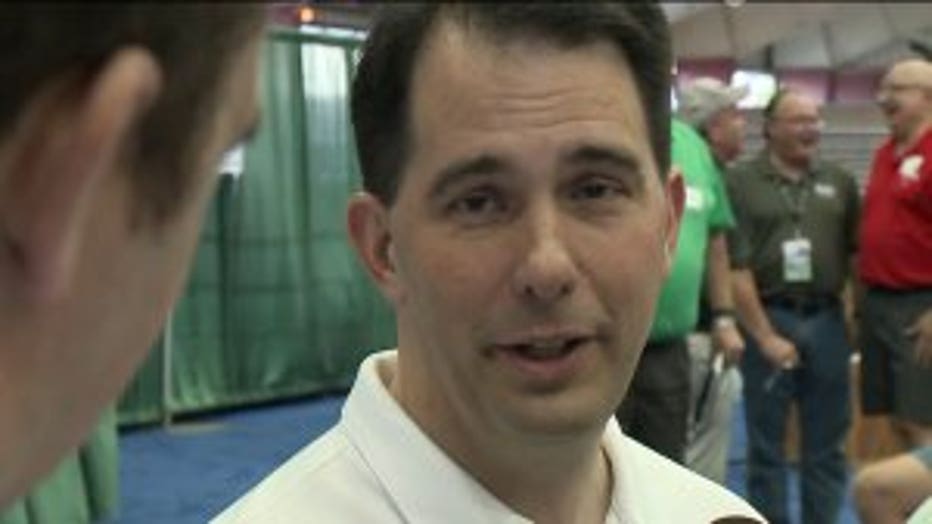 Governor Scott Walker at Wisconsin State Fair


"You may agree or disagree with my politics, but no one will ever confuse my statements with the statements of the gentleman you just referenced," Walker said.

On Wednesday, August 12th, the Associated Press reports Walker was asked Wednesday about comments Trump has made about women and whether Walker is concerned about how voters will view the Republican field in light of that.

Walker says he has faith in voters that they will not confuse him with Trump, the billionaire businessman.

Trump joked during last week's GOP debate when asked about calling some women "fat pigs" and "disgusting animals."

Walker says, "I will always be respectful to people and I will never use the kind of language that you've heard out of him and some of the candidates out there."

A Suffolk University poll shows after the debate, Trump is now seven points ahead of Walker in Iowa.

Among voters in New Hampshire, Walker is down 11 points — now in a tie for seventh place. In March, Walker led the state, according to the Franklin Pierce/Boston Herald poll.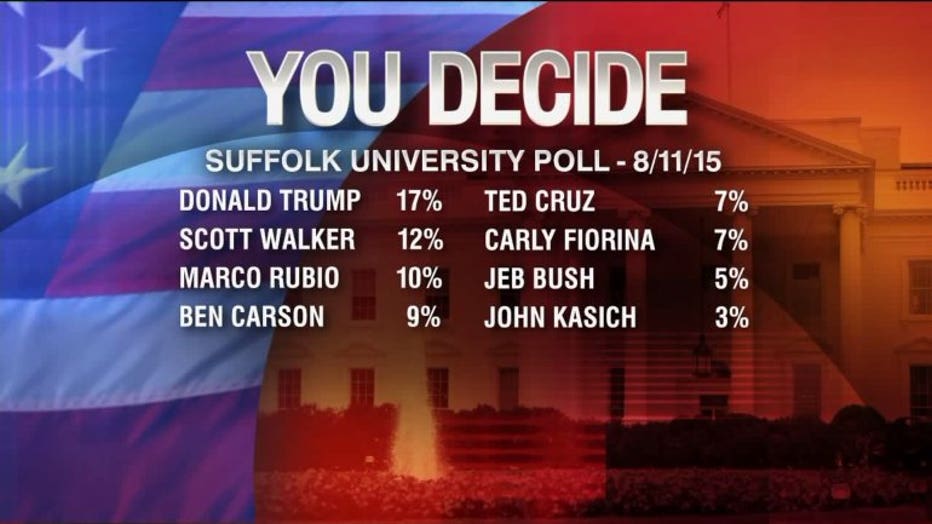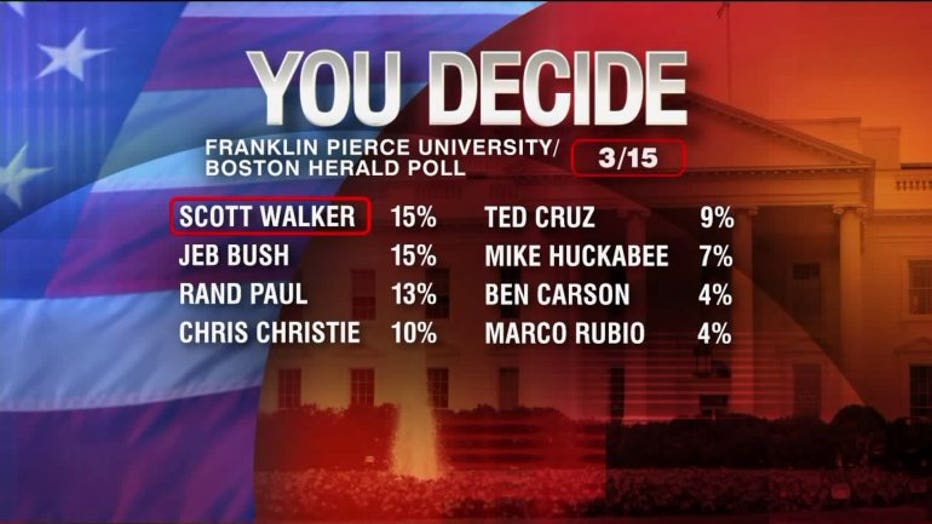 Franklin Pierce University/Boston Herald poll


"I think like a race, you're going to see ebbs and flows throughout this race. It's August. The election is not until next November, so lots of things can happen between now and then," Walker said.

Walker seems to be brushing off the latest poll numbers.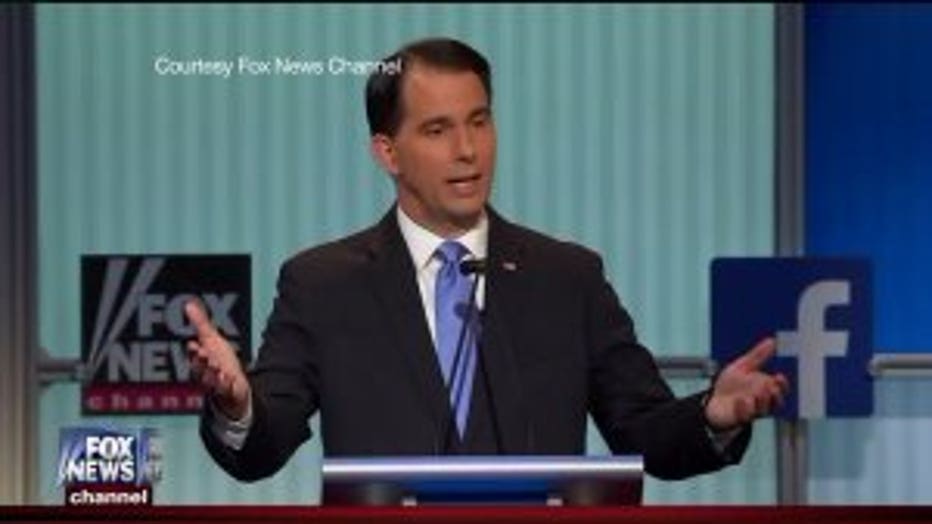 Scott Walker at first GOP presidential debate in Cleveland


"Again — it's all over the place. You have name identification, you have other factors out there. We are just going to spend time in each of those areas. We would expect it would go up," Walker said.

Walker is promising he'll be hitting key states hard in the coming weeks.

"I used to run track, when I was in high school, and a lot of times guys would go out in front. I would try and be the guy who went out front by the time we got to the finish line," Walker said.

As for Trump, Lee says even though he's well-known, that doesn't mean he'll have the support of primary and caucus voters. Case in point: Rudy Giuliani.

"He was the leading Republican in all the polls to be the Republican nominee for president and the moment that the voters entered the polls, in the split second that they entered the polls, he became nobody. He became nothing," Lee said.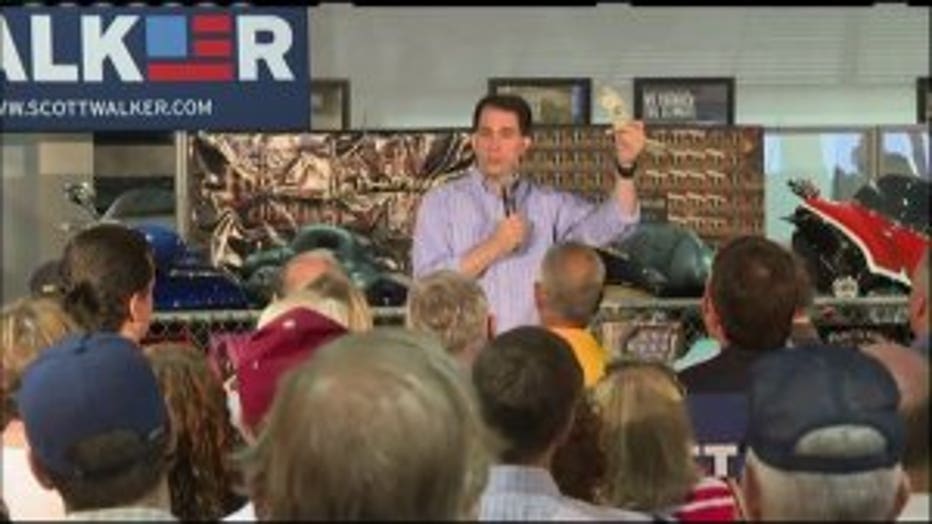 As for the contest between Trump and Walker, Lee predicts Governor Walker's grassroots, retail politics in a place like Iowa will serve him better in the long run than Trump's high name recognition.

Governor Walker will travel to Iowa on Monday, August 17th to attend the Iowa State Fair, deliver remarks from the Soapbox, and make campaign stops in the surrounding area.

Walker will visit two more Iowa counties on this trip in his pursuit of the "Full Grassley," bringing his total number of Hawkeye-State counties visited since he announced his candidacy for president to 18.

MONDAY, AUGUST 17

Gov. Scott Walker at the Iowa State Fair

Time:
Remarks approximately 10:00 AM CDT

Location:
Iowa State Fairgrounds
3000 E. Grand Avenue
Des Moines, IA 50317

Gov. Scott Walker campaign stop

Time:
5:00 PM CDT

Location:
Maid-Rite
409 Closz Drive
Webster City, IA 50595

Gov. Scott Walker campaign stop

Time:
6:45 PM CDT

Location:
Pizza Ranch
102 S. Main Street
Clarion, IA 50525