Democrats show unity in race for governor of Wisconsin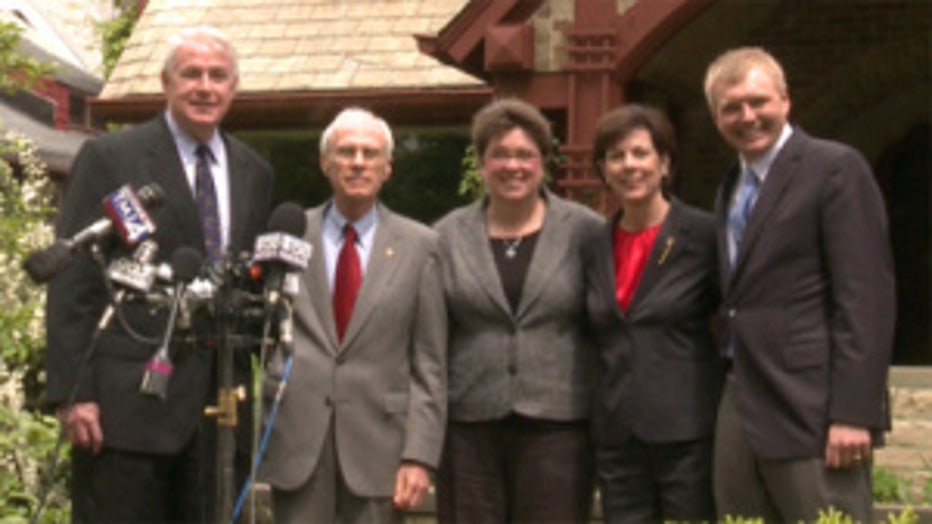 MILWAUKEE -- Milwaukee Mayor Tom Barrett was joined on Wednesday morning, May 9th by the Democratic candidates he defeated in the recall primary for governor. They came together to show unity in their efforts to oust Gov. Scott Walker from office.
"What we are showing here today is that we, the Democrats in this state, are unified," Barrett said in front of his house Wednesday. "We are unified with a singular purpose and that is to elect a new governor for the state of Wisconsin."
All three of Barrett's primary challengers pledged their support for the Democratic candidate at Barrett's house on Wednesday morning.
"Tom Barrett is going to be an outstanding governor for Wisconsin. He will focus like a laser beam on the issues that matter the most to all of us: jobs, education, health care, protecting our natural resources." Kathleen Falk said. "I am proud to stand up and support Tom. I will do whatever I can in the next 28 days to make sure we recall Scott Walker."
Barrett said it will be his mission to end the failures of Walker as governor.
"Wisconsin cannot be fixed as long as Scott Walker is the governor of this state. Well all recognize that," Barrett said. "We have to end the schism that we have in this state: where neighbors can't talk to neighbors, office workers can't talk to office workers, where family members can't talk to family members. I want to being having this state, the neighbors, talk to each other once again."
"This about the future of this state and how important it is for us to end Scott Walker's ideological civil war. A lot of this has to do with neighbors and that's why we wanted to be here today in this neighborhood. What we're going to focus on over the next 28 days is trying to help this state fix itself."
Barrett also used Wednesday to talk about Walker's $25 million campaign war chest, compared to Barrett's $1 million. Barrett said 60 to 70 percent of Walker's money is from out-of-state donors, which he believes doesn't sit well with Wisconsin voters.
Wednesday night, volunteers across the state began making phone calls and knocking on doors in support of Barrett's campaign.
Related stories: