Dallas Love Field shooting suspect shot by police, no one else injured
DALLAS - Dallas police have identified the woman who they say fired several shots inside Love Field Airport before officers shot her. No one else was injured. 
Portia Odufuwa, 37, was taken to the hospital in an unknown condition. Police have not revealed a motive.
Odufuwa is known to local law enforcement. She has a criminal record that includes an arrest for a bank robbery.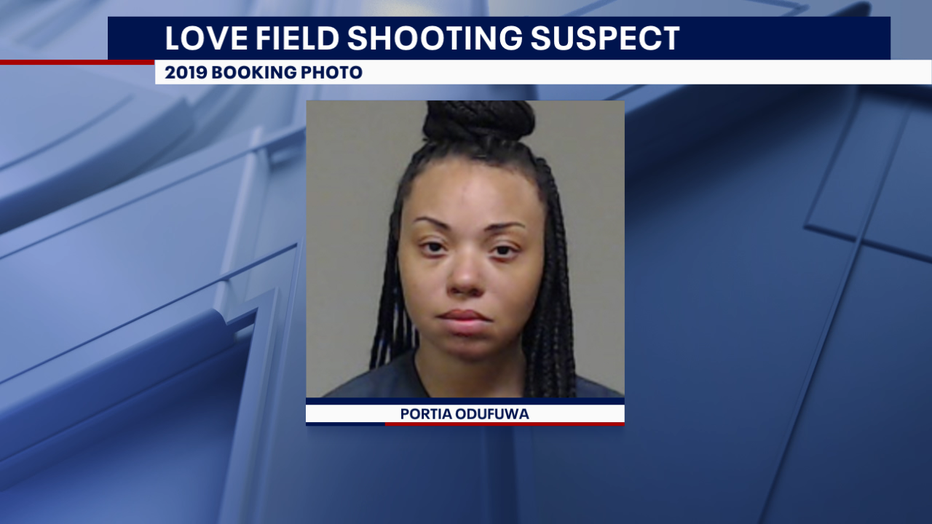 One witness first noticed the woman when she yelled that she had an announcement to make. She thought Odufuwa was an employee until she opened fire.
Shaky cell phone video captured part of the chaos inside Dallas Love Field Monday.
Dallas police say just before 11 a.m., Odufuwa was dropped off at the airport.
Witnesses say Odufuwa walked inside the airport, went to the bathroom, changed clothes and then opened fire with a handgun near the Southwest Airlines ticket counter.
"At this point, we don't know where the individual was aiming most now. Is she is aiming at the ceiling?" said Dallas Police Chief Eddie Garcia. "Our officer engages the suspect, striking her in the lower extremities. She is taken into custody and is currently at Parkland Hospital."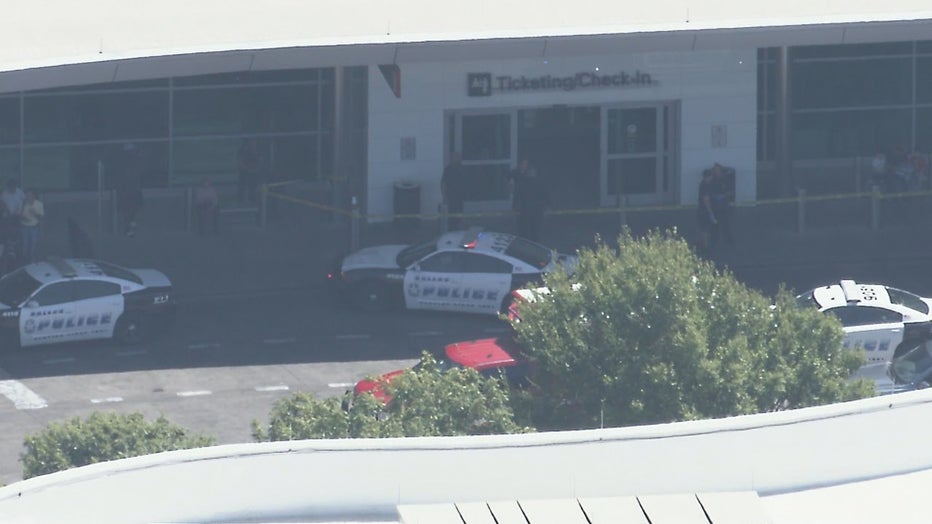 Ashley Wycoff says she was standing just feet away from the shooter when it happened.
"The woman came and was like making an announcement saying somebody failed her husband or something and said, 'I'm about to blow this place up,'" she recalled. "All of a sudden, she brandished the gun and started 'Pop, pop' in the air. All I can do is run. I'm thinking I'm not from moving fast enough because I keep hearing shots like I'm gonna die in here."
Wycoff's friend, Britley Daye, had just gotten out of an Uber. She was walking inside the front doors as Wycoff and other passengers began running out.
"All we heard was a shot, and we smelled a gun smoke," she recalled. "So hurry up and ran through the door. I ran across. Almost got hit by several cars."
Dallas police and airport officials immediately ordered an evacuation. The airport went into a ground stop that would last hours. It has since been lifted.
Cell phone video taken by another traveler showed rattled passengers outside huddled near a wall.
For others like Treneice Bailey, they were forced to shelter in place.
"They pushed us all back and told us to go into the lost luggage area," Bailey recalled. "Everybody was scared. Some people were crying there. It's a variety of children."
The shooter was taken to Parkland Hospital. Thankfully, no one else was hurt.
Odufuwa is known to law enforcement and was most recently arrested in 2021. The 37-year-old has been arrested multiple times on charges including bank robbery, arson and making a false report of a fire. 
In the affidavit from a 2019 arson case, Odofuwa is quoted telling police she was a "prophet of God."
There is history of mental health evaluations following her arrests. 
According to court records, Odufuwa was determined to be incompetent to stand trial. She was ordered to a mental health program but never finished, but it's still unclear why. 
Meanwhile, thousands were stranded following Monday's shooting. 
More than 1,300 Southwest flights were delayed. Nearly 300 Southwest flights were canceled. 
The FBI is assisting in the investigation.
The TSA is recommending that anyone planning to travel out of Love Field Monday to check with their airline before heading out since many flights have been delayed or canceled due to the shooting.