Curfew for teens will be more strictly enforced in Milwaukee; "This is not the place where you go to gawk"


MILWAUKEE -- Milwaukee Police Chief Ed Flynn and Mayor Tom Barrett held a news conference on Monday morning, August 15th to update the public on their handling of the unrest that has been happening in the city's Sherman Park neighborhood.

One of the points driven home by the mayor was that the 10:00 p.m. weekday curfew for teenagers in the City of Milwaukee will be more strictly enforced.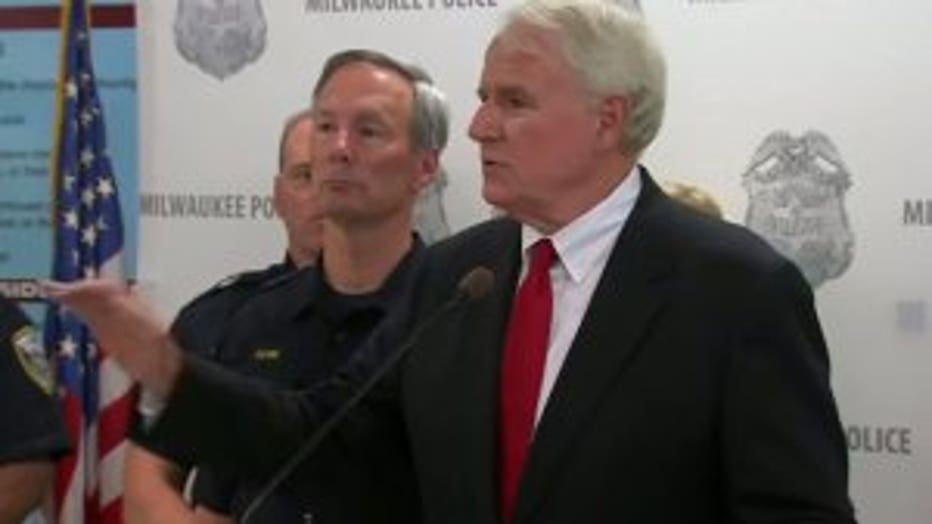 Milwaukee Mayor Tom Barrett and Chief Ed Flynn speak to reporters


"So parents, after 10:00 p.m., your teenagers better be home or in a place where they are off the streets," Barrett said. "This is not the place where you go to gawk. It is not the place to go to take pictures. It is not the place to go to drive your car around right now."

According to the mayor's office, this curfew means that those persons under the age of 18 shall not congregate, loiter or stand upon public streets, highways, alleys, parks, public buildings, places of public amusement and entertainment, places of employment, places of business, vacant lots, or any public place in the City either on foot, being driven or parked nearby. The penalty for violation of this curfew shall be a fine of not more than $200, pursuant to Wisconsin Statute § 323.28.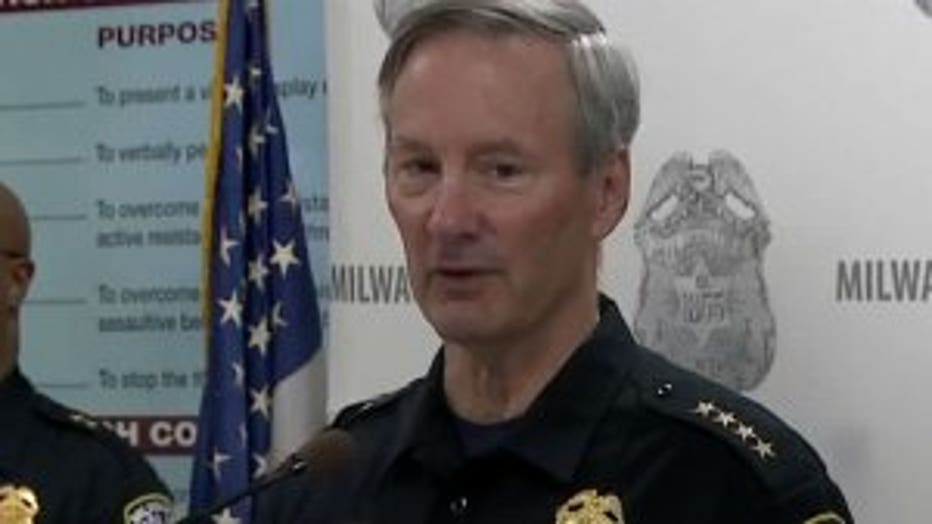 Milwaukee Police Chief Ed Flynn updates information on Sherman Park unrest


Police Chief Ed Flynn started the news conference recapping the previous night of activity in the Sherman Park neighborhood. Flynn said there were a total of 14 arrests overnight. 11 adult males and three adult females were arrested for disorderly conduct -- all from Milwaukee. There were 30 Shot Spotter activations between 8:00 p.m. and 3:00 a.m. in the area from Center to Keefe and 51st to 20th St. Flynn indicated three police squads were damaged. The Bearcat vehicle was also damaged -- having been struck by two bullets. Flynn said one automobile was set on fire around 1:30 a.m. Flynn also said there were a number of dumpster fires, a couch was set on fire, and a store suffered broken windows.

Flynn indicated seven police officers were hurt, as were four deputies with the Milwaukee County Sheriff's Office. Those officers and deputies were in some cases struck by flying bricks or rocks. Two neighborhood task officers were also hurt. Flynn said the fatal shooting of Sylville Smith on Saturday was a flash point for underlying tensions. He said many people outside the neighborhood are using that for their own agendas.


Chief Flynn said he has an opportunity to meet with some of his officers overnight. He said their spirits are high.

"They say they have a lot of concerns for their public safety, personal safety and for the safety of their colleagues. But they are very much committed to the mission," Flynn said.

Despite all that did happen overnight, Chief Flynn indicated there was progress made in the last 24 hours.




"The community stepped up last night," Flynn said. "Those of you who were out there saw many instances people preaching on street corners, counseling small groups of individuals, a number of individuals spoke at the vigil last night which could have easily been an excuse for some folks to incite. But rather, there were consistent calls for calm discussion and peaceful change."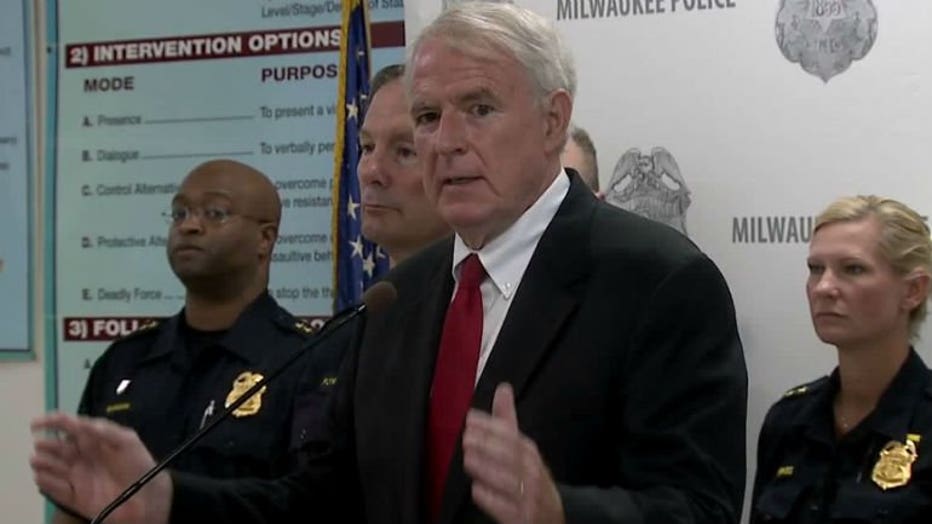 Mayor Barrett speaks on unrest in Milwaukee


Mayor Barrett commended the pastors and the community groups that have been involved in keeping the calm over the last day.


"That has had a powerful impact and I am specifically asking the pastors and the community groups to continue to be involved in this effort. By having them as part of this effort is making this situation better than it would otherwise be," Barrett said.

Barrett also commended the professionalism of the officers and deputies who have been on the streets.

"I think every member of this community should be thankful to the members of the Milwaukee Police Department, to the deputy sheriffs who put their lives on the line every day, but certainly were out there over the weekend in very challenging circumstances," Barrett said.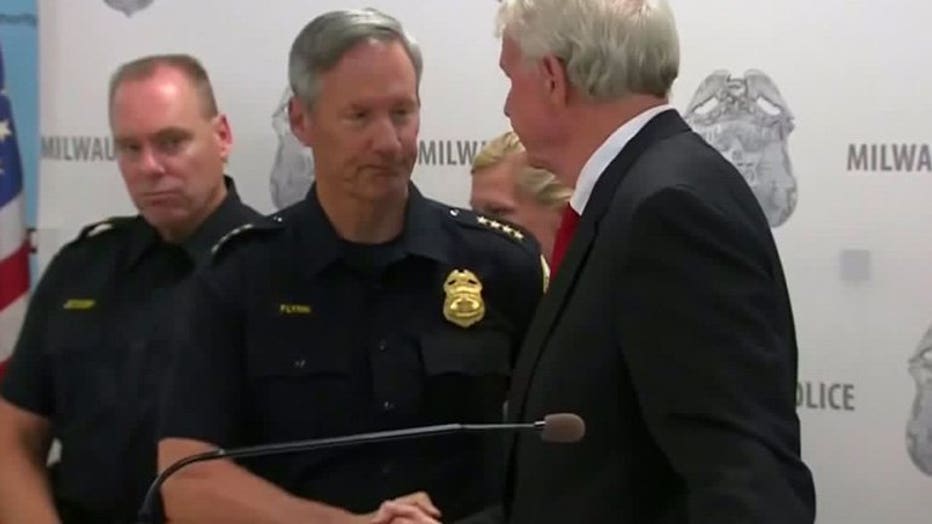 Chief Flynn, Mayor Barrett


"It's essential for police to maintain discipline and coordination when we are trying to deploy in such a way as to render the streets safe. We recognize in so doing that we make ourselves targets. In some ways we become the focal point," Flynn said. "But better us the focal point than innocent community members or stores being set on fire. So we accept the risk that engaging makes us the target. Okay, we have to rely on our training and our protective gear and our movements to try to keep us safe."




Milwaukee Common Council President Ashanti Hamilton issued this statement:

"For generations, Milwaukee has been a city crying out for justice. But there is no justice in a mob scene, and the time is now to come together as a city and peacefully reflect on our problems instead of inciting more of them.

"Accordingly, I'm calling on every Milwaukeean to practice nonviolence and restraint in the nights ahead. If you feel the need to make your voice heard, I would expect you to do it peacefully, and to obey the lawful orders of the police officers charged with protecting our lives and our property.

"There is a process for investigating the police-involved shooting that precipitated this weekend's unrest, and I would ask our residents to withhold their judgment until they have learned more of the facts in this matter. I am told there is body camera footage of the shooting, and that when it is shared, it will bring additional facts to light. We are pushing to expedite the release of this video and these facts as much as possible.

"Make no mistake about it, the frustration and the anger that we've seen expressed—sometimes violently—are very real, and so are the disparities that created them. Our city is home to neighborhoods full of kids and young people who feel trapped without opportunity, without hope and without role models. They see a world that's passing them by because of where they were born and the color of their skin.

"We have struggled for too long just to begin to rebuild our city, and we will not stand by and let violence and incivility tear it all down again. The sort of unchecked rage and destruction we have witnessed these past two nights hasn't put us any closer to finding solutions for our problems. Hurling bricks through windows doesn't fix anything, but picking those bricks up and building something, as a community, might. I hope my neighbors will join me in seeking a peaceful solution to our problems."

Milwaukee Alderman Bob Donovan issued this statement in regards to the curfew enforcement:

"The mayor has announced a strict 10 p.m. curfew for anyone under 18 in the City of Milwaukee.

"While I'm not at all interested in piling on to the mayor's already full plate during this period of crisis in Milwaukee, I feel compelled to make it clear that although I support the curfew move, in my mind it simply doesn't go far enough.

"During the riots of 1967 a strict curfew for EVERYONE was enforced, and I honestly believe the current unrest and violence is no different. The all-out curfew was needed then (I know, I lived through it!), and it's needed now.

"And we need a much firmer hand tonight with the protestors so that order is restored. We have the resources, and the National Guard has been activated by Governor Walker. I believe it's time to deploy and utilize those Guard members and to make the arrests when needed to protect officers and citizens.

"Over the years we have allowed far too much leeway with individuals protesting without permits. These individuals are engaged in unlawful assembly and need to disperse or be arrested.

"Honestly I cannot in good conscience stand by and say nothing and watch one more night of our officers being pelted by bottles, bricks, and rocks (and possibly shot at with bullets!), and them just standing there taking it. Seriously, how many more nights are we going to allow our officers to be punching bags?

"(And now we are hearing that individuals are coming up from Chicago to instigate violence and confrontations with our officers; all the more reason to get a better handle on these protests.)

"We cannot be proactive until an all-out curfew is enforced. I sure hope I'm wrong, but the 10 p.m. curfew the mayor just announced does not sound like it will be at all effective.

"With all due respect mayor, we should be more proactive because we owe it to our officers and their families."

Milwaukee Alderman Khalif Rainey issued the following statement on the Milwaukee unrest:

"I need to be perfectly clear about these two things: while the residents of Sherman Park and Milwaukee's impoverished neighborhoods have just cause for anger and frustration, absolutely nothing justifies the display of violence and incivility we've witnessed in our neighborhoods these past two evenings.

"My plea to my neighbors is to do everything they can to stop the violence immediately. In a neighborhood where the opportunities for employment are so few and far between already, it is foolish and counter-productive to take out your anger on the few businesses that choose to operate on your block. Looting and burning won't create opportunities to get a job and get ahead in life.

"Yes, our neighborhood has problems. Yes, it is unjust that many of us are denied economic opportunities because of the color of our skin and the zip code in which we were born. Yes, too many of our young people are mired in frustration, hopelessness and crime. But you can't fix the roof of a burning house.

"We need to put down the bricks and put away the guns. We need to pick up some brooms and paint brushes and get to work. We need to get our kids off the streets and teach them to act out of love and hope instead of fear and anger. We need to stop creating additional problems and start seeking solutions.

"If you're angry, good; it means you're paying attention. Once we've restored peace in our neighborhoods, I hope you will join us in the work of creating opportunity and equality for all of Milwaukee's citizens.

"We need peace, calm and healing on Milwaukee's North Side, and I respectfully ask every one of my neighbors to join me in pursuing that goal."

State Representative JoCasta Zamarripa (D – Milwaukee) issued the following statement on the unrest in Milwaukee:

"Like many Milwaukeeans, I am disappointed, disheartened, and still in disbelief about the rioting that occurred this weekend. I never condone violence, and I implore Wisconsinites to recognize the good in our state's largest city, which was exemplified on Sunday morning when Milwaukeeans like my colleagues, Representatives Evan Goyke and LaTonya Johnson, and their neighbors and constituents helped clean up the damage done to their near north side community.

"This terrible situation should force all of us to reflect on the circumstances that led our community to this point. The truth is, there are racial disparities in our law enforcement, justice and correctional systems. I say this to provide some perspective. Violence against people and property is abhorrent, and I hope that those who perpetrated it are brought to justice. I am frustrated and angry, as are many of my constituents, at the sight of the burned buildings on Milwaukee's near north side. However, I'm also frustrated and angry at the continuing racial disparities in our criminal justice system.

"Condemning violence is necessary, but doing so without being willing to honestly discuss the factors that brought us here is irresponsible. It's time to move beyond the archaic politics of city versus suburbs and find solutions to our city's, and state's, problems."