Coverage complications? Local Uber driver runs into insurance issues after accident


OAK CREEK — By now, you're probably familiar with Uber, the ride-sharing app soaring in popularity. But what happens if you're in an accident? Are you covered by insurance? FOX6's Contact 6 took a closer look after one driver ran into some issues with her insurance.

Aylin Wojciechowski loves driving for Uber.

"I am a people person and it has been fabulous," Wojciechowski said.

The flexible hours work well with her college classes and being a mom.

"You take the kids to football practice, you turn it on. Come back two hours later, you pick 'em up and, hopefully, you meet someone in between," Wojciechowski said.

On October 14, 2016, Wojciechowski got in an accident.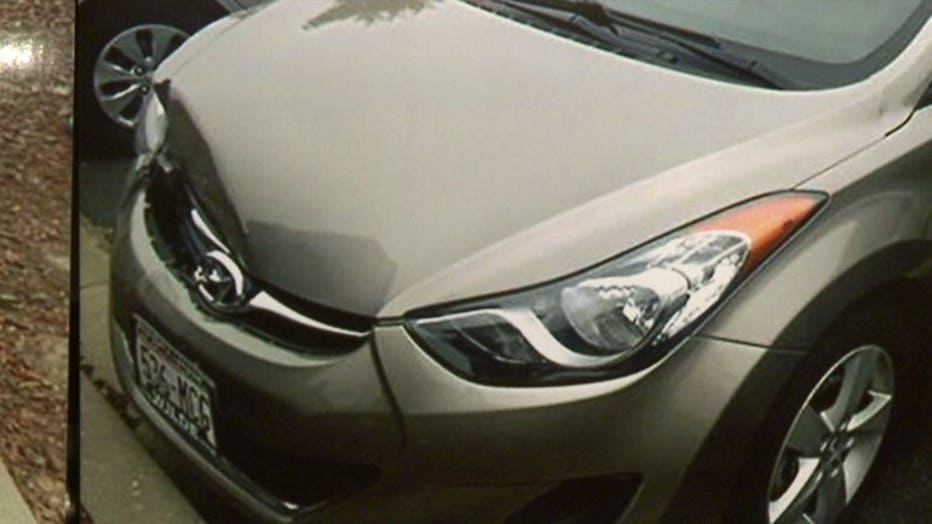 Photo of damage to Aylin Wojciechowski's car after an accident on October 14, 2016.


"I had my first moving violation and got into a car accident that was my fault," Wojciechowski explained.

No one was hurt in the accident, but both cars were damaged.

Wojciechowski had a personal auto insurance policy through American Family Insurance, but she was told it didn't cover any damage in this case.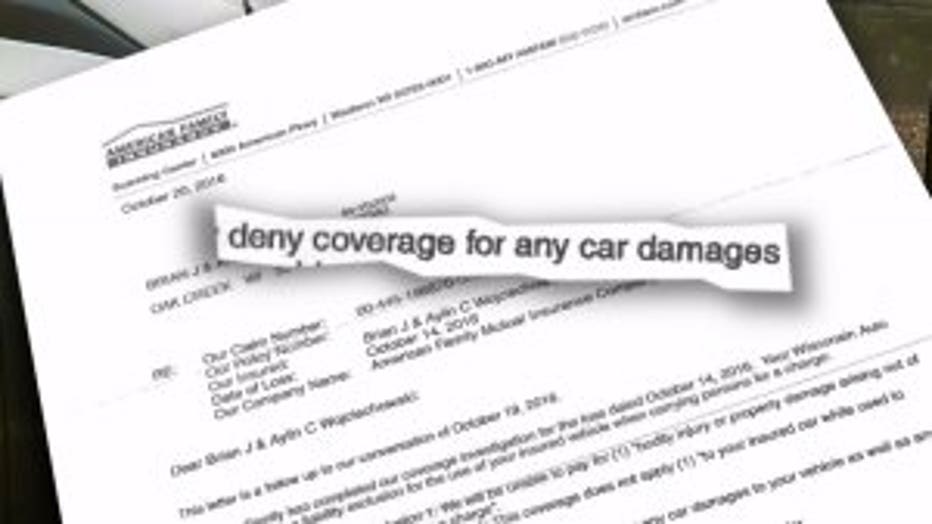 "Once your Uber app is turned on, you lose your personal coverage,"  Wojciechowski said her insurance company told her.

Contact 6 contacted American Family Insurance about Wojciechowski's case. The company said they couldn't talk about any specific claims,  but did say that depending on the policy, personal insurance coverage stops when a ride-sharing app is turned on — creating a gap in coverage.

So Wojciechowski turned to Uber, which does purchase insurance for its drivers for those cases when a driver's personal policy no longer applies. Wojciechowski was told Uber's insurance would cover the damage to the vehicle she hit, but not the damage to her own car. The damage on Wojciechowski's car was about $4,000.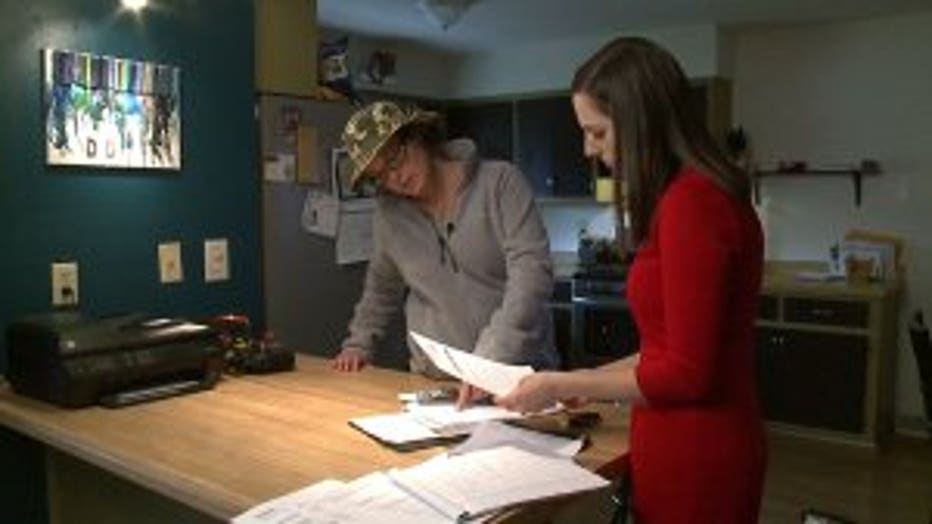 Contact 6's Jenna Sachs looks over insurance paperwork with Aylin Wojciechowski.


"There's definitely a hole in the insurance," Wojciechowski said at the time.

Uber's insurance company, James River Insurance Company, told Contact 6 each ride is divided into three periods and coverage depends on which period the driver is in:


Wojciechowski says she was in "Period 1" when her accident happened -- meaning she was just driving around alone, waiting for a passenger.

"You could be sitting at your kitchen table with the app turned on and a tree falls on your car, why should Uber be buying your physical damage coverage?" said John Clarke, the senior VP of marketing for James River Insurance Company.

If Wojciechowski had been responding to a call or a passenger had been in her car — the damage to her vehicle would have been largely covered by Uber's insurance, since her personal insurance denied her claim.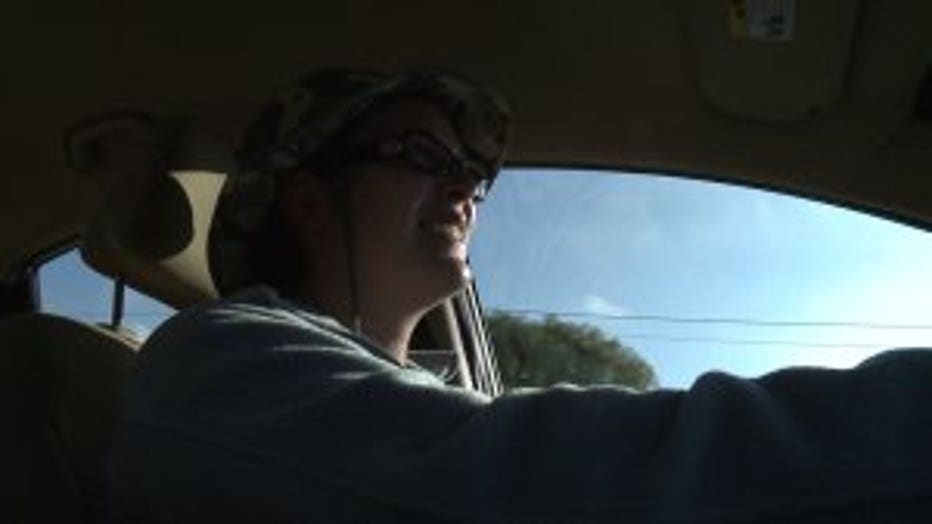 "It's important to understand the parts of the ride as it relates to insurance coverage," Clarke said.

"You don't go to work one day and then, you know, start a shift and then your job tells you, in 15 minutes or 20 minutes your insurance will start covering you," Wojciechowski said.

Wojciechowski decided to buy what's called "Period 1 Insurance" through State Farm. It's a relatively new policy emerging in response to companies like Uber and Lyft.

"It's a lot less expensive than a $4,000 car accident," Wojciechowski said.

Wojciechowski says Uber drivers need to make sure they have the right policy in place.

"We're talking about college kids for the most part. This is serious stuff," Wojciechowski said.

While in Period 1, Uber's insurance provides liability coverage, but not collision coverage. In fact, Uber offers liability coverage in every period while the app is turned on. Uber also wants to be a driver's secondary coverage and be the insurance a driver turns to after their personal insurance denies them.

Bottom line, it can get complicated because ride-sharing apps are still relatively new. The best thing drivers can do is check with both Uber and their own insurance company to make sure they're covered in all scenarios.

Wojciechowski got some very good news, just hours before Contact 6's story was scheduled to air. Wojciechowski got word that American Family is going to cover her claim after all! It turns out, her original personal insurance policy should have covered her all along.

An Uber spokesman sent the following statement to FOX6 News:

"As we discussed, every Uber ride is covered by a $1 million insurance policy and there is liability protection in each period on the app that meets or exceeds state minimal requirements. Additionally drivers are required to provide proof of insurance before gaining access to the app to ensure coverage and drivers can make personal decisions as independent business people on the extent of coverage they choose. For more details about insurance coverage on the app and how it works, please refer to the blog post."

Uber sent Contact 6 more information about coverage for their drivers. You can learn more HERE.

American Family sent the following statement in an email:

"Coverage may vary by insurance policy, and depending on the policy, if someone is driving for a rideshare company (like Uber), personal insurance coverage stops when their rideshare app is turned on to look for a rider. Insurance protection from the rideshare company then doesn't take over until the passenger gets into the driver's car. This creates a gap in protection. To fill this gap, American Family offers a rideshare endorsement that's added to a policyholder's existing auto policy and covers the driver during the aforementioned period of time. This endorsement became available to American Family policyholders in Wisconsin in June 2016. Policyholders interested in the endorsement should talk to their agent for more information and to add the endorsement to their auto policy."

Contact 6, also, reached out to State Farm insurance about ridesharing coverage. A State Farm spokesperson sent the following statement in an email:

State Farm TNC Driver Coverage endorsement enables a policyholder to have his/her personal auto policy fill in the coverage gaps left by TNC-provided insurance. This cost-effective endorsement provides the driver with the full liability coverage limits carried on his/her auto policy during the period of time when the driver is available for hire (also known as period one), and provides the driver with all other coverages applicable to his/her auto policy during all periods of TNC driving.

To learn more about State Farm's policy, click HERE.