Charges filed in connection with pursuit before officer-involved shooting; bystander hit wants officer fired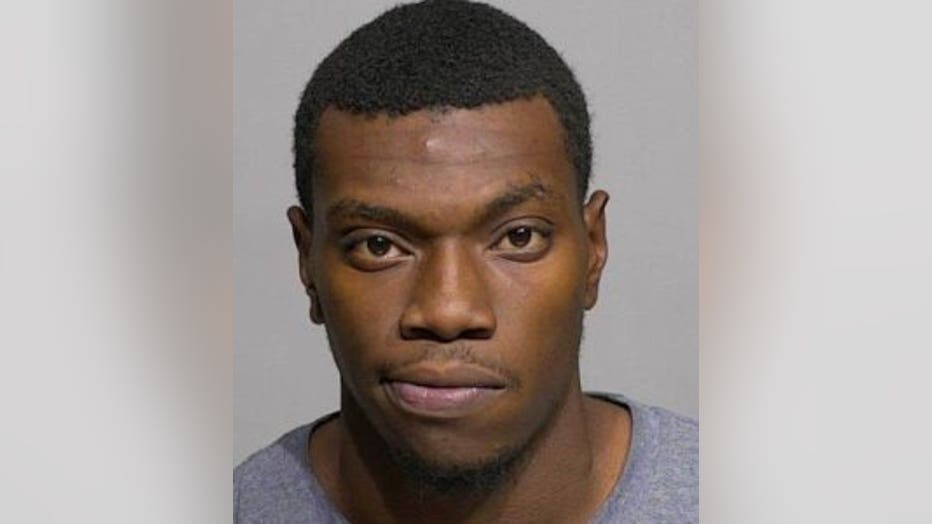 MILWAUKEE -- Charges were filed Thursday, Sept. 12 against a Milwaukee man, 22, accused of leading police on a pursuit that preceded an officer-involved shooting early Sunday, Sept. 8. A Milwaukee police officer shot and wounded a bystander, after believing the driver who led the pursuit was reaching for a weapon. Meanwhile, the bystander in this case held a news conference Thursday -- calling for the firing of the officer.

Kevin Brown faces the following charges:


According to a criminal complaint, officers on patrol near 27th Street and Townsend Street around 1:15 a.m. saw a driver blow through a red light -- traveling through the intersection at approximately 65 to 70 miles per hour. The officers attempted a traffic stop, but the driver did not stop -- instead, speeding away.

A pursuit lasted for 13.7 miles, and 19 minutes. The complaint said the driver blew through 24 controlled intersections -- nearly striking a parked vehicle, and also nearly striking a southbound vehicle while headed northbound on 29th Street. Officers reported speeds in excess of 80 miles per hour, and said the driver was weaving around traffic.

Near 27th Street and Auer Avenue, the driver struck an embankment and briefly came to rest. As an officer exited a squad, the squad was hit when the vehicle that was being chased reversed into it, before continuing down the alley to the area near 26th Street and Auer Avenue. That's where prosecutors said the driver fled on foot. The vehicle, still in "drive," rolled to a stop.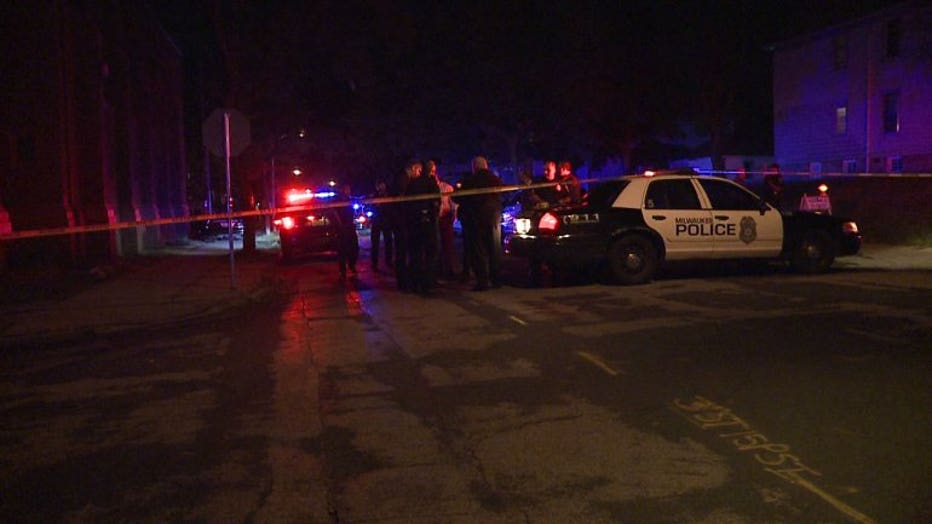 Officer-involved shooting near 26th and Auer, Milwaukee


Officers chased the driver, who was soon arrested, and identified as Kevin Brown.

The complaint said Brown admitted to fleeing from police, indicating he "thought he was far enough back that he could turn and get away from them." He further admitted to "bailing" from the vehicle and running from police.

Police said after this pursuit, there was an officer-involved shooting.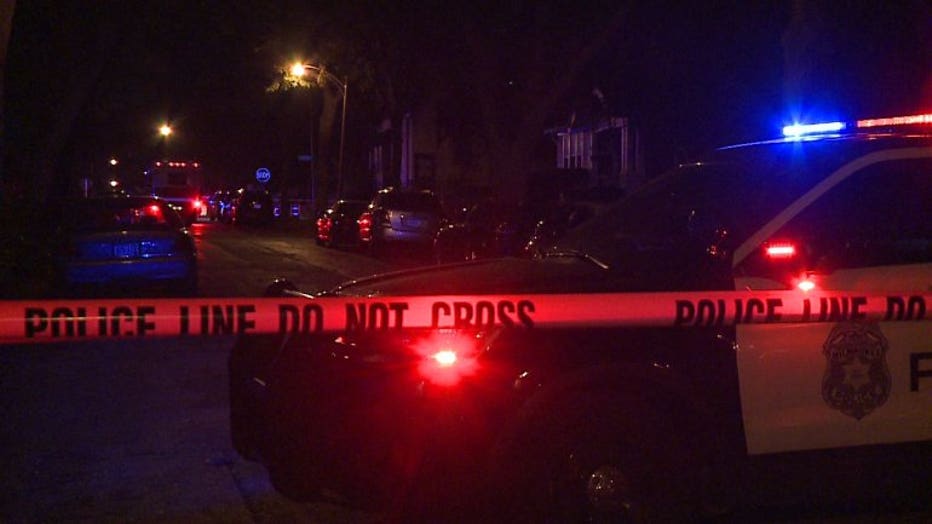 Officer-involved shooting near 26th and Auer, Milwaukee


During the foot chase, an officer, believing the driver was reaching for a weapon, fired one shot, which struck a bystander police said was "in close proximity" to the driver. The bystander, Tari Davis, was taken to the hospital, and police said he was expected to survive.

Tari Davis speaks out

Davis spoke out Thursday afternoon, calling for the officer to be fired. Davis said he opened the back door of his home when he was hit by the officer's bullet -- shot in the stomach.

"It hurts to breathe," said Davis. "It hurts to talk. It hurts to laugh. It hurts to cry right now, but I don't want nobody else to speak for me, and that's why I'm doing this. I want to be clear: I'm an innocent bystander. I'm not a criminal. I'm not a felon. I'm a rare breed around here, because it's not normal in this community. I want y'all to understand that."

Davis said his girlfriend and four children, ages 20, 15, 14, and 10, were in the home at the time of the shooting. He said his 14-year-old "was detained, slammed to the ground, handcuffed, and dragged downtown until 7 o'clock in the morning."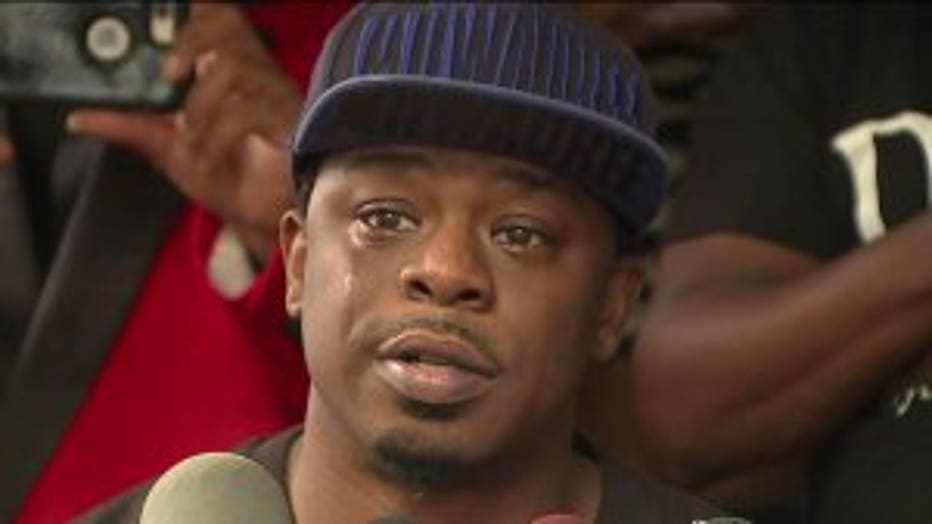 "Picture this, I've been shot," said Davis. "I'm carried off into a gurney, put of into an ambulance. I get to the hospital. They're telling me they're gonna have to do surgery. They put me under. You wake up shackled to a bed, and you was an innocent bystander. You were shot. You wake up surrounded by officers while shackled to the bed. My phone was taken away from me. The phone was taken out of my hospital room -- no contact in or out for approximately seven to eight hours. I was asked, did I have any contacts I wanted to contact? They had the numbers. They had the information. They called no one to tell them whether I was dead or alive. It's not fair. I wasn't wrong in any of this. For my family to be treated like this, it hurts even more. It angers me. It really does."

Davis said he "absolutely" planned to seek legal action in this case.

"There are citizens, there are law-abiding citizens in those communities who deserve to be treated justly," said Davis. "I was an innocent bystander to a situation that I can't speak on. I have lawyers that will speak on that. I have a feeling that everyone should feel that we all should be safe in our own homes. We all should be able to sleep at night, safe in our homes, no matter what crime is going on outside of our homes. I feel that I shouldn't have to worry about going to my back door, opening my back door, and being shot by a stray bullet by an officer who had no regard for no one in my home, no one in my house. I have four daughters in this house. I have a girlfriend that cares about me in this house. They shot directly into my home, with no disregard. I'm tired of it. I was raised in this community, born and raised in this community. I've seen the worst injustices happen to people, and their civil liberties and their civil rights, right here in this community, and it's not fair. I'm tired of it. They don't do this everywhere. They don't do what they did to me in other communities. I could've understood them barricading my house, blocking my house to understand and find out what's going on before they choose to disarm their weapons with no disregard, and for that, I want this officer fired. I want him fired, simple and plain, because there was no regard for me and mine. I could've been anybody. I could've been somebody's mother. I could've been somebody's father. I could've been somebody's sister or brother who just so happened to be taking out the garbage, or walking the dog, and I'm tired of it in my community. That's not policing. That can't be what they policies are when they policing us. I want justice. That's all I asked for. Be fair with all communities. Treat us all fairly, and that's really all I have to say. That's all I'm going to say. I need to rest. I need to recuperate, and that's all."

No weapon was recovered from either man.

"This is not new," said Davis. "This has been happening for quite some time in this community. You wonder why they run. You wonder why there's police chases. They are deathly afraid of stopping. They are deathly afraid of what could happen next. This has to stop now."

Davis told reporters he knows Kevin Brown -- the suspect in the pursuit that led up to this shooting. Davis called Brown a good person.




The officer, a 27-year-old man with 1.5 years of service, was placed on administrative duty, per standard procedure.

As for Kevin Brown, prosecutors noted he was charged with misdemeanor possession of THC in November 2018. Online court records showed a deferred prosecution agreement/sentence set in that case in March 2019. A bench warrant was imposed and stayed on Sept. 10 after Brown failed to appear in court in this case. The next court date was scheduled for Sept. 17.

Brown made his initial appearance in court in this case on Thursday. Cash bond was set at $10,000.

A Milwaukee Police Department spokeswoman issued this statement:

"On Thursday, Sept. 12, 2019, the Milwaukee County District Attorney's Office issued multiple charges against Kevin Brown, which include second degree recklessly endangering safety, vehicle operator flee/elude officer, causing damage to property, obstructing an officer, and bail jumping. If convicted, Brown could face more than 16 years in prison and be fined up to $55,000."

"On Sunday, Sept. 8, 2019, Kevin Brown was taken into custody after leading Milwaukee police officers on a lengthy vehicle pursuit that began on the 2700 block of West Townsend Street. At one point during the pursuit, Brown placed his vehicle in reverse and struck one of the pursuing officers' squad car."

"Brown continued to flee, and shortly afterward, he exited his vehicle and ran into a known individual's residence located on the 3200 block of North 26th Street. An officer chased Brown toward the residence,at which time Brown's actions caused the officer to believe he was reaching for a weapon. The officer fired one shot at Brown, which subsequently struck a 41-year-old Milwaukee man who was in close proximity. The 41-year-old man has survived his injuries."

"The Milwaukee Police Department Homicide Division will be investigating this use of force. Chief Alfonso Morales will be releasing a community briefing discussing this incident in approximately 45 days."