Chad Wilsing, charged in connection with officer-involved shooting in Whitefish Bay bound over for trial
MILWAUKEE COUNTY -- 39-year-old Chad Wilsing of Whitefish Bay, charged in connection with an officer-involved shooting that occurred on the evening of July 13th appeared in court on Tuesday, July 28th for his preliminary hearing.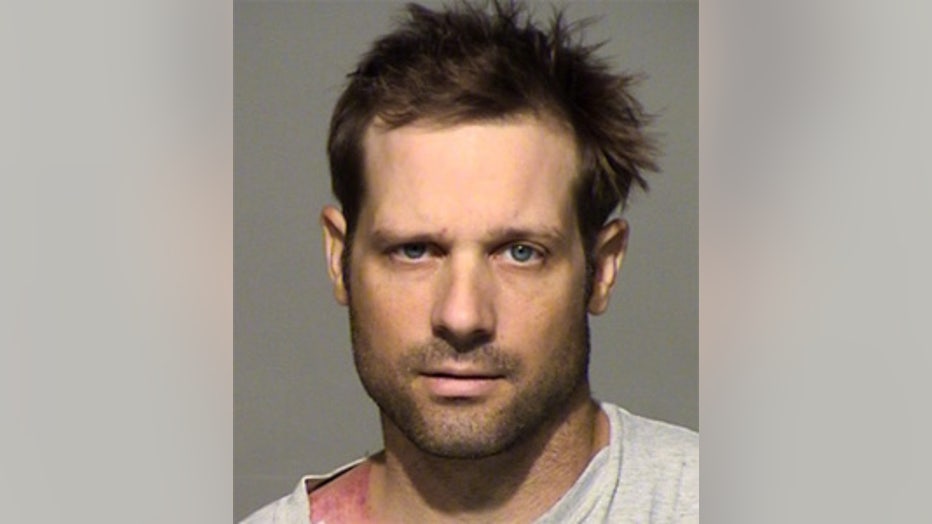 Wilsing is charged with first-degree recklessly endangering safety and disorderly conduct. The more serious charge comes with a penalty of up to 12-and-a-half years in prison and $25,000 in fines.

Wilsing waived his preliminary hearing on Tuesday -- and the court found probable cause for him to stand trial in this case.

He has pleaded not guilty.

During Wilsing's court appearance, his bail was amended to $12,000 cash.

It has been ordered that Wilsing have no contact with all of Whitefish Bay.

According to the criminal complaint against Wilsing, officers were first called to the neighborhood for a report of a "drunk male wearing a red shirt on a bike." The person was "reportedly damaging items in the house." Witnesses noted in the complaint that Wilsing appeared to be drunk.

The complaint says Wilsing had been drinking vodka, and was threatening to get behind the wheel.

A family member told police Wilsing said "he had four grams of cocaine waiting for him, and that he has to go."

Wilsing then apparently took off on a bicycle, and police say as he was riding it, "he was falling off of it."

A family member called 911, and it wasn't long before Wilsing allegedly returned to the home.

When Whitefish Bay Police Officer Matthew Basting arrived on the scene, he observed two women and two younger children come running in his direction. The complaint says the "children looked 'horrified' and both women looked panicked."

The complaint indicates Basting was familiar with the home involved due to past calls -- including one in June where Wilsing allegedly made a statement indicating that "he was going to have the police kill him."

Moments after arriving on scene, Basting saw Wilsing kick the storm door of a home open, "ultimately breaking the lower glass panel of the door." Wilsing then stepped onto the concrete porch, and he "was yelling and appeared to be very agitated."



Based on previous experience Whitefish Bay police had with Wilsing, Basting reached for his Taser.

Basting "observed the defendant was holding two to three knives in his left hand." The complaint says Wilsing "was screaming, 'AHHH! AHHH!'"

The officer immediately drew his firearm and began yelling orders to Wilsing to "drop the knife and get down." The complaint says Wilsing did not comply with Basting's demands -- and he "started to run toward" the officer.

Basting noticed Wilsing "make a motion consistent with transferring something between his hands. After that, Wilsing raised his right hand up and then made a throwing motion towards Basting." The officer "did see a shiny object coming toward him to his right."

According to the criminal complaint, Basting said he was "scared for his life," and that "he also feared for the lives of the women and children who had just been standing next to him." At this time, "Basting fired two to three shots at the defendant to stop the threat to his life."

After being struck, Wilsing "popped back up to a kneeling position almost immediately." He was yelling, "KILL ME!"

Moments later, another officer on the scene fired his Taser at Wilsing. At that point, the officers were able to handcuff Wilsing and begin to administer first aid for the gunshot wound.

Officer Basting stated in the complaint that "he could not stress enough how scared he was when the defendant was advancing toward him with the knives in his hand." Officer Basting stated he was in the military and served in Bosnia, emphasizing that he has been in some "very tough situations." Officer Basting stated that even with all of that experience, he has "never been that scared for (his) life."

The investigation into this officer-involved shooting is behind handled by the Milwaukee Police Department.

This incident was one of three officer-involved shootings to occur within a three-day period. One occurred Thursday in Wauwatosa, and one occurred Sunday in West Milwaukee.

Monitor FOX6 News and FOX6Now.com for updates on this developing story.