Cedarburg man busted for allegedly burglarizing bank after deputy spots him speeding on Highway 57
SHEBOYGAN COUNTY -- A 39-year-old Cedarburg man is facing several charges -- accused in a burglary of a bank in the Village of Random Lake. The man was caught when he was pulled over by a Sheboygan County Sheriff's deputy, accused of speeding on State Highway 57 shortly after the alleged burglary.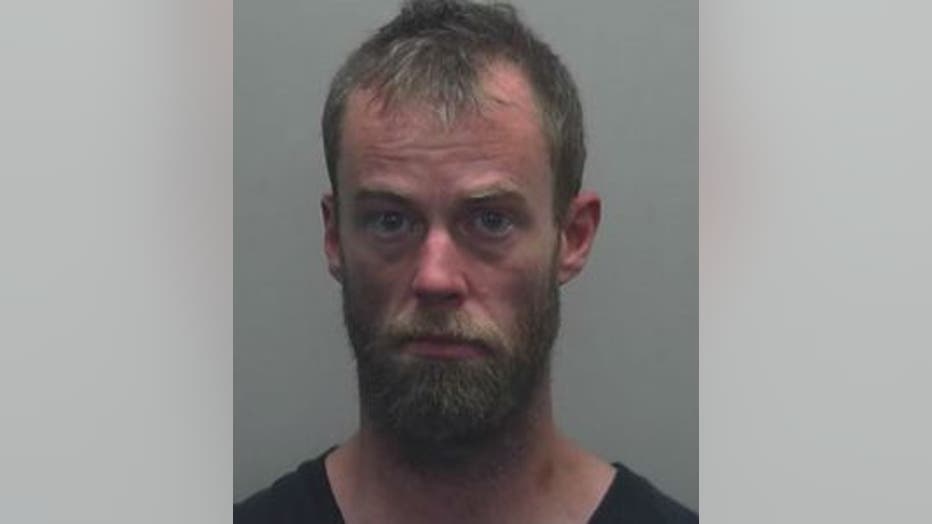 The accused is William Works. He faces the following criminal charges:


Early on Thursday morning, July 30th (around 12:45 a.m.), Sheboygan County Sheriff's deputies were dispatched to the Collins State Bank on East Towne Drive in the Village of Random Lake for a burglary.

There, deputies met with a husband and wife who indicated they were outside on their patio near the bank when they heard a breaking sound. When they went to investigate, they observed a suspect exiting the bank through a window.

The couple called 911 as the suspect entered a vehicle and fled the scene -- headed southbound on State Highway 57.

Deputies learned the bank's window had been broken with the use of a patio brick that was found laying on the floor in the bank.

Eventually, a bank employee responded to the bank and as she was walking through the bank with the deputies, she observed cash drawers for the tellers appeared to have been pried open, and the cash drawers were missing "a substantial amount of money from them."

A criminal complaint indicates an initial estimate of money taken totaled more than $7,700.

Deputies were able to take a look at surveillance video -- and that video showed a man standing outside the bank's drive-thru window, looking in, before walking around the exterior of the building several times -- eventually forcing entry through the window.

Meanwhile, another deputy headed south on State Highway 57 -- and was able to locate the suspect vehicle. It had been stopped already -- after the suspect vehicle was observed traveling at 83 miles-per-hour in a 55 miles-per-hour zone.

During this high-risk traffic stop, the driver was identified as William Works.

The complaint indicates a deputy observed a large amount of paper currency on the floor of the vehicle.

Works told a deputy "I know what's going on. I'll talk to you," according to the complaint.

Works then told the deputy he has three children and was trying to get money. He said he broke a window at the bank, and admitted to taking money from the bank that was now in his vehicle.

Works was interviewed again at the Sheboygan County Detention Center. The complaint indicates Works was crying, and appeared upset. He told investigators he broke into the bank "due to family financial distress."

Works said he had gotten out of prison approximately a year earlier in a similar burglary case. He said he began a relationship with a woman and had gotten engaged to her -- and said he was "working his ass off for $13 an hour," and his fiancee had just lost her job and his paychecks weren't enough.

The complaint indicates Works told officials he and his fiancee had a conversation about their financial distress and he felt "helpless" because "he was supposed to be the provider for his family." He said he was unable to get a better paying job, or other means to support his family -- so he left his home to see if there would be an opportunity for him to get some money.

Works told officials he considered the possibility of breaking in and stealing money, as he had done so in the past.

Works admitted to using the concrete paver to break the window at the Collins State Bank, and he also admitted to taking cash from the teller drawers. The complaint indicates he told officials "he studied the inside of the bank in great detail so he could minimize the time inside the bank -- to prevent him from getting caught."

A search warrant was executed on Works' vehicle, and officials found some marijuana remains under the driver's seat, and cigarette rolling papers on the driver's side of the vehicle. In addition, several plastic baggie tie-offs were found. The suspected marijuana tested positive for the presence of THC.

Officials recovered $7,305 from Works' vehicle, along with a tire iron.

The criminal complaint in this case makes reference to Works' 2000 burglary conviction out of Washington County. In January 2001, Works was ordered to serve three years probation. In June of 2003, Works' probation was revoked, and he was sentenced to two years in prison and five years extended supervision. The extended supervision was revoked in January of 2007, and he was sentenced to two years, 11 months and 27 days in prison in February 2007.

The complaint also makes reference to a 2006 burglary conviction out of Ozaukee County. In May of 2007, he was sentenced to serve three years in prison and five years of extended supervision.

In 2000, Works was convicted of possession of THC out of Ozaukee County.