Caught on camera: Semi driver cited after crashing into tow truck near Mitchell Interchange


MILWAUKEE -- A semi driver received two citations after a crash involving a tow truck near the Mitchell Interchange Monday, Aug. 26.

It happened shortly after 11 a.m.

Officials with the Milwaukee County Sheriff's Office said the tow truck driver was on the scene of a separate crash when the semi, headed southbound through the Mitchell Interchange, struck the tow truck.

The semi's cab separated from its base after the impact, and the trailer flipped on its side, blocking all three lanes of traffic.

The tow truck slammed into the wall, and the driver was trapped in the cab. He was extricated and taken to the hospital for treatment of serious injuries.




Sheriff's officials identified the semi driver as Ali Abubakar. He and his passenger suffered cuts to their head and arms, and were able to exit the flipped semi on their own. They were taken to a hospital for treatment.

Abubakar was hauling 6,000 pounds of light fixtures, and has a commercial driver's license out of Ohio. He was fined $224 for driving too fast for conditions, and $224 for failure to keep a vehicle under control.

All lanes of traffic southbound through the Mitchell Interchange were closed to traffic until about 3:40 p.m.




"I was headed west from 76th Street," said Ameera Ahmed of Milwaukee. "So I didn't really think about it, but then I had to head back east, and I noticed all of these cars backed up. Now that I saw all of the traffic, I actually plan to take Layton and 27th Street as much as I can."


Wreck in Mitchell Interchange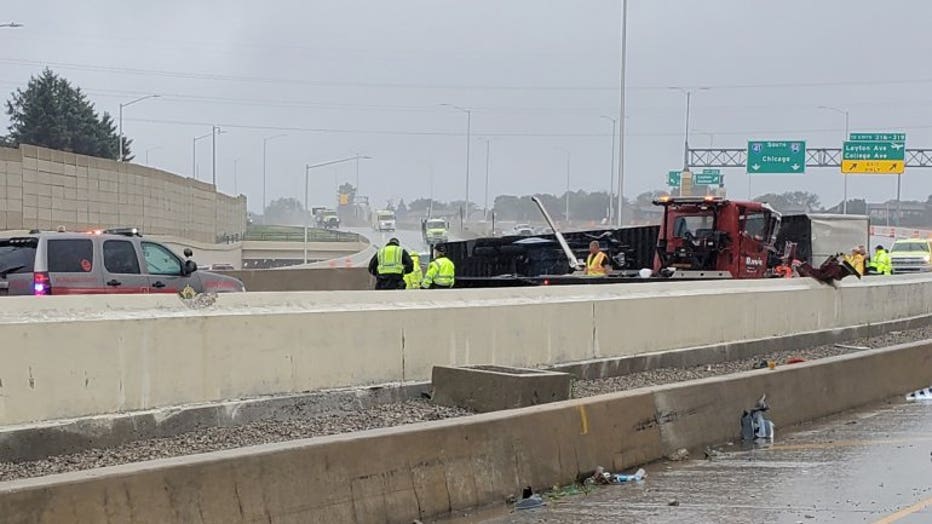 Wreck in Mitchell Interchange


"Even when I was taking my car earlier on the freeway, it was like, a lot of water on the freeway," said William Jackson of Milwaukee. "A lot of wet spots that you could get caught up and cause accidents. I just hope everybody drives safe. Be safe out here. It's dangerous."