Caught on camera: MPD needs help tracking down man who attempted to rob bank
MILWAUKEE -- Milwaukee police need your help identifying a suspect wanted in connection with an attempted bank robbery that occurred Friday, Nov. 30 near Oklahoma and Forest Home.

According to police, the suspect entered the bank around 4 p.m. and demanded money -- stating he did not want to hurt anyone.  The suspect fled the location without obtaining any money and was last seen on foot southeast from W. Oklahoma Ave.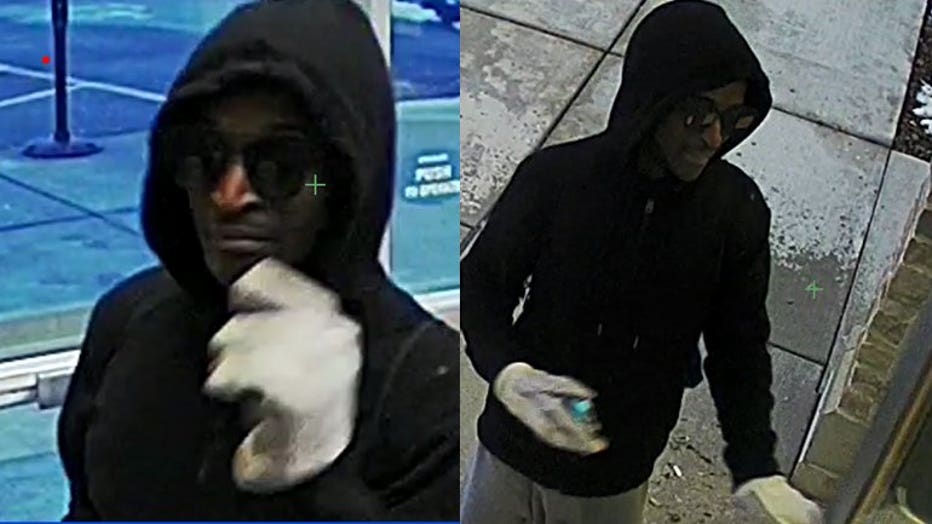 The suspect is described as a male, black, 20 to 25 years of age, 5'06" to 5'08" tall, 140 to 150 pounds with a thin build. He was last seen wearing dark tinted sunglasses, white gardening gloves, a black zip-up hooded jacket with the hood up, gray jogging pants, purple Under Armour athletic shoes with white soles, and holding a royal blue drawstring bag with white lettering on it.

If you recognize the suspect in the pictures, you are urged to call the Milwaukee Police Department at 414-935-7360.

PHOTO GALLERY