Bucks arena funding plan passes in Madison, and now, it's up to the city and county to approve their portions


MILWAUKEE -- The Wisconsin Assembly on Tuesday, July 28th passed a bill to have taxpayers pay $250 million to help pay for a new Milwaukee Bucks arena in downtown Milwaukee. The bill passed on a bipartisan 52-34 vote. The measure now goes to Governor Scott Walker -- who has been working with lawmakers to reach a deal.

"It's a very significant day for Milwaukee, for southeastern Wisconsin," Milwaukee Mayor Tom Barrett said.

Mayor Barrett said Tuesday the next vote for the city/county will come in September. That's when city of Milwaukee and Milwaukee County officials will vote to approve their portions under the plan.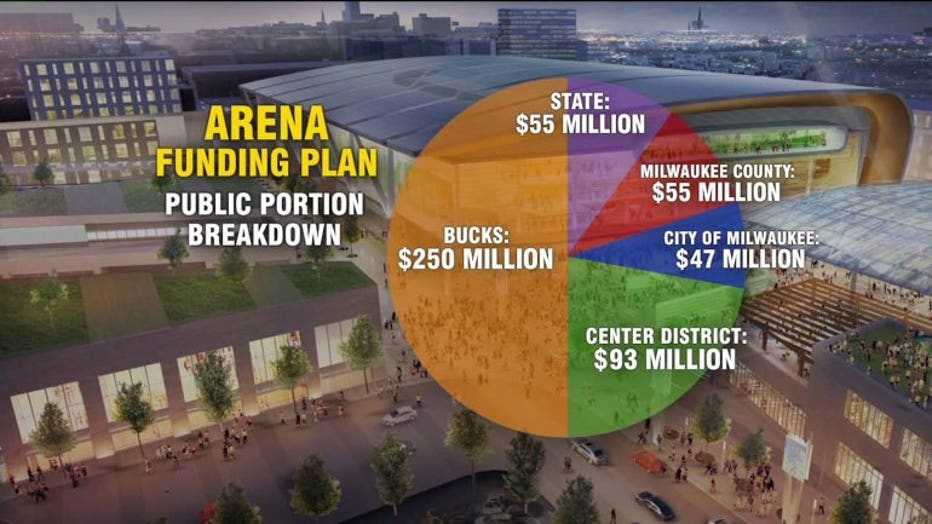 Bucks arena funding proposal


Combined, the city of Milwaukee and Milwaukee County will contribute more than $100 million towards the project.

Mayor Barrett says the Milwaukee Common Council will likely debate in late August, with a vote in early September. Aldermen will decide whether to approve the plan to come up with $47 million through a combination of TIF money and borrowing.

"I envision that we will be able to finish the work that we need to have done here," Mayor Barrett said.

 

Milwaukee Bucks officials have said they want shovels in the ground by October, and even with some big battles ahead, that's a deadline that's possible.

"We know there is work that needs to be done, but I am very, very happy. Very, very pleased with what happened (Tuesday)," Mayor Barrett said.

Mayor Barrett says there should be no surprises for aldermen when it comes to a plan to use a combination of tax dollars and borrowing to pay the city's share.




Milwaukee Common Council President Michael Murphy issued this statement Tuesday:

"With its passage (Tuesday) by the state Assembly, the downtown arena proposal is nearing a full review and deliberation by the Common Council.

With the state Assembly passing the downtown arena proposal, the measure now moves forward to the Governor for his signature.

Once the bill is signed, the city will move forward reviewing its contribution to the arena package, and the full Common Council will ultimately consider the files necessary to move the project forward. To help us take a deep dive into the numbers and details, I've asked said the City of Milwaukee Comptroller to complete an analysis related to the city's financing package prior to public hearings that will be held before the Finance and Personnel Committee and the Zoning, Neighborhoods and Development Committee."

Alderman Nik Kovac, chair of the Council's Finance and Personnel Committee said this:

"Our committee process will give my colleagues – and the residents of this city – a chance to learn the details and ask tough questions."

The main question I want to ask is: 'What return will we, as taxpayers, be getting on our investment?'

If we subsidize this new arena – and thereby increase the asset value of the franchise – shouldn't we get a prorated portion of that increase in value?"

Alderman Jim Bohl, chair of the Council's the Zoning, Neighborhoods and Development Committee said this:

"Public input and participation in the city's review process is important. I am looking forward to working with President Murphy and Alderman Kovac and other members of Common Council to ensure that the Council's process is as accessible and transparent to the residents of this community as possible."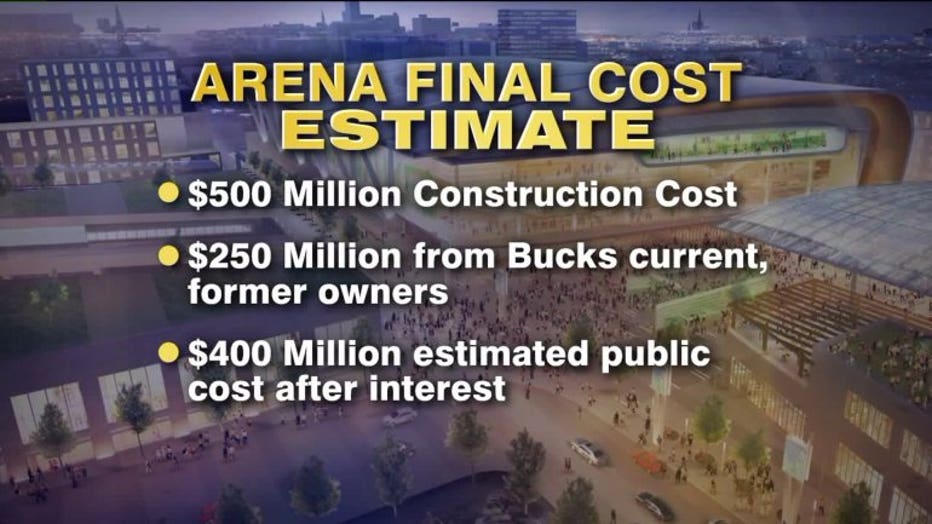 Milwaukee County is set to contribute $55 million -- $80 million after interest.

"Today is not the finish line. Today is the starting line. It's up to us we make sure we deliver, and that's something I'm really excited to really dig into now," Milwaukee County Executive Chris Abele said.

 

When it comes to Milwaukee County's portion -- there are a lot of unanswered questions.

One of the lawmakers who voted "no" on Tuesday when the Wisconsin Assembly voted on this bill was Rep. Jonathan Brostoff, who said Milwaukee County has no set way to pay its $80 million share after the Senate removed a plan for the state to collect unpaid debt within the county.

"The $80 million is gonna be a huge cut to Milwaukee County and I don`t know how it`s gonna be made up. No one`s set any contingency plan," Rep. Brostoff said.

"They can still use that opportunity with the state -- it`s just not mandated as part of this proposal," Rep. Robin Vos (R-Rochester) said.

"I want to make sure there is no possibility that the taxpayers end up losing any of the shared revenue that's coming to them," Abele said.

Supporters say it's possible they'll come back in the fall and pass bills that will help Milwaukee County come up with the money needed to pay that $80 million.



Monitor FOX6News and FOX6Now.com for updates.