Bronze Fonz statue 'ayyyy'-OK, awaits polishing
MILWAUKEE - The famed Milwaukee RiverWalk "Bronze Fonz" statue was missing from its post Wednesday.
Rest assured, the Bronze Fonz is "ayyyy"-OK. The statue of "Happy Days" character Arthur Fonzarelli, played by actor Henry Winkler, is now donning two thumbs up from Vanguard Sculpture Services as it awaits a touch-up.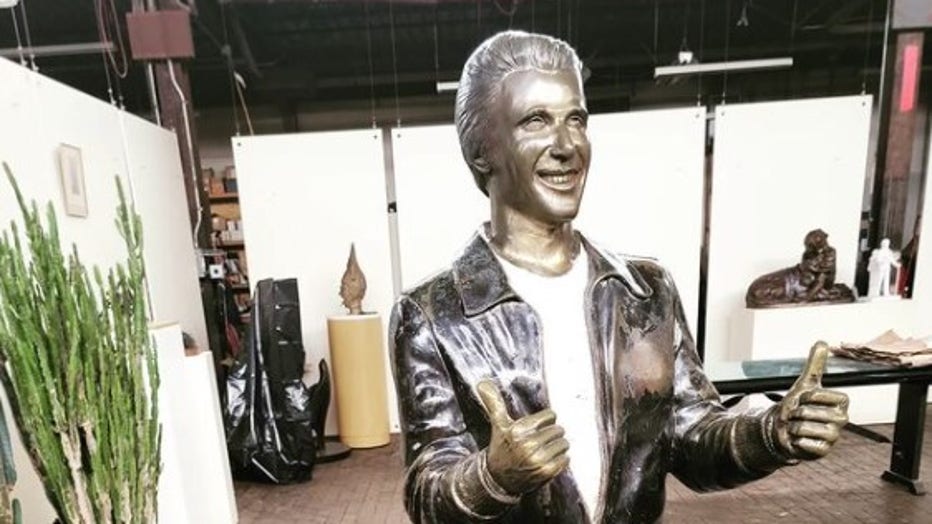 Photo courtesy: Visit Milwaukee
At Vanguard, VISIT Milwaukee said the Bronze Fonz will get an indoor makeover for the first time since it was erected in Milwaukee in 2008.
Previously, the artists would do touch-ups from the RiverWalk itself. The indoor repair is allowing better access to machines and paint to dry.
"The Bronze Fonz has a lot of exposure to the elements, as well as people," said VISIT Milwaukee's Lindsey McKee. "After being there since 2008, we thought this was a great time during the winter to get him all fresh up and camera-ready."
The actual work will start next week after an evaluation. VISIT Milwaukee expects the statue to be back on the RiverWalk in a couple of weeks. 
SIGN UP TODAY: Get daily headlines, breaking news emails from FOX6 News