Boston bombings destroy dancer's foot, but not her spirit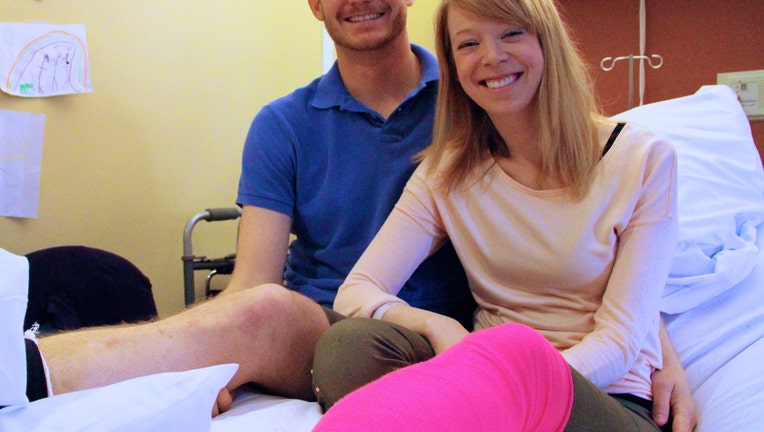 article


BOSTON (CNN) -- Five feet from where Adrianne Haslet-Davis stood with her husband, a bomb packed with nails and ball bearings was primed to go off.

The couple had joined thousands of spectators in downtown Boston April 15 to watch the city's annual marathon when the first blast erupted nearby.

"There was this silence that came over the crowd," she said as a plume of dust and debris enveloped Boylston Street. "And I thought, 'Oh no, there can never just be one.'"

She was right. Moments later, a second device blew up close to her feet.

The shock wave flung the 32-year-old dance instructor into the air, along with her husband, Adam Davis. Their bodies hit the pavement together, contorted into what felt like a pretzel.

For a moment, Haslet-Davis lay motionless amid a cloud of dust and mounting panic.

"I think we're OK," she told Davis, recalling later: "I didn't feel any pain and had no idea what had happened."

But as the two tried to scramble to safety, she paused.

"I sat up and said, 'Oh my gosh, my foot. There's something wrong with my foot.'"

Doctors said later the blast had shredded 80% of the bone and muscle on her left foot and ankle.

But right then, she just saw blood gushing and knew she had to act.

"I just went into survival mode," said Haslet-Davis, a dance instructor at the Arthur Murray Dance Studios in Boston. "I have to do something about this," she thought. "I can't lose my foot."

Covered in dust and blood, she crawled on her elbows, pulling herself into a nearby restaurant to wrap the wound.

"Can you help me?" she pleaded, staring up at a few people who seemed bewildered and in shock. "They just looked at me like, 'Oh my gosh,' and then just ran in the other direction."

Her husband, a captain in the Air Force safely back from Afghanistan, was desperate to catch up and crawled into the restaurant after her.

Though his own feet were riddled with shrapnel, he dragged himself past a trail of his wife's blood and yanked off his belt to use as a tourniquet, pulling it tight to stop the bleeding.

"As much as I could, leaning back and trying to put as much pressure as I could with the belt," he said.

But the pain was excruciating for both. "I was yelling at people, asking for whiskey or vodka," said Haslet-Davis, desperate to numb her senses.

As Davis and some strangers tried to help his wife, chaos swirled outside. Haslet-Davis, still conscious, knew it was an attack and thought medical workers would surely be overwhelmed by mass casualties.

"I thought we were going to be here, hurt, forever," she said. "It was the middle of the marathon (and) there were bombs going off."

She then turned to her husband and professed her love. "I'm so sorry for everything that has ever happened," she says she told him, in case they didn't make it.

But medical help did come. A doctor helped cinch her wound and the couple was rushed by ambulance just over a mile to Boston Medical Center.

Haslet-Davis could still feel her left foot as she headed into surgery.

Then, for the first time, it all went black.

She awoke the next day, groggy and in pain, with her parents at her bedside.

"I said 'Mom, can you help me? I feel like my foot's falling asleep," she recalled.

"I realize now that that was phantom pain, because she looked at me and said 'Adrianne, you don't have a foot.'"

Surgeons had amputated her leg five inches below her left knee.

"I just lost it," she said. "That's really hard to hear."

Dancing, she explained, "is the one thing that I do, that when I do it I don't feel like I should be doing anything else."

Ballroom dancers tend to roll and pivot on the edges of their feet, using a series of muscles and tendons to achieve a balance and dexterity honed with years of practice.

"You can't recreate that in a prosthetic," she explained. "But maybe the technology..." she paused. "We'll see."

A week after the attacks, now propped up on a hospital bed with her leg wrapped in hot pink cloth and gauze, Haslet-Davis has plans to get back to teaching the students who have filled her room with flowers.

"Part of my life is being able to teach people how to (dance)."

Months of physical therapy likely lie ahead, though she's already picked out her first dance: the Viennese Waltz.

"(It's) one of the tougher ones, but it's fast and it's beautiful and it's a wonderful, wonderful dance."

But there are bouts of anger and frustration that accompany her optimism, as well as a cloudy haze brought on by a steady cocktail of painkillers.

"I have moments when I throw water bottles across the room and throw my walker and just get angry and mad that someone did this to me... and that I won't be able to be dance with the same movements that I had before," she said.

"Dressing takes longer and showers take longer, and I get angry."

For many marathon bombing victims, the ordeal is just beginning. There's the physical and emotional toll, as well as financial. Hospital bills will add up, physical therapy and counseling sessions will be additional costs, and lost wages could further add to the burden.

Yet those inspired by her story have already helped.

A fund set up for the Boston couple has raised more than $100,000 to assist them with the challenges ahead.

And Haslet-Davis has set up a challenge of her own: She eventually plans to run the Boston Marathon.

"I'm not a runner at all," she laughed. "But I wasn't a ballroom dancer at one point in my life either... so I'm going to do it."