Bernie Sanders tells supporters in Milwaukee, Appleton to "stand together," unify voters in WI


APPLETON/WEST ALLIS -- The Fox Cities Performing Arts Center in Appleton was filled with nearly 3,200 Bernie Sanders supporters on Tuesday, March 29th -- as the Democrat rallied in Wisconsin. Sanders' campaign says an even bigger crowd came out for the rally at State Fair Park in West Allis. A campaign spokeswoman estimates 4,000 supporters packed the event with another 1,500 having to listen from an overflow area outside.

Fresh off victories in Alaska, Hawaii and Washington, the Vermont senator said the Dairy State is critical to continuing his campaign's mounting momentum.

"I like his idealism," said Peter Wilt, of Whitefish Bay, "I think Bernie Sanders has surprised a lot of people and he's energized the Democratic Party."

Before his Tuesday night rally, Sanders sat down with Fox 6's A.J. Bayatpour for a one-on-one interview. Below is a recap of the topics we were able to cover with Sanders during the brief interview.

Demographic difficulties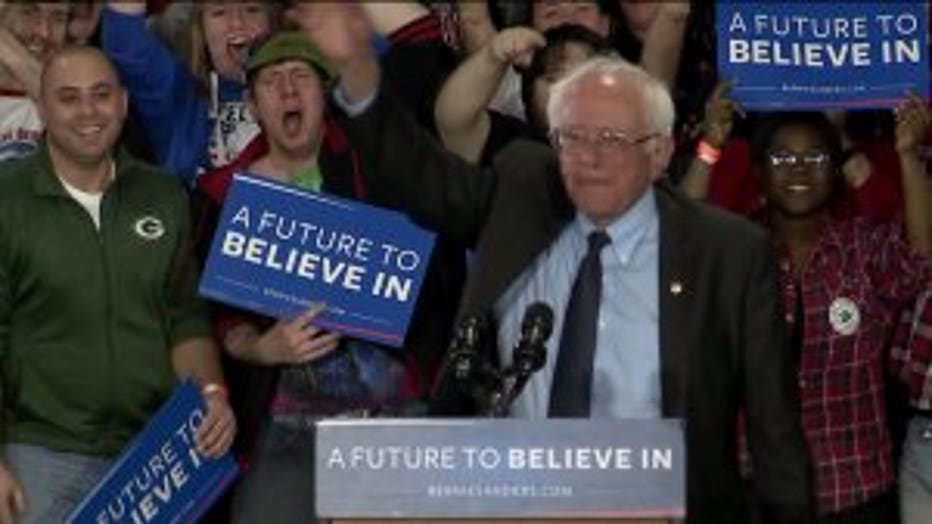 Bernie Sanders speaks at State Fair Park in West Allis


Throughout the campaign, Sanders has not performed as well as Hillary Clinton in terms of attracting support from minority voters.

"We're doing very well with young Latinos, we're doing very well with young African-Americans," Sanders responded, "Our problem is with older people, by the way, not just African-Americans and Latinos, but Whites as well."

Glen Tyler, of Milwaukee, said Sanders could better appeal to black voters by making more neighborhood visits.

"I feel like he just has to show them that he's really there, like he's actually in the community," he said.

The 'how' on taxes

Sanders has repeatedly vowed that, as president, he would ensure corporations pay a larger share of taxes. A common criticism is that such an approach may sound good in theory but isn't really practical and could end up having harmful economic effects. We asked Sanders what he would do if companies responded to his tax policy by simply moving their operations out of the U.S.

"We can't succumb to blackmail," Sanders responded, "We need a new trade policy that tells corporate America, they just cannot shut down, move abroad, and bring their products back into this country. And that is certainly one of the areas we're focusing on."

Plan to defeat ISIS

Following recent terrorist attacks in Brussels and Pakistan, we asked Sanders what his approach would be to combating Islamic extremism - specifically, ISIS.

"We have got to destroy ISIS, let's make no bones about that," Sanders said, "This is a barbaric organization, which is a threat to civilization."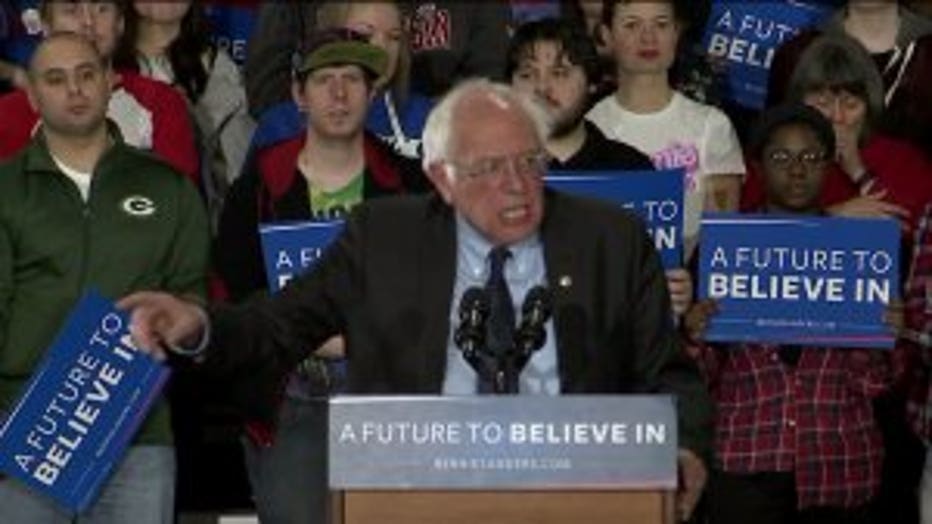 Bernie Sanders speaks at State Fair Park in West Allis


Sanders says his broader strategy includes working with international allies to train soldiers in the countries most affected by Islamic terrorism.

"We gotta keep the pressure, Muslim troops on the ground, air attacks on the part of the United States, and other major powers, training the Iraqi army," Sanders said.

Sanders slams Walker

For a solid five-minute stretch Tuesday night, Sanders railed against Wisconsin Gov. Scott Walker. Sanders went after Walker on the issues of union rights, abortion access, and voter ID.

"Of all the issues, the one that really strikes me deepest is his attack on voting rights," Sanders said, "We have one of the lowest voter turnouts of any major country on earth. We need to make it easier for people to participate in the political process."

Later in the interview and during the rally, Sanders used the word "cowardly" to describe proponents of voter ID laws.

On Trump

We mentioned to Sanders there's a slice of the electorate who supports him but would vote for Donald Trump over Hillary Clinton if given the choice. Sanders says he's heard from some such voters.

"I think there is a lot of anger out there," Sanders said, "What Trump is doing is tapping that anger and saying 'it's the fault of the Mexicans, it's the fault of the Muslims,' Well beating up on some Mexican worker who makes $8 an hour is not gonna solve the problems facing this country."




Fired up in the Fox Cities

"What we need right now is a revolution," Sanders told the crowd in Appleton Tuesday.

Seeking to solidify his efforts to unify voters, Sanders told supporters he is unlike other presidential candidate in both parties.

"We need to bring millions of people, many of whom have given up on the political process, young ones who have never participated in the political process, to begin to stand together, to demand a government that represents all of us. That is what this campaign is about," Sanders said.

During his one-hour speech, Sanders touched on several issues including income inequality, what he calls a broken criminal justice system, and campaign finance reform.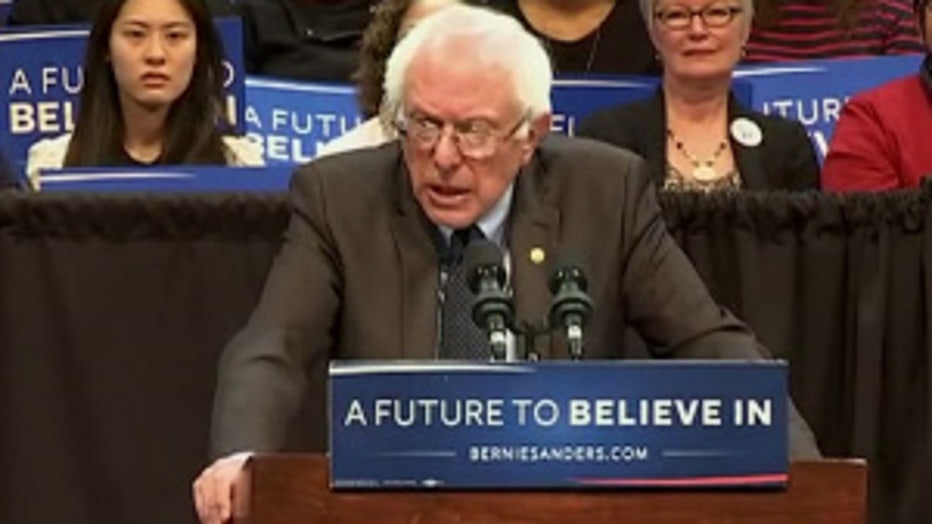 Bernie Sanders campaigns in Appleton


"I'm not wasting my time, going to rich people's homes, begging them for their campaign contributions. I'd rather be here with you in Appleton," Sanders said.

Those in attendance said they were thrilled to have him.

"He has been living what this country needs, all of his life," said Margaret Knauf, a Sanders supporter.

"It's surprising to see a lot of people out supporting in the fashion they are. They're really excited," said Lamond Hill, another Sanders supporter.




A tough path to victory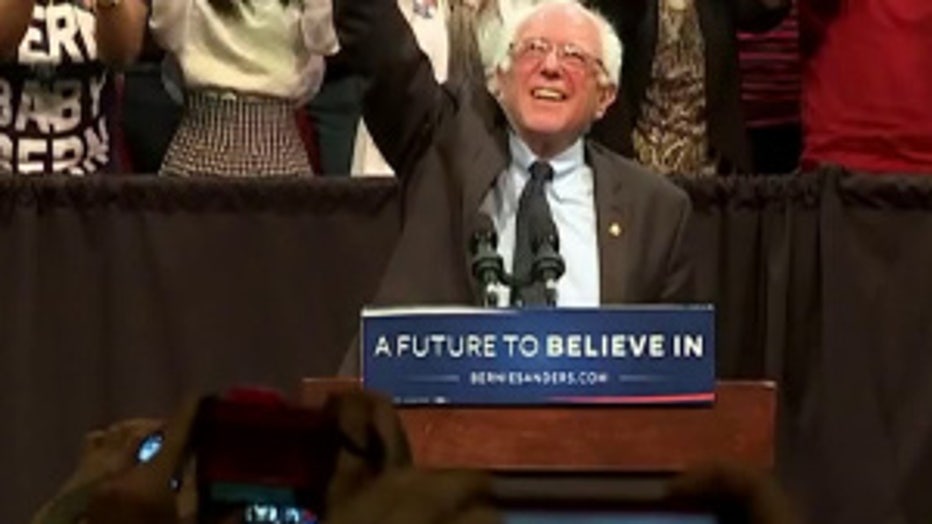 Bernie Sanders campaigns in Appleton


The number-crunchers say the math going forward isn't in Sanders' favor. Among superdelegates reported to have picked a candidate, Hillary Clinton has an edge of more than 400. Among pledged delegates awarded in primaries and caucuses, Clinton's lead is closer to 200.

Superdelegates are not bound to the results in their individual states.

Sanders expressed confidence that with more wins, he can convince many of those superdelegates that he is more likely to defeat the Republican nominee in November.

"I think the idea that we are the campaign that has the energy, that can create large voter turnouts, and can beat Trump, will be a convincing argument to many superdelegates," he said.

On Wednesday, Sanders will appear first in Kenosha -- and then La Crosse.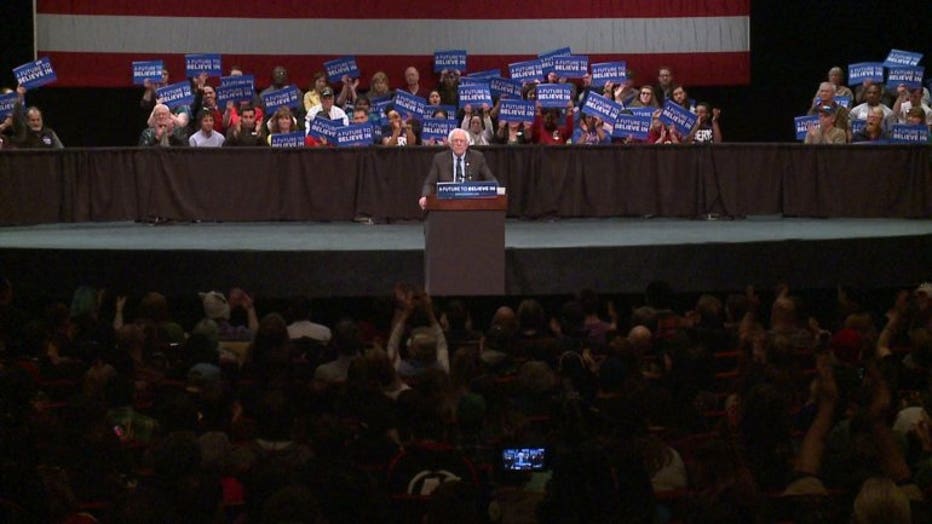 Bernie Sanders campaigns in Appleton


CLICK HERE for a complete list of presidential campaign events in the Milwaukee area ahead of April 5th.