Bernie Sanders nets only four delegates for 13-point Wisconsin primary win


MILWAUKEE -- Democratic presidential hopeful Bernie Sanders did not gain much ground on Hillary Clinton despite a convincing 13-point win over the frontrunner in Wisconsin's primary Tuesday.

Sanders will get 48 Wisconsin delegates to Clinton's 44, according to a final delegate tally from the Wisconsin Democratic Party plus superdelegates who have committed to a particular candidate.

Sanders won the delegate count based on Tuesday's results, 48-38, making gains for his statewide win and strong results in Madison, the Milwaukee suburbs, and western Wisconsin.

Yet six of Wisconsin's 10 superdelegates -- who don't have to follow the primary results -- have already committed to Clinton. Sanders has no Wisconsin superdelegates. The remaining four haven't committed.

In an interview Wednesday, uncommitted State Rep. David Bowen appeared to be planning to support Sanders but stopped short of doing so.

"I'm going to support the voters of our state, the Democrats of our state who have made their voices heard," said Bowen, D-Milwaukee. "That's all I can say at this time."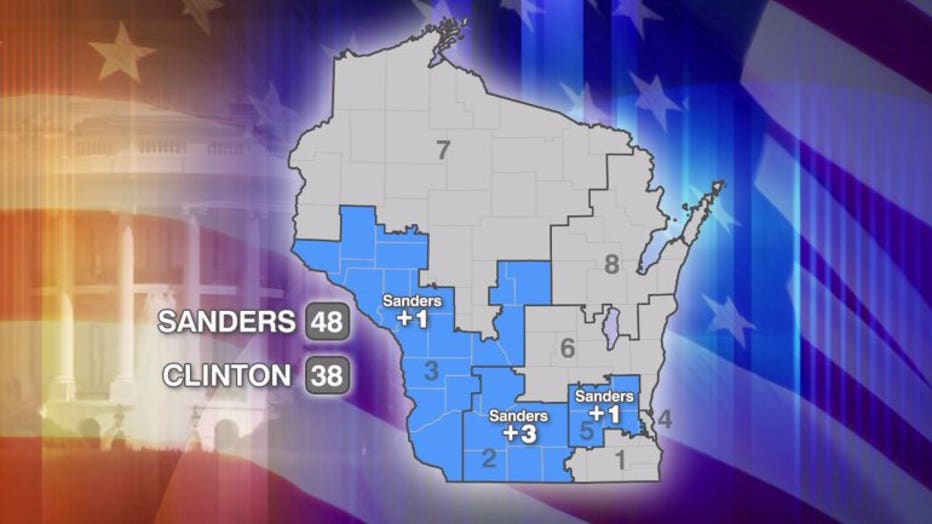 Democrats award pledged delegates proportionally based on primary results.

Sanders picked up 17 statewide versus 12 for Clinton. Sanders also gained more delegates than Clinton in Wisconsin's Second, Third and Fifth congressional districts. The candidates split the delegates in the remaining five districts.

U.S. Sen. Tammy Baldwin, U.S. Reps. Gwen Moore and Ron Kind, and other Democratic superdelegates Martha Love, Christine Bremer Muggli and Michael Childers have committed to Clinton, according to news reports and the superdelegates themselves.

U.S. Rep. Mark Pocan, Democratic Party of Wisconsin chair Martha Laning and Jason Rae have said they plan to wait until the summer to commit.

Sanders supporters have regularly complained about superdelegates. The delegate process led Clinton to proclaim confidence in the face of Tuesday's loss.

"I'm considerably ahead in both the popular vote and most importantly the delegate count. I'm feeling very good about where we are," Clinton said on CNN. "He knew what the rules were when he decided to run for president."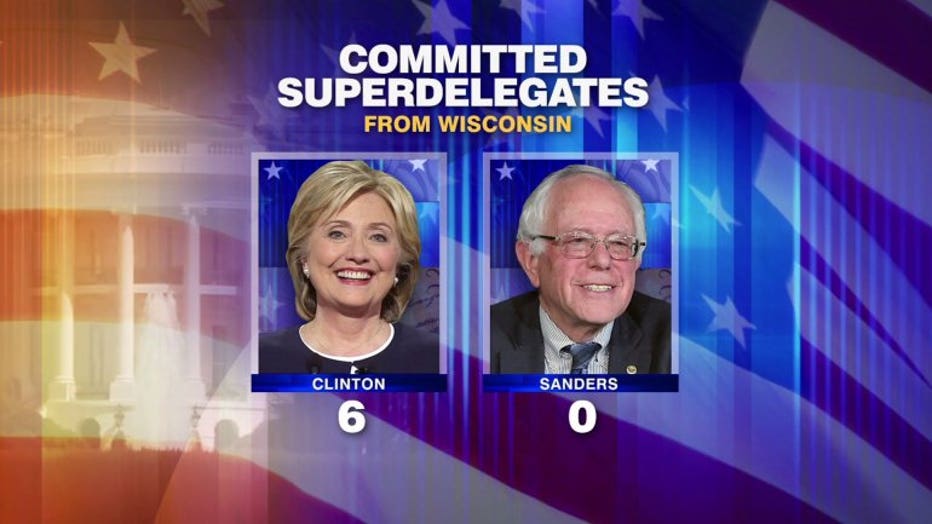 The Wisconsin delegate count was more certain on the Republican side. Ted Cruz picked up 36 delegates and denied frontrunner Donald Trump of all but six of the state's delegates.

Republicans award delegates in a winner-take-all fashion statewide and in each of Wisconsin's congressional districts. Cruz won 18 for his statewide victory and 18 more for winning six congressional districts.

Trump won two congressional districts in northern and western Wisconsin.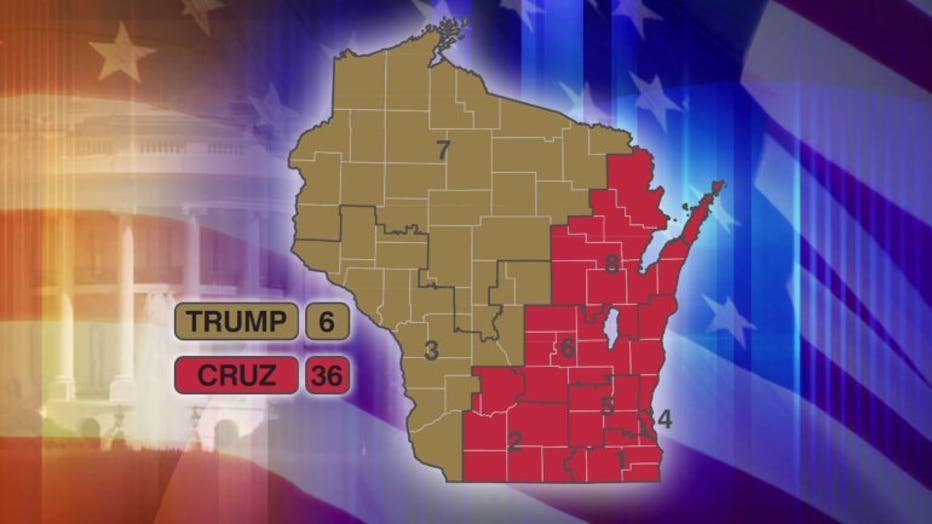 Cruz still trails in the nationwide delegate count, but has forced Trump to win 60 percent of the remaining delegates to secure the magic number of 1,237 and avoid a contested convention. Trump has admitted he is at a disadvantage at such a convention.

Speaking in Milwaukee on Tuesday night, Cruz said he was "more convinced" he would win the nomination.

"Either before Cleveland or at the convention in Cleveland, together we will a majority of the delegates," he told a crowd at Serb Hall on the city's south side.

Gov. Scott Walker, who has endorsed Cruz, predicted that the Texas senator would win as early as the second ballot at a contested convention in July.

Walker had previously said that a Republican who's not currently a candidate could emerge at the convention, but Wednesday said the race was between Cruz and Trump.

Voters in New York, the home state of Clinton and Trump, head to the polls on April 19.