Baldwin, Vukmir spar on health care, Kavanaugh, gun control, trade and more in 1st debate


MILWAUKEE -- Supreme Court Justice Brett Kavanaugh was one of many topics at the U.S. Senate debate Monday, Oct. 8 between incumbent Senator Tammy Baldwin and Republican challenger Leah Vukmir.

Health care was a big topic, with Baldwin and Vukmir generally toeing the party line, but the debate also ventured into topics like gun control and trade.

"Who are you going to trust to solve our health care problems -- a career politician who has spent her life in the halls and walls of government, or a nurse?" said Vukmir.

"A vote is a vote -- and Leah Vukmir voted with insurance companies to prevent oral chemo," said Baldwin.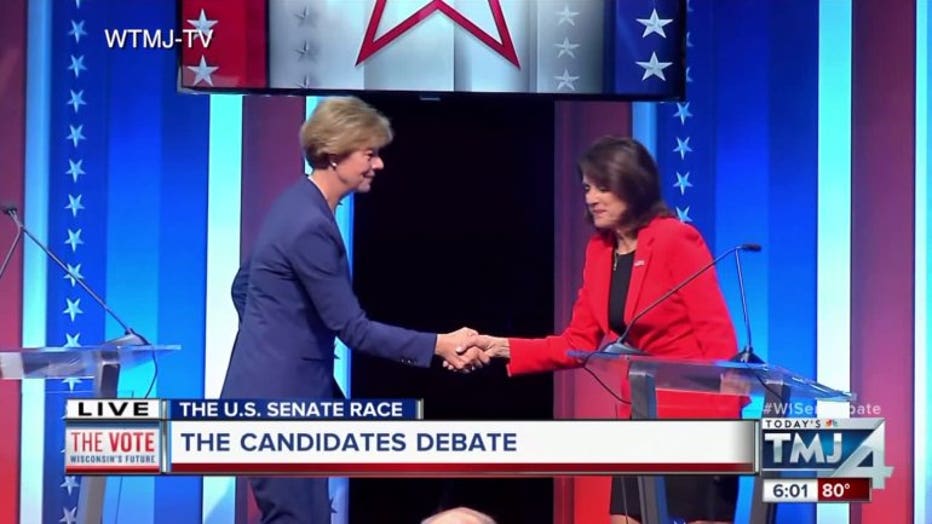 Baldwin supports the Affordable Care Act, while Vukmir looks to repeal and replace. Both women sparred in heated tweets throughout the weekend leading up to the debate, with Baldwin telling voters Vukmir would "gut protections" for millions of Wisconsinites with pre-existing conditions. Vukmir says patients with pre-existing conditions should be covered.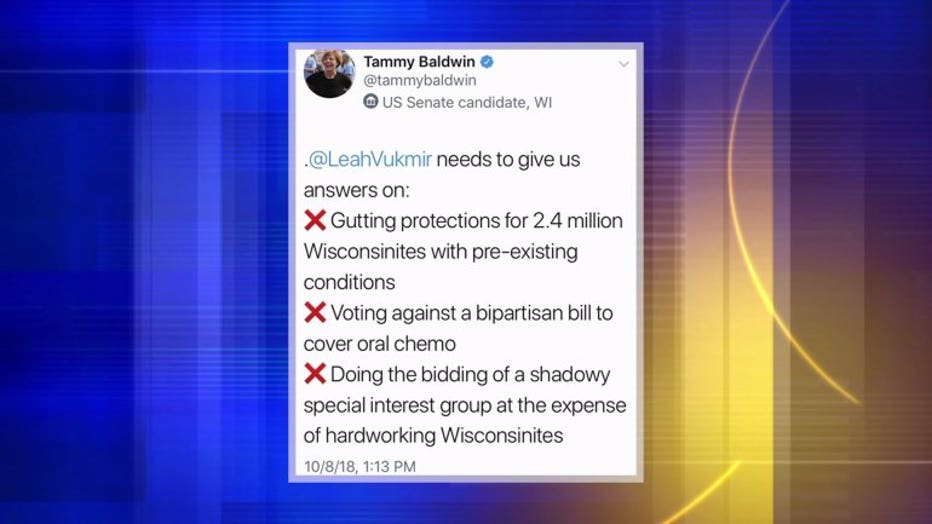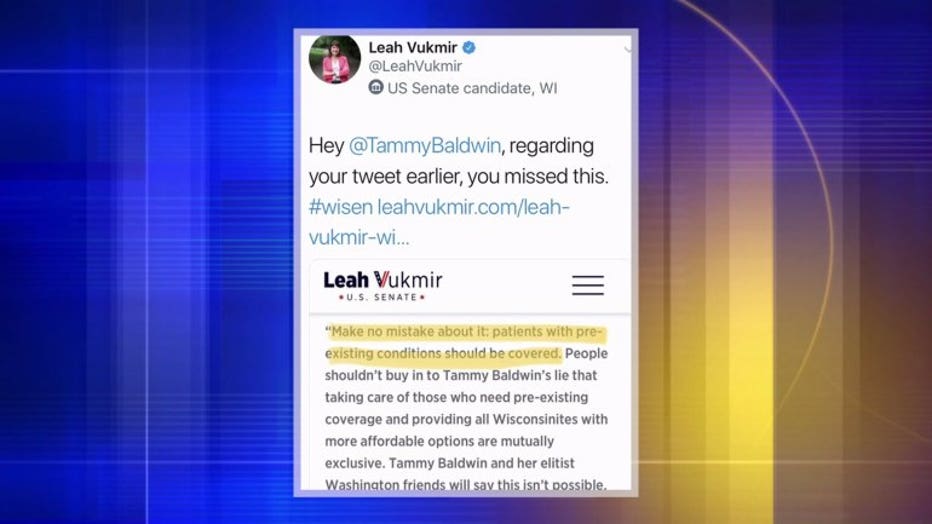 When the debate moved to women's health, Vukmir offered a graphic depiction of a late-term abortion.

"She has supported legislation that would ban in vitro fertilization, that would ban access to some forms of contraception," said Baldwin.

"Tammy Baldwin would rip that life out of a mother just like that and snuff that life out. It's wrong," said Vukmir.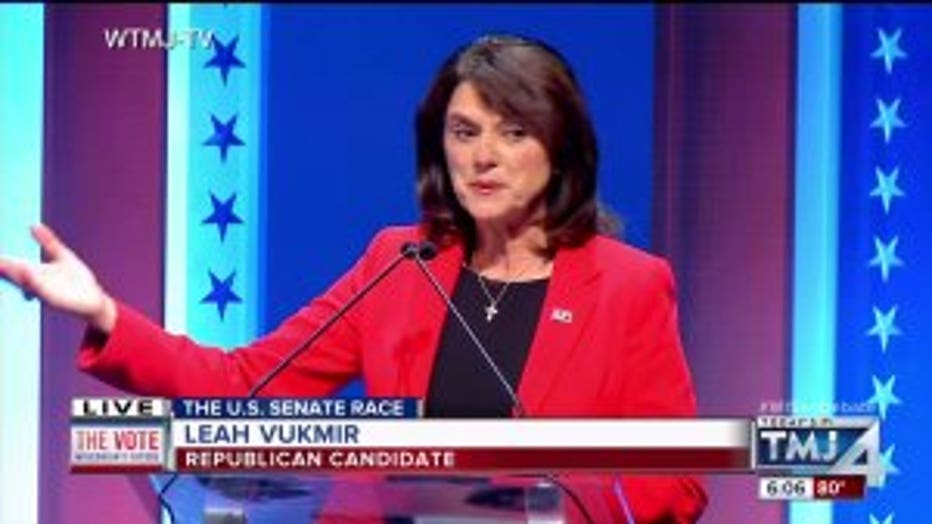 Other subjects included curbing gun violence, and trade and tariffs.

"Let's go with common-sense safety regulations. Unfortunately, my opponent, who has been endorsed by the NRA, doesn't seem to recognize the NRA has fallen out of -- let's say -- advocacy on behalf of its members. Most gun owners I know support comprehensive background checks," said Baldwin.

"We've known this president is a negotiator. 'The Art of the Deal' -- he wrote that book," said Vukmir.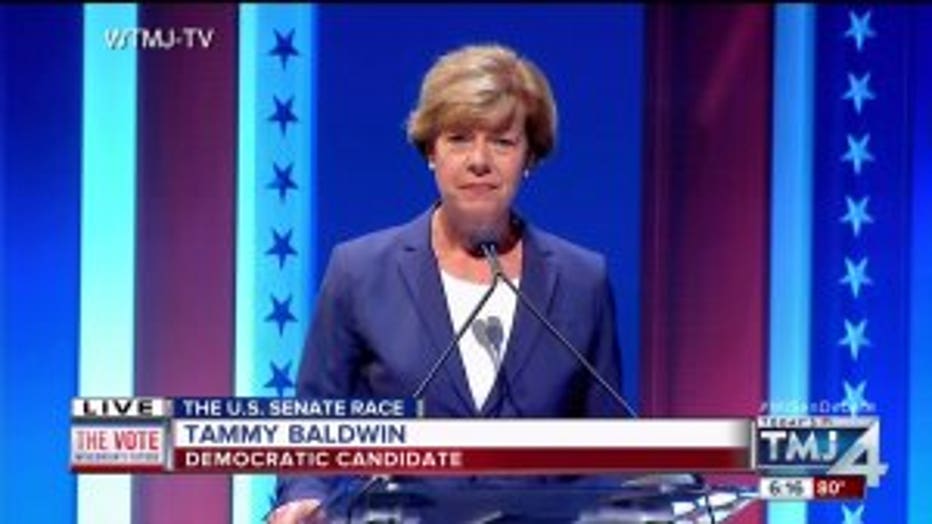 Another hot-button issue was the #MeToo movement and the confirmation of Justice Kavanaugh -- resulting in even more fireworks on stage.

"We have to create an environment and country where it is OK for people to speak out," said Baldwin.

"I believe something did happen to Dr. Ford, but there was nothing to corroborate and to link that to Judge Kavanaugh and you didn't have the decency to even meet with the man," said Vukmir.

If polls are to be believed, Baldwin widened her lead over Vukmir in September's Marquette University Law School poll with an 11-point lead among likely voters.

The candidates will debate again on Saturday, Oct. 13 in Wausau.

The final debate is Oct. 19 at Marquette University.