Assembly Speaker Robin Vos unveils measure to cut use of prevailing wage by 60%


MADISON — Assembly Speaker Robin Vos says a proposal scaling back the use of prevailing wage in Wisconsin has the votes to pass the Assembly -- and he's waiting for Senate leaders to say what they have the votes to do.

Vos on Monday, June 29th joined with other Republican Assembly members to unveil a measure to cut the use of the prevailing wage by 60%. The law sets minimum salaries for construction workers in many public projects.

Vos says at least 50 Assembly Republicans will vote for the plan, but he doesn't think the Senate has 17 votes to pass anything.

Vos and supporters of this proposal say it is a major change because it would mean more than half of public construction projects would become exempt from the law. Some conservative critics say the law needs to be repealed entirely. Democrats say it's another attempt to save money by lowering wages and attacking unions.

Rep. Joe Sanfelippo (R-West Allis) is one who believes the law should be repealed altogether.

"Even though it`s not a full repeal, I can support this bill because we`re at least moving the needle and making improvements. Sometimes you have to settle for half the loaf instead of a full loaf," Rep. Sanfelippo said.

Under this so-called half loaf, projects that cost less than $450,000 would be exempt from the prevailing wage law. Currently, the exemption is for multi-trade projects costing less than $100,000. The exemption would also kick in for projects less than $1 million if at least half the funding comes from private donations.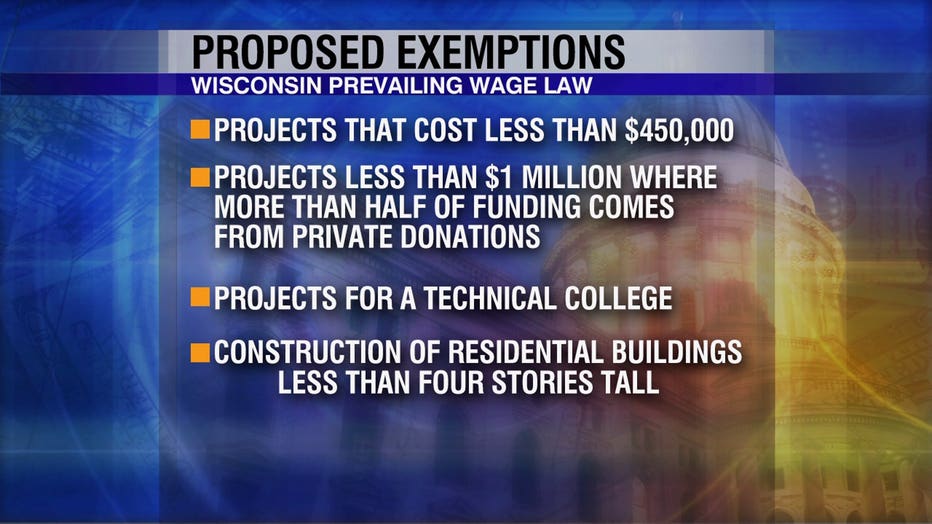 Exemptions in prevailing wage proposal


Other new exemptions would be for technical college projects and for construction of residential buildings less than five stories tall.

"You`re picking a fight, again, that`s unnecessary," Sen. Chris Larson (D-Milwaukee) said.

Larson and other Democrats say by lowering wages, the state would risk lowering the quality of workers on a road or building project.

"If you`re redoing your house or adding a deck in the back, do you necessarily want to have the cheapest construction material, the cheapest labor? Or do you want to have it done right?" Sen. Larson said.

Supporters say in addition to reducing wages, the reforms would open up projects to more businesses because the state would require less paperwork from contractors.

"There`s a lot of administrative work that has to be done by the contractors, by the government body, and those administrative costs add to the total cost and those are all passed on to taxpayers," Rep. Daniel Knodl (R-Germantown) said.

The proposal calls for the state to conduct a study in four years to determine whether the reforms did lower construction costs, and if so, by how much.