Assembly Speaker Robin Vos takes ride in back of ambulance to show why more money's needed for roads


MADISON — Wisconsin state Assembly Speaker Robin Vos took a ride in the back of an ambulance in a video to make the case for why more funding needs to be spent on roads, although fellow Republicans say it would be a waste of money.

The GOP infighting played out in a public relations battle one day ahead of the Assembly Transportation committee's Tuesday hearing on the state Transportation Department's proposed 2017-19 budget. Gov. Scott Walker's plan slashes spending on major projects, including highway work in Milwaukee and Racine counties, to plug a $1 billion budget shortfall.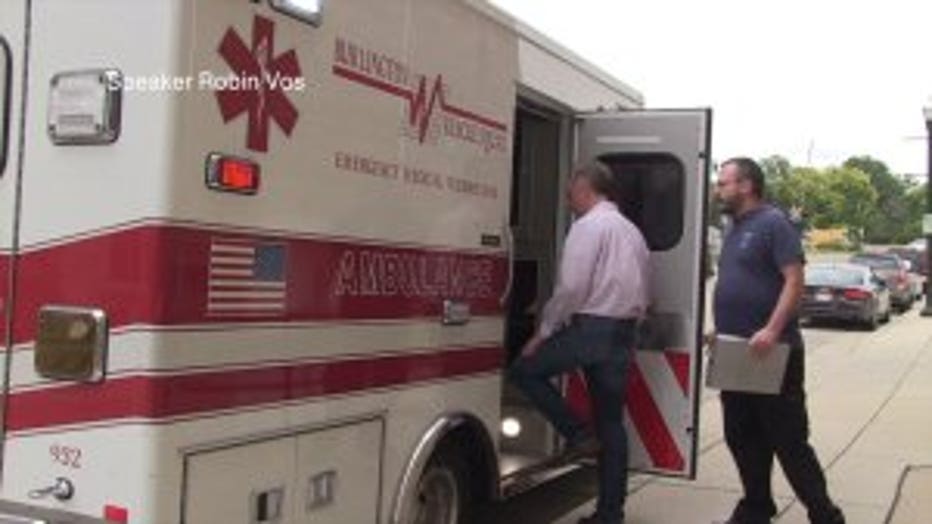 "Look at this! Holy cow! I can`t even imagine what it would be like to be sitting in there," Vos said, pointing to the stretcher in the video.




The video released Monday, December 5th shows Vos bouncing along while lying down in a stretcher in the back of Burlington Rescue Squad ambulance. Vos said he rode in the back of the ambulance at the request of his cousin, an EMS worker in Burlington. He said bad roads impact patient care.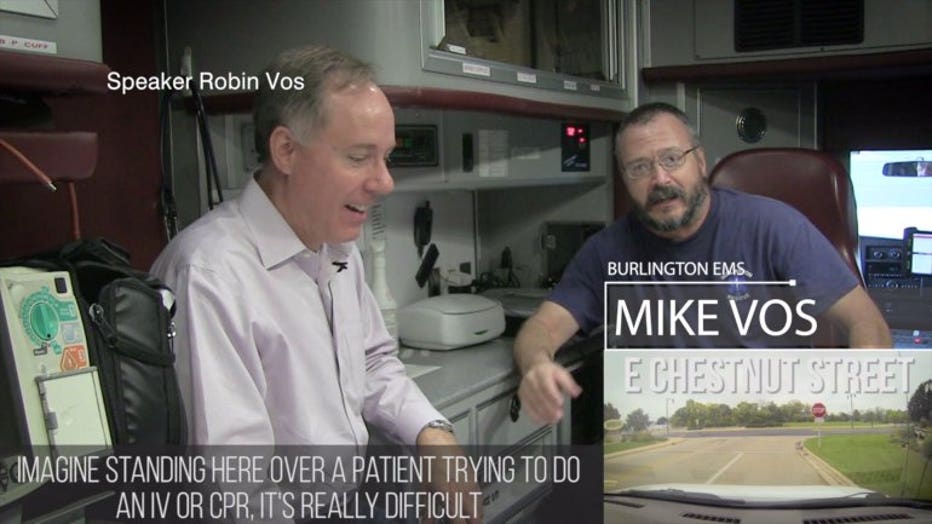 The Wisconsin EMS Association said the video is "an example of what local EMS are dealing with throughout the state."

Vos is among a group of Assembly Republican leaders arguing that increasing the gas tax should be considered along with other options, like toll roads and higher vehicle registration fees.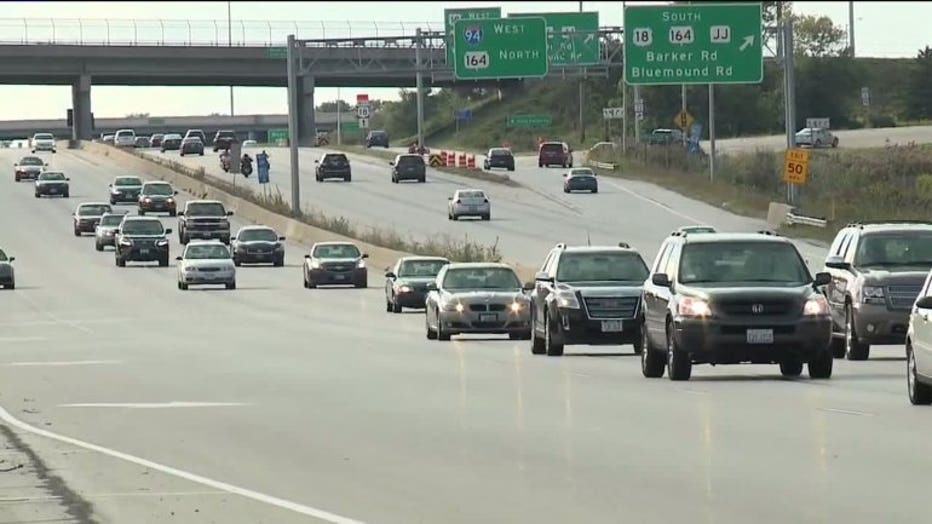 Two GOP senators on Monday spoke out against raising the gas tax, saying they will never support such a plan.

Sens. Duey Stroebel and Chris Kapenga said there are other ways to save money, such as a controversial repeal of the state's prevailing wage law. The law sets minimum pay for government-related construction work.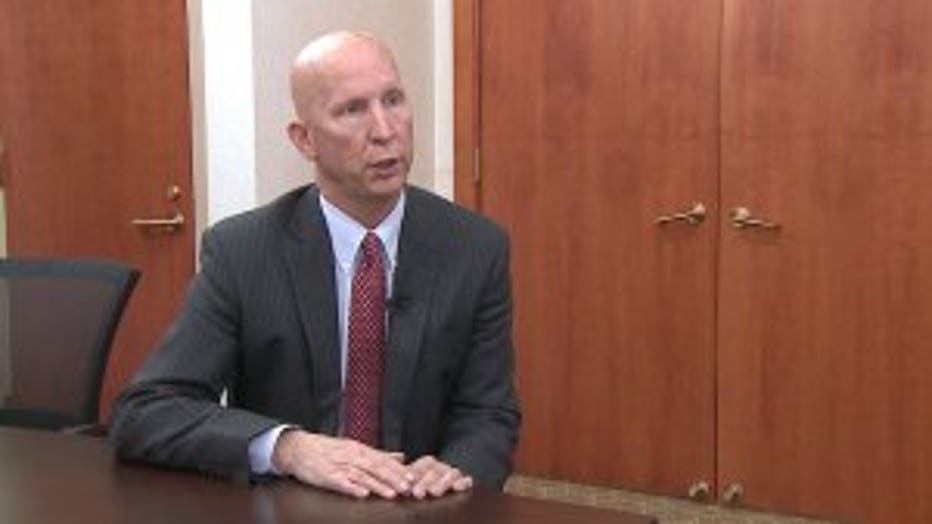 Stroebel said he was unimpressed by the Vos ambulance video.

"I think that Wisconsin residents are smarter than that. They will take a more holistic look at our transportation system and the factors that are involved in it, and not just look at, somebody`s riding in an ambulance," Stroebel said.

The senators released a memo from the non-partisan Legislative Fiscal Bureau that showed, if the state built every project on its wish list, the gas tax would need to increase by 28 cents a gallon.

Vos called it "fear mongering" and said no one is suggesting that kind of tax hike.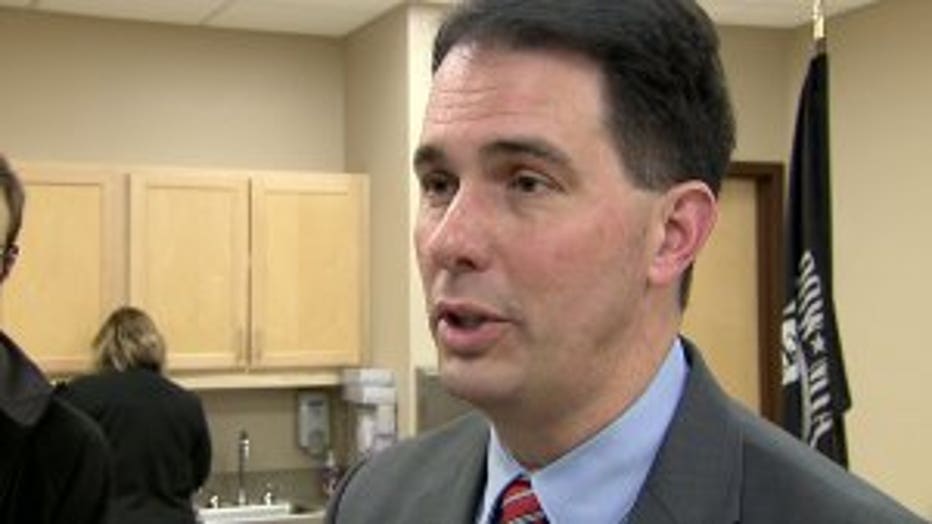 Walker said voters will be surprised if Republicans who control the state Assembly propose raising taxes at all for Wisconsin roads.

Walker on Monday said Republicans were put into power in 2010 on the promise to lower taxes and "we cannot now, after six years in charge, turn our backs on the people who placed their trust in us."

The senators endorsed Walker's transportation plan, which includes $500 million in borrowing for road projects. It also delays major projects including Interstate 41 north of the Zoo Interchange in Milwaukee County and the long-stalled Interstate 94 project in Racine County.

Walker is reiterating that he plans to keep his promise not to raise taxes without a corresponding decrease someplace else.




State Rep. Rob Hutton, R-Brookfield, announced Monday that he would introduce legislation in 2017 to fully repeal Wisconsin's prevailing wage law. Amid pushback within their own ranks, Republicans passed a scaled-down version in 2015 that impacts municipal -- but not state -- construction work.

Kapenga and Stroebel said they supported a prevailing wage repeal, but Vos pointed to a Fiscal Bureau report that showed the cost savings would be "uncertain" and, using studies from other states as a benchmark, "small."

The prevailing wage law sets minimum pay for government-related construction work.

Walker said Vos and other Assembly GOP leaders working to plug the transportation budget shortfall "should make that plan public so the people understand exactly how much it would cost them."