Archdiocese of Milwaukee: $21M settlement reached to compensate clergy sex abuse survivors


MILWAUKEE -- The Archdiocese of Milwaukee on Tuesday, August 4th announced a $21 million settlement has been reached to compensate clergy sexual abuse survivors.

The settlement comes after three days of negotiations between the Archdiocese, a creditors' committee and attorneys for abuse survivors, and Archbishop Jerome Listecki says the settlement sets the stage for the archdiocese to close a bankruptcy proceeding that was filed in January 2011.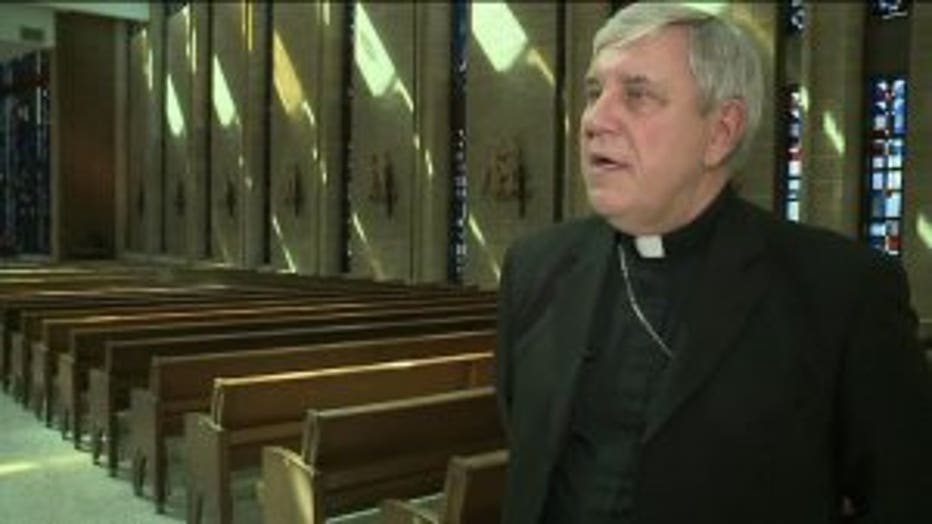 Milwaukee Archbishop Jerome Listecki


"This is, to use a theological term, a new Pentecost. You know, basically a new beginning for us," Archbishop Listecki said.

The proposed settlement will be outlined in detail in a bankruptcy court filing on August 24th. Judge Susan Kelley is expected to review terms of the deal in a court hearing on November 9th.

Listecki says in a statement that the settlement allows the archdiocese to "turn the page on a terrible part of our history and we embark on a new road lined with hope, forgiveness and love."

"We will never forget what happened during this, basically these years of -- these terrible years that abuse took place. We`ll never forget that and we`ll reformulate ourselves as a church. A strong church is good for all of Milwaukee. Astrong Catholic church is good for all of the 10 counties that we serve," Archbishop Listecki said.

The $21 million settlement includes compensation for 330 abuse victims. The Archdiocese will also establish a $500,000 therapy fund for survivors.

Payments to abuse survivors will vary, and will be decided by an independent arbitrator. The Archdiocese says it has no way of knowing how much each person will have to pay attorneys.

The settlement comes after four-and-a-half years of legal battles resulting in millions of dollars in legal fees to bankruptcy attorneys.

The Archdiocese objected to all 575 sexual abuse claims filed in bankruptcy court and attempted to have hundreds of the claims thrown out of court before the November 2015 plan of reorganization hearing. As a result, the creditors' committee, which represents all creditors in the bankruptcy proceedings, was forced to make a decision that would prevent the case from being drawn out longer and incurring additional bankruptcy attorneys' fees.

"We applaud the courage of the survivors who came forward, and the creditors' committee, who fought every step of the way," said attorney Jeff Anderson. "The treatment of the survivors by the Archdiocese of Milwaukee has been harsh and hurtful. This process has been heartbreaking for many who have been treated so unfairly by hardball legal tactics. The survivors continued to stand up for what was right, what they believed in, and to make sure the truth was brought to light. Because of them, children are better protected."

On January 4, 2011, the Archdiocese of Milwaukee filed for Chapter 11 bankruptcy protection in the United States District Court for the Eastern District of Wisconsin.

The Archdiocese claimed its initial purpose for filing was "o provide compensation for the unresolved claims of victims/survivors of Abuse including those Abuse victims/survivors who have not yet come forward."  Prior to filing bankruptcy, the Archdiocese faced less than two dozen lawsuits over its handling of clergy sexual abuse cases and the disclosure of information and depositions of retired Archbishop Rembert Weakland and Richard Sklba.

Over two years after filing for Chapter 11 reorganization, the Archdiocese of Milwaukee was forced to turn over thousands of once-secret church documents and depositions of top Archdiocese officials. These documents detailed Cardinal Timothy Dolan and the Vatican's role in sexual abuse cases and demonstrated how church officials and the Vatican repeatedly denied sexual abuse survivors justice by failing to act with urgency on reports of sexual abuse, often waiting years to remove a priest from ministry who had credible allegations of child sexual abuse.

The documents also showed that in July 2007, at Dolan's request, the Vatican quickly approved the transfer of more than $56 million into a cemetery trust to "protect" the funds from sexual abuse victims. The cemetery trust funds continued to play a key role in the bankruptcy proceedings.  Other revelations in this legal struggle showed Cardinal Dolan's policy of paying predator priests to leave the priesthood. 

In November 2013, the Archdiocese attempted to settle with one of its insurers without the survivors' participation.  It also continued to try to hide behind the passage of time to get cases thrown out of court.

On March 3rd, 2015, survivors emerged victorious when the Seventh Circuit Court of Appeals ruled that the Religious Freedom Restoration Act (RFRA) and First Amendment did not preclude survivors from challenging the transfer of the cemetery funds.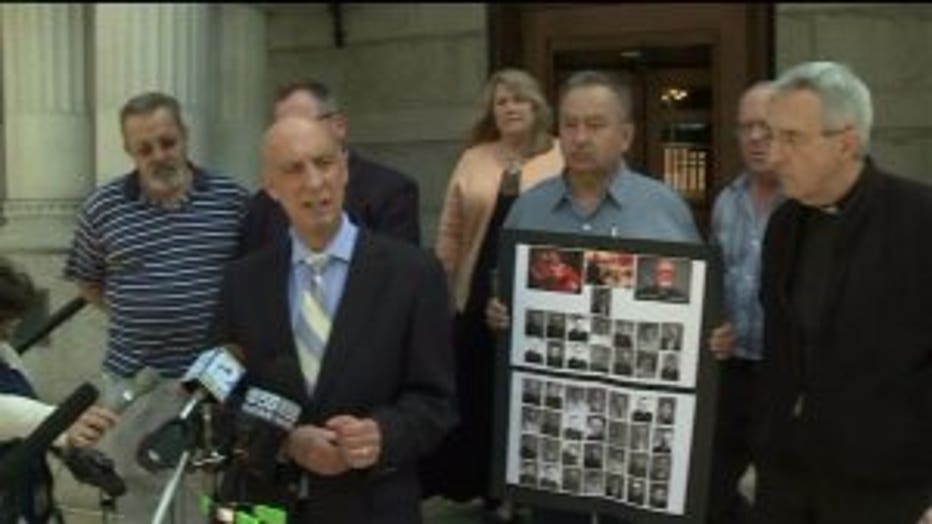 Peter Isely, the midwest director of SNAP (the Survivors Network for Those Abused by Priests) issued this statement to FOX6 News:

"In a perverse and cynical parody of the famous biblical story of King Solomon, it has been announced that the Archdiocese of Milwaukee has reached a monetary "settlement" with the Creditors Committee of the nearly five year old church sex abuse bankruptcy. It is exponentially the lowest bankruptcy compensation for victims in the United States.

(To see what the settlement should have looked like and the issues it should have addressed go to this statement on the revised plan here).

One number dramatically demonstrates just how unjust this "settlement" is:  at the end of the day, lawyers will be end up getting twice as much money than victims, approximately $30 million dollars for a handful of lawyers and $15 million dollars for hundreds of victims.

The entire settlement amount to victims is around $21 million dollars (after subtracting one third for their lawyers or $7 million dollars, that leaves $15 million dollars).  Church and bankruptcy lawyers will be paid at least $23 million dollars. (That number includes at least $13 million that has already been paid to lawyer, $7.5 million more in the settlement, an estimated $2 million in litigation and lawyers' fees for Cardinal Timothy Dolan's Milwaukee "cemetery trust".)

The average victim settlement for all the other US church bankruptcies when you subtract one third for attorney fees is $300,000.  When you subtract the Milwaukee victims' attorney fees, their average settlement amount (per "allowed" victim) is $44,000.

So why did the victims on the Creditors Committee agree to such a terrible settlement?

In the famous bible story, King Solomon is asked to judge between two woman who live in the same household, both claiming to be the mother of an infant boy. After much deliberation and anguish, he asks for a sword.  There is only one fair solution, he says: the live son must be split in two, each woman receiving half of the child. Upon hearing this terrible verdict, the boy's true mother cries out, "Oh Lord, give the baby to her, just don't kill him!" The king, of course, declares this mother the true mother.  Only a loving and true mother would rather surrender her baby to another than have him harmed.

The Creditors Committee, like Solomon, made the only ethical choice they could make: to not sacrifice those who would have been harmed if the archdiocese went back into court.  These rape victims were forced, literally, into settling with the church because if they did not, as laughably low as the compensation amount is, hundreds of victims would have received no compensation whatsoever.  Settle now before hundreds of victims get tossed by the archdiocese (and, as the church lawyer said in court last month, they fully intend to "spend down all the money"), or take the settlement. So, some victims choice to take less money for themselves so that other victims might get a little bit of help.

575 victims of rape, sexual assault or abuse by dozen of clergy over several decades filed cases into court because their archbishop and pastor, Jerome Listecki, publically urged them to for "healing and resolution".  They did so, knowing that by allowing the archdiocese to file for federal bankruptcy, the court was effectively removing their rights to file cases in state court, where depositions, documents and jury trials would have led to a very different outcome than today.

Indeed, why the archdiocese was ever allowed to maneuver and manipulate its sex abuse secrets into federal bankruptcy in the first place remains a mystery.  Not only was the archdiocese flush upon filing, since entering the bankruptcy the archdiocese has maintained, right up until filings and arguments this last month, that not a single one of the 575 victim cases are valid.  Not one.

The entire purpose for bankruptcy Judge Susan Kelley to allow the archdiocese to use the federal bankruptcy protection was so that they would right a terrible wrong.  It was not to add more wrongs to the ones they had already committed.

One can only say to the brave 575 victims who came forward from their shame and silence to seek justice in Kelley's court, especially the ones who will receive no compensation at all:  better to lose today for the right reasons than, as Archbishop Listecki has done today, win for a wrong ones. Better, as Socrates put it, to be the victim of injustice than the cause of one.

The medium as the saying goes is the message.  And in our society money is the medium. Through it we communicate our values, what we believe, where are heart, as the biblical saying goes, can be truly found.

So what is the message from Archbishop Listecki to victims and Catholics with today's forced settlement?  Isn't it that an institution if it has enough money, connections and legal protections can engage in decades of widespread and large scale abuse and cover up related to sexual violence against children, and simply does not have to responsible for the lives it has destroyed or be made accountable to the community?

That is why a 576th victim has joined the 575 victims from Milwaukee today. Victim 576 goes by several names:  Justice. Truth.  Decency.  Some even call him Jesus."

Milwaukee Archbishop Jerome Listecki posted this statement on his blog Tuesday:

"A few short months after I was installed as your archbishop on January 4, 2010, a trusted advisor met with me and said, "They told you we might have to go into bankruptcy, right?"  It was a plain and frank assessment of the financial picture of the archdiocese and of pending lawsuits, all part of the destruction caused by some priests who committed horrible crimes and left that devastation in their wake 30, 40, 50 years later.

Shortly thereafter, I pledged I would do everything possible to avoid bankruptcy and try and settle the financial situation we were in.

So we entered our first mediation to try and settle the lawsuits.  When that failed, I believed the best course of action was to file for Chapter 11 protection, something I hoped would be an expedited process to bring resolution, healing and fairness for all abuse survivors, not just those who were first to file lawsuits.  We filed the bankruptcy petition on January 4, 2011, my first anniversary as your archbishop.

From the outset, I adopted a mindset of prayer and patience, knowing that this could be an arduous process.  Prayer sustains us; patience helps us persevere.  My goal was to provide compensation to those who had been harmed; create a path toward healing for abuse survivors; and allow the Church to continue its spiritual, charitable and educational ministries.

Just a few weeks ago in July, the archdiocese entered its fourth mediation to try to reach an agreement with the attorneys for abuse survivors.  More prayer and patience was necessary, but I am happy to report this mediation was finally successful and after nearly five years, the archdiocese, after approval by the bankruptcy court this fall, will emerge from Chapter 11 at the end of this year.  It took longer than I ever thought or hoped, but prayer and patience are helping us reach a reasonable end.

Under the settlement agreement, the abuse survivors will receive $21 million.  That is a large amount of money, but we all know that no amount of money could ever restore what was taken from these individuals.  The money will be shared by abuse survivors of diocesan priests, but some payments will also be made to those who made claims against religious order men and women, and lay people who were employed by parishes or schools.  More details about the settlement are posted at archmil.org (click here).

As part of this settlement, all parishes and schools will receive a legal release protecting them from future lawsuits.  This was important because we wanted certainty that we could all move forward together in our ministry of Word, Worship and Service.

The settlement money will come from various sources, including insurance settlements and a settlement with the Cemetery Perpetual Care Trust.  This settlement has been developed with a great deal of care and thought.  The Trust assures us that as we move forward, it will continue to have the necessary resources to fulfill its duty of maintaining our nine Archdiocese of Milwaukee Catholic cemeteries for their sacred purpose and for the families with loved ones interred there.

Reaching a settlement is the best way to acknowledge the hurts of the past and try to reconcile for the future.  I am pleased that a settlement was reached and that both abuse survivors and the archdiocese can turn the page from this terrible chapter of our history.  It is important that we never forget the pain and suffering of abuse survivors.  And we will continue to hold ourselves accountable to all the elements of the Dallas Charter and the demands of our archdiocesan Safe Environment protocols.

Thank you for your prayers, concern and support over the last several years.  With the end of this process now in sight, we can devote our full attention and resources to our ministries.

At the Archdiocesan Synod, I talked about our Church being filled with the Holy Spirit and that for us in the Archdiocese of Milwaukee it would be a new Pentecost.  Turning the page from this chapter of our archdiocesan history allows us to focus more fully on our mission -- to proclaim Christ and make disciples through the sacramental life of the Church.  We will do so, remembering those who have been harmed; holding them up in prayer; supporting them through therapy and healing; promising never to forget the evil that was done; and working diligently to ensure this evil never happens again.

We also turn that page by rededicating ourselves to the spiritual, educational and charitable mission of the Church -- igniting our enthusiasm in our parishes and schools; renewing our commitment to Jesus Christ and His Church; and energizing ourselves and others in our prayer and ministry.  And in all these ways, we respond to Jesus' call to LOVE ONE ANOTHER."

Jeff Anderson & Associates has made available a number of key documents, depositions and priest files in this case at AndersonAdvocates.com.

CLICK HERE to access those documents.

CLICK HERE for key parts of the proposed settlement between the Archdiocese of Milwaukee and abuse survivors via the Archdiocese's website.