Aaron Rodgers Jets memorabilia would shake up collectors market
WAUKESHA, Wis. - Aaron Rodgers on Wednesday said it's his "intention" to play for the New York Jets, a move that would end his Green Bay Packers tenure after 18 seasons.
It's a move that could also shake up the collectors market. Waukesha Sportscards said Rodgers' autograph already commands top dollar, and the Jets could bump it up even more.
"(Rodgers) is great. I tell people all the time, he's one of the best guys I've ever worked with. He's so nice, personable," John Stanke, the shop's director of operations. "It's hard for me. You know, it's sad."
SIGN UP TODAY: Get daily headlines, breaking news emails from FOX6 News
Stanke spent a lot of time with Rodgers over the years at autograph signings; the quarterback even took time to meet Stanke's son. Depending on what's signed, fans shell out anywhere from $400 to $1,000 or more for Rodgers' autograph.
"We expect to sell his items throughout the year and expect to get some Jets products signed by him at some point," said Stanke.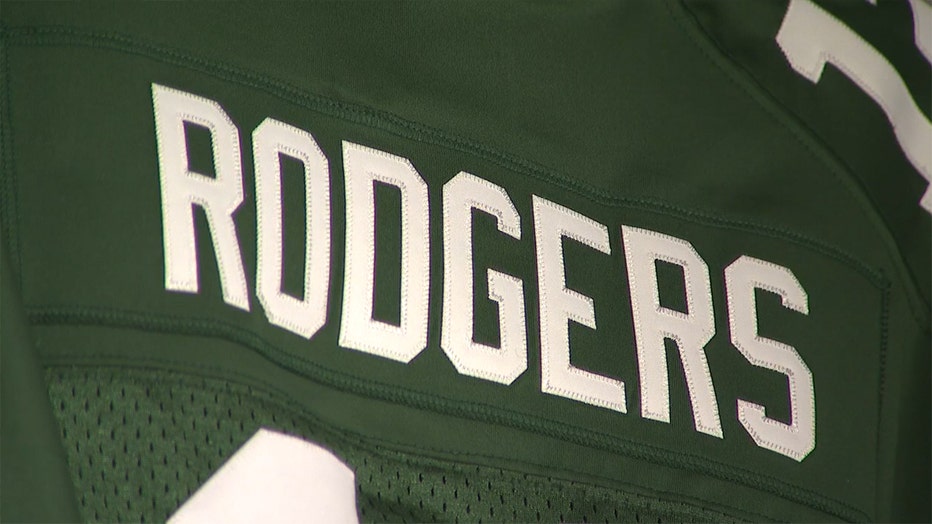 Aaron Rodgers memorabilia at Waukesha Sportscards
Jets memorabilia with Rodgers' autograph would open up a whole new revenue stream for collectors. Stanke believes Rodgers is leaving the Packers on better terms than when Brett Favre joined the Minnesota Vikings.
"There were videos of people burning (Favre's) jersey, stuff like that," Stanke said. "A lot of his memorabilia did kinda crash at that point."
FREE DOWNLOAD: Get breaking news alerts in the FOX6 News app for iOS or Android.
Collectors said Favre's autograph did not rebound until his Packers Hall of Fame induction. One name to keep an eye on: Jordan Love. Stanke said the quarterback's value has spiked in the past few weeks.
"In a couple of years, his autograph might be through the roof like every other quarterback could be," said Stakne.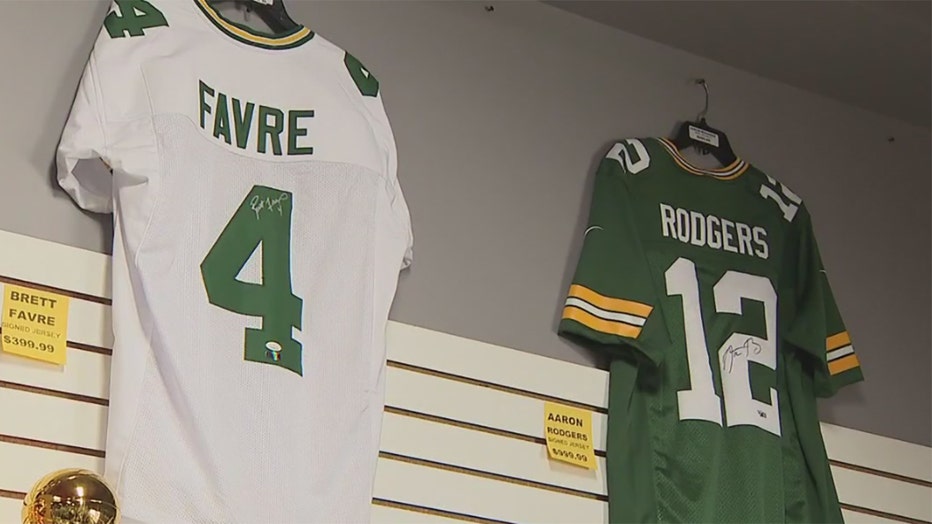 Brett Favre and Aaron Rodgers memorabilia at Waukesha Sportscards
For now, fans and collectors are soaking in the memories left by the four-time MVP Rodgers.
"He definitely has meant a lot to this business, state – every Packer fan," Stanke said. "To me, he's my all-time favorite. Great to work with, great to watch. He's at the top of my list."
Nothing is lined up yet, but Waukesha Sportscards hopes to have another autograph session with Rodgers in the near future. Another reason his autograph commands high prices is that he doesn't flood the market with his signature.