"A better choice?" Coalition offering alternative to $2 billion highway expansion options for I-94
MILWAUKEE (WITI) – Two weeks after the Wisconsin Department of Transportation issued a draft Environmental Impact Statement (DEIS) that proposes $2 billion highway expansion options for the I-94 East-West corridor – a coalition is offering a new alternative aimed at enabling 21st century mobility in the corridor. The alternative has been developed by a 25-year transportation planner and NJ DOT veteran.

The new option proposes returning the highway to a state of good repair and safe and reliable operation without expansion, but, instead of highway expansion, includes a high quality rapid-transit system that is more in touch with the changing desires of people to get around via non-driving modes.  The proposal would enhance economic development, better connect people to jobs in the region, and support local communities.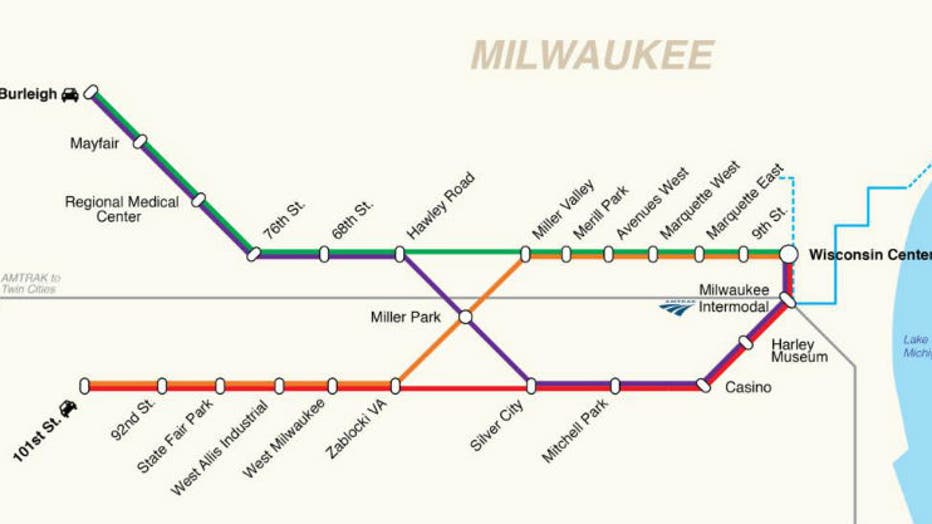 "With the publication of its Draft Environmental Impact Statement, WISDOT has taken another big step forward in its drive to widen I-94 in Milwaukee's East-West Corridor," said Dr. Mark Stout, author of the alternative and former Assistant Commissioner for Planning and Development at the New Jersey DOT. "They have dismissed, rather peremptorily, other options for Milwaukee's future. I want to show that other options are not only feasible, but in fact a better choice for the East-West Corridor."

The study includes a detailed concept plan for creating an East-West transit system along the I-94 corridor, with potential for major economic development around Miller Park.  The system would link the Burleigh and 101st St. Park-and-Rides to the downtown Milwaukee Streetcar, the Intermodal Station, and other locations, with several cross-town connections via the ballpark.

"Dr. Stout's proposal shows us what 21st century mobility, connectivity, and transportation could look like in Milwaukee," said Bruce Speight, Director of WISPIRG.  "WISDOT's proposal is stuck in the past.  We need a vision for the future of transportation in the Milwaukee region."

WISDOT has put forward only two options for the corridor; both call for highway expansion, and are based on questionable predictions of increasing traffic volumes along the Corridor – predictions not borne out by WISDOT's own traffic data.  In fact, the DEIS disregards data showing that traffic volumes in the corridor are declining and which call into question the need for expanding the interstate. A 2014 1000 Friends of Wisconsin report found that traffic counts on this stretch of highway decreased 8 percent from 2000-2012.

Examining expansion alone is particularly shortsighted given Wisconsin's changing demographics – an aging population that will outlive its ability to drive, as well as Millennials' shrinking reliance on cars for travel – and the local need for driving alternatives to reach jobs and commerce in the region.

The DEIS also fails to review options that would simply repair the road without expansion, and altogether refuses to consider better transit service despite growing demand for non-driving alternatives in the region.

Dr. Stout doesn't only fault WISDOT for neglecting transit in its DEIS; the Department also failed to adequately study pavement conditions and crash data before concluding that an expansion of I-94 was necessary.

"The DEIS does a poor job of identifying and describing the safety problems that WISDOT apparently feels should be addressed.  The mere fact of higher crash rates does not automatically identify problems or solutions," notes Stout.  Ultimately, Stout embraces a repair option because "WISDOT concedes that most of the infrastructure, safety, and operational issues they identify on the highway can be successfully addressed under either the Spot Improvements Option or the Six-Lane Modernization Option."

"Proposing to spend $1 billion taxpayer dollars on a project that is out of touch with how people are increasingly getting around is bad enough, but not adequately addressing the need for this massive investment is unacceptable.  Any reasonable taxpayer should reject both options put forward by WISDOT," said Bruce Speight, WISPIRG Director.

To finance these proposals, WISDOT Secretary Gottlieb has recommended raising taxes, including the gas tax, a diesel tax, a fee on hybrid owners and a fee on the purchase of new vehicles.  He also wants to borrow more than $800 million in the next two-year budget.

"Governor Walker and WISDOT Secretary Gottlieb are proposing to build more boondoggles, and the DOT is asking us to pay for it with more taxes and fees," concluded Speight.  "Rather than squander billions of tax dollars on overbuilding highways, WISDOT should be offering a vision for transportation that will help strengthen communities, connect people to jobs, and better accommodate changing local needs.  They aren't doing it, so we have to do it for them."

TAKE A LOOK: A Better Solution for I-94 East-West Corridor Map

Related stories: