911 dispatchers give conflicting directives during Azana incident


BROOKFIELD (WITI) -- More than a dozen women were at Azana Salon and Spa in October 2012 when Radcliffe Haughton came in with a gun and opened fire. Many ran to hide. But recorded audio of their 911 calls indicates some of the women may have been put in more danger because dispatchers gave conflicting directions.

Customers and workers packed into massage rooms ironically named Peace and Tranquility. They frantically dialed 911 and waited for help.

One of those women, 23-year-old Katie O'Rourke, was working that day as a massage therapist.

"Hi I'm at Azana in Brookfield and there's somebody shooting," O'Rourke said.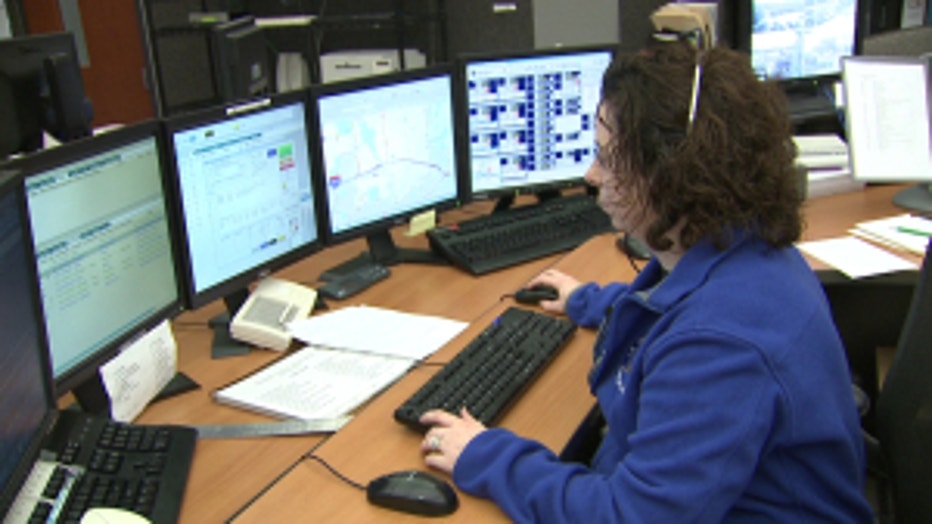 Just seconds into her conversation with the 911 dispatcher she's told to make a run for it.

Dispatcher: "I need people to exit the building if at all possible."

O'Rourke: "I can't get out of here."

Dispatcher 1:"Why can't you get out of there?"

O'Rourke: "Well I'm in my room right now, I'm in my massage room."

Dispatcher 1: "Okay if you can possibly get out of there, okay, please do so."

She hangs up and calls back only to be told to leave a second time.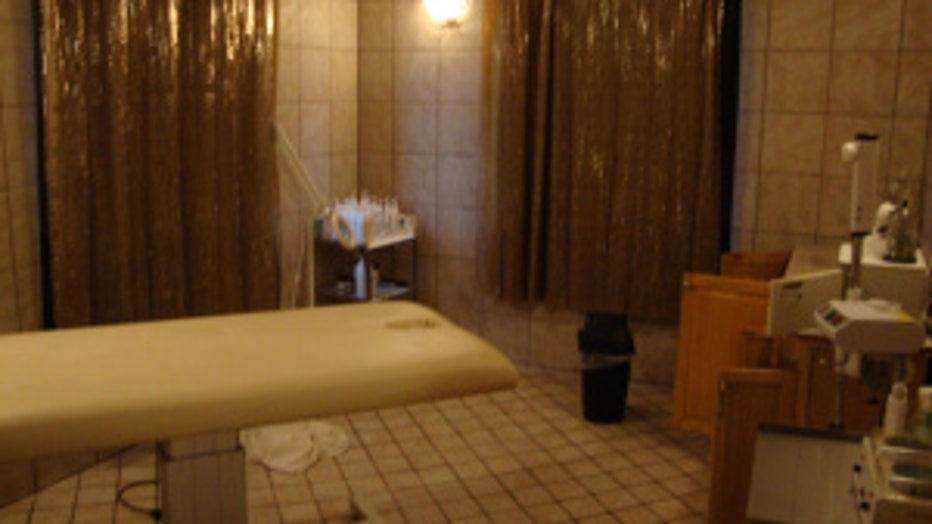 Dispatcher 1: "If you guys can safely exit I want you guys to go exit now."

O'Rourke: "We can`t we have no idea where they are."

Dispatcher 1: "They`re right outside the door."

O'Rourke: "Do you know where they are downstairs?"

Dispatcher 1: "They`re right outside the front doors."

O'Rourke: "Yeah?"

Dispatcher 1: "Yep."

O'Rourke: "Um, the shooter too?"

Dispatcher 1: "What`s that?"

O'Rourke: "The shooter too?"

Dispatcher 1: "I don`t know where he is. I think he`s in the basement."

O'Rourke: "Okay cause we hear him yelling."

Dispatcher 1: "You can hear the shooter yelling?"

O'Rourke: "Okay, do you guys want to move?"

Dispatcher 1: "Okay why don`t you guys put your hands up in the air okay? And start walking down the stairs."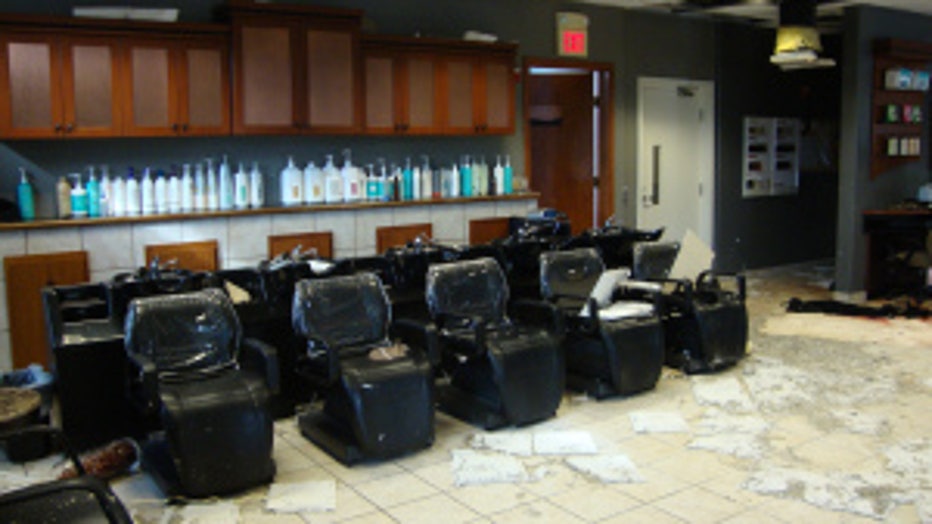 O'Rourke: "We would rather stay here."

Right down the hall another woman gets very different advice.

Dispatcher 2: "I don't want you to move, okay? Stay where you're at. We don't know where he is. So you need to stay where you're at in the bathroom."

Should you stay or should you go? And should you trust the person on the other end of the line with your life?

"As dispatchers we are human. We are not a computer. We are trying to make the best decision based on what we have and if the dispatcher was telling her to do that it was based on the information she had at the moment," says Christine Bannister, Waukesha County's Dispatch Supervisor.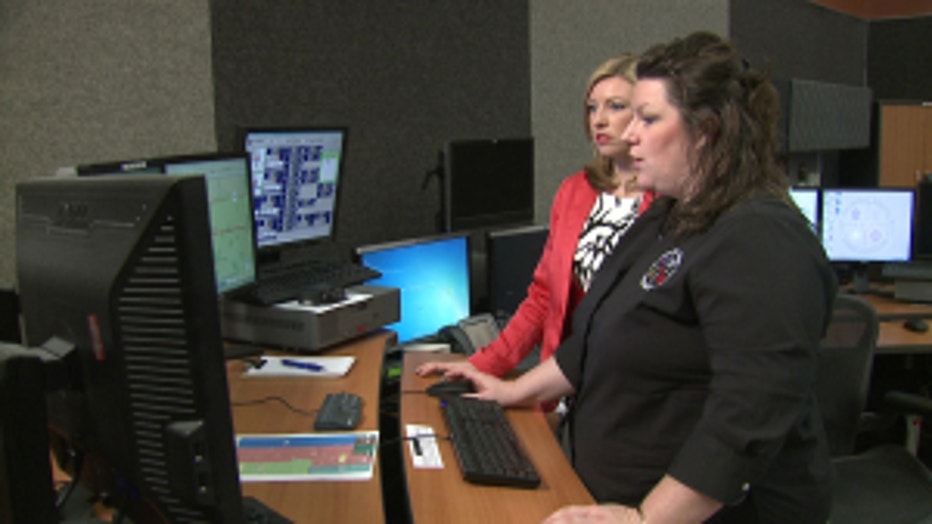 Bannister oversees the 911 Dispatch Center. She admits the information that day was coming in so fast some victims may have gotten conflicting directives, but she says it's not a mistake, and she praises the dispatchers for the good work they did that day. Richard Tooma, Director of Emergency Preparedness for Waukesha County, agrees.

"It's easy to look back and go well if we had known this or if we had known that, but at the time you`re getting bits and pieces of information. Some of it is conflicting," Tooma says.

For example, the County points out, nobody knew exactly where the shooter was located. When the fire alarm went off, the calls were very chaotic. Dispatchers say they were waiting on Brookfield Police to declare a lockdown before they started telling victims to "stay put."

Despite the chaos and seemingly conflicting directives, the County says dispatchers performed phenomenally in very stressful circumstances, and its discussing how to give the dispatchers awards to recognize their bravery that day.

"Decisions have to be made on the best information available at the time and sometimes it is not the accurate information." Richard Tooma says.

Katie O' Rourke, the massage therapist told to leave, says the directions she got still haunt her. She didn't want to go on camera, saying she feels like it is still too soon. She told FOX6 News if she had listened to the 911 dispatcher, she'd be dead. She says police told her Radcliffe Haughton had been pacing back and forth outside of her room.

So, should dispatchers tell people to run?

Especially when they don't know for sure where the shooter is?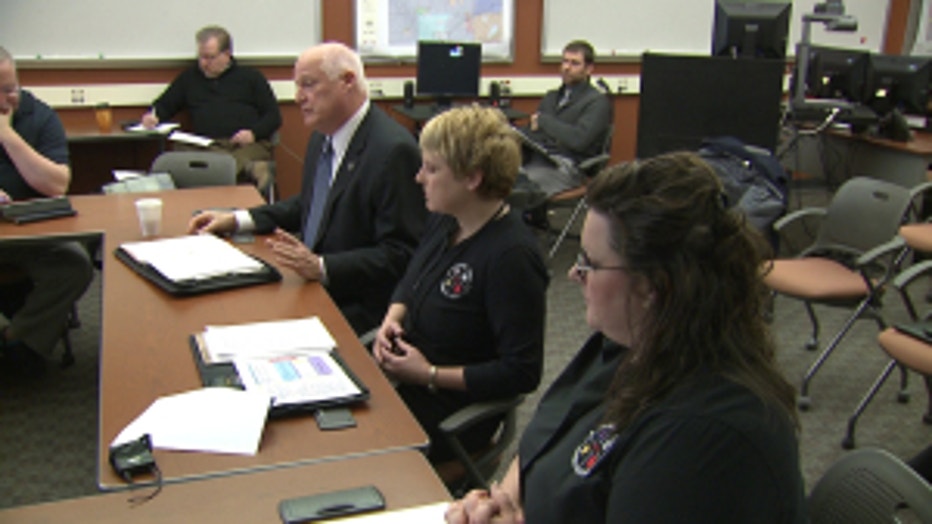 "These events are very fluid and it is really hard to put a definitive process or procedure in place because there are so many variables," Tooma says. "One of the things that was very, very clear is we didn't have a protocol that addressed a major event like this very well."

More than six months later Waukesha County is fixing that. Monday, dispatchers began using what's called an Active Assailant Protocol. It gives them specific questions to ask in these volatile incidents.

"The protocol never has a bad hair day. They're never gonna forget to ask a question. They`re never gonna forget to give an instruction," says Shawn Messinger, a police consultant for Priority Dispatch. He helped develop the new protocol before it was released to the public on February 20.

"Standardized protocol makes sure that we ask all the right questions every single time regardless of whether the person`s been on the job for two months or 15 years," Messinger says.

Many regional dispatchers do attend "active shooter" trainings, but Messinger says having a written protocol in place is safer. Even if dispatchers forget their training in the heat of the moment, he says, they will have something to reference.

In March, even though the protocol was available for free online, no 911 centers in southeast Wisconsin were using it. Some didn't even know it existed until we contacted them. But now communication centers throughout the region are taking a second look at their policies for these types of incidents.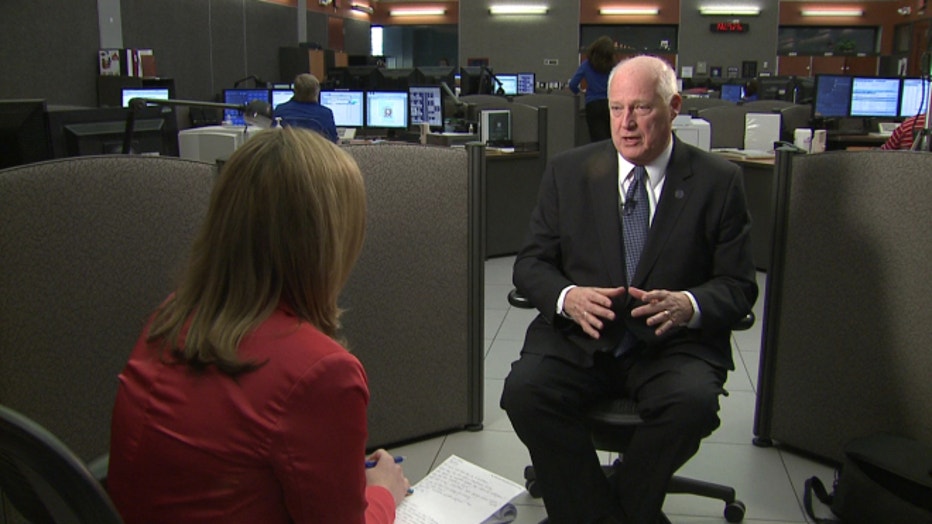 Waukesha County just approved its own version of the protocol this week. And soon, Waukesha dispatchers will be attending a mandatory debriefing on the Azana shooting, conducted by Brookfield Police. They will also undergo a 2-hour active shooter training.

Milwaukee County won't confirm whether it's working on adopting an active assailant protocol for dispatchers, only saying "the communications center is always looking at recognized best practices to incorporate into training dispatchers."

But Washington, Ozaukee, Racine and Kenosha counties all say they're working on their own versions.

In the meantime, Ozaukee dispatchers were given a printed version of the protocol last week, after FOX6 News told them it was available online.

Still, few counties have set a timeline to get an official protocol in place for dispatchers.

"Every agency should be pre-planning for these. They should have a protocol in place. We believe that the active assailant protocol that we just released is the best tool to do that," Messinger says.