$700M Powerball prize latest in string of giant jackpots
No, it's not lottery deja vu.
There really is another giant lottery jackpot up for grabs Saturday night, the latest in a string of big prizes enticing players to plunk down $2 and try to beat formidable odds.
This time, it's an estimated $700 million Powerball jackpot drawing, which ranks at the 10th largest in U.S. lottery history. It comes on the heels of a $1.35 billion Mega Millions prize won by someone in Maine less than three weeks ago and a record $2.04 billion Powerball jackpot won by a California player last November.
The prizes grow so large because the odds of winning them are so long, at one in 292.2 million for Powerball. That allows jackpots to roll over week after week, getting bigger and bigger.
READ MORE: School bus driver wins $150,000 on $5 scratch-off and plans to pay off mortgage
The last time someone won the Powerball jackpot was Nov. 19, 2022.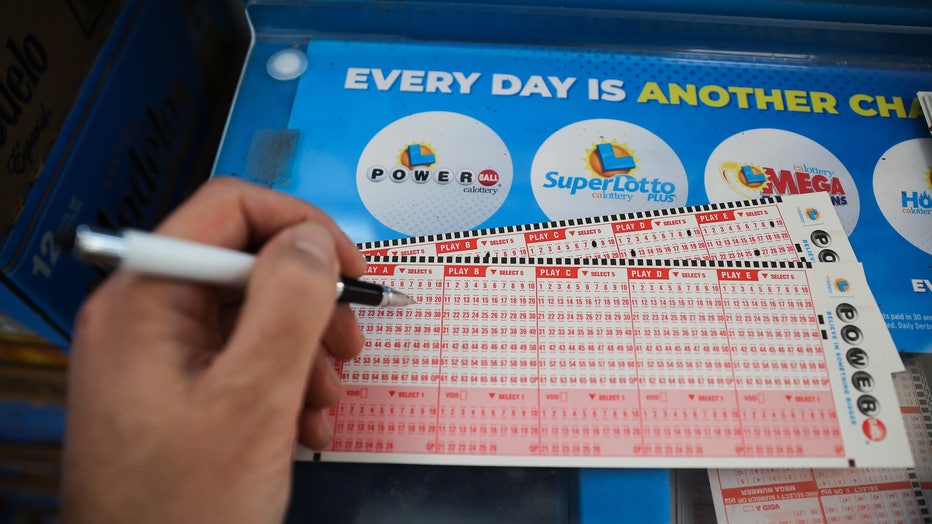 A person plays Powerball lottery at a 7-Eleven store in Milpitas, California, United States on November 7, 2022. (Photo by Tayfun Coskun/Anadolu Agency via Getty Images)
The $700 million prize is for a winner who chooses to be paid over 29 years through an annuity. Nearly all jackpot winners prefer a one-time check, which for Saturday's drawing would be an estimated $375.7 million.
Powerball is played in 45 states, as well as Washington, D.C., Puerto Rico and the U.S. Virgin Islands.