4 charged, 1 at large after police said shots were fired toward officers near 20th and Center
MILWAUKEE -- Milwaukee police on Sunday, June 7 announced charges against four people in connection with a shots fired incident that happened Tuesday night, June 2 near 20th Street and Center Street.

Police said around 9:15 p.m., officers responded to a ShotSpotter call and heard several shots being fired in the area. According to police, officers spotted an individual who was "shooting a firearm in their direction." One officer returned fire, but the armed individual fled and has not yet been taken into custody, police said in a news release Sunday.

Charges were issued against these four individuals:

Solomon Austin III, 41


Donte Gladney, 34


Nathan Haynes


Willie Pirtle Jr., 41


According to a criminal complaint, officers spotted approximately 40 people at the corner gas station, along with 15-20 vehicles as part of a celebration of life event for a gas station worker who had died in a recent shooting. The officers driving by said they heard 10 to 15 shots, and turned their squad around -- continuing to hear gunfire. One officer estimated 40 shots from different caliber weapons.

As officers approached, the complaint said a man was seen firing rounds from an alley toward officers from next to a green SUV. One officer returned fire, and the complaint noted over 100 casings were recovered at the scene.

Prosecutors said Solomon Austin III was in the driver's seat of that green SUV from which investigators recovered a .40 caliber Glock. The complaint said surveillance video showed Austin firing a handgun in the air and placing it under the seat in the SUV. Prosecutors noted he had a warrant out of Sauk County -- and is a convicted felon.

Nathan Haynes was found at the scene closing the door of a Hyundai Elantra, the complaint said. Investigators recovered a handgun from the floorboard of that vehicle -- and the key for the vehicle in Haynes' pocket. The complaint said the firearm's slide was in lock back, consistent with it having been fired until ammunition was exhausted. Haynes told investigators he was not at the gas station firing, but the complaint said surveillance video showed the convicted felon walking around the gas station with a firearm for 10 minutes -- firing multiple times into the air.

Willie Pirtle Jr. was spotted by officers at the scene with a firearm -- and took off on foot, the complaint said. Officers ordered him to stop, and he did in front of a nearby store -- raising his firearm toward officers. When ordered to drop the gun, the complaint said he placed it in his pocket, and took off on foot -- throwing the firearm near 20th and Hadley. Police recovered the handgun, the complaint said -- noting the convicted felon has several open court cases.

Donte Gladney was found by an undercover officer with a firearm in his pocket, the complaint said. According to prosecutors, he gave that firearm to an elderly man on a nearby porch, who toss the firearm. That firearm was recovered, and Gladney was arrested.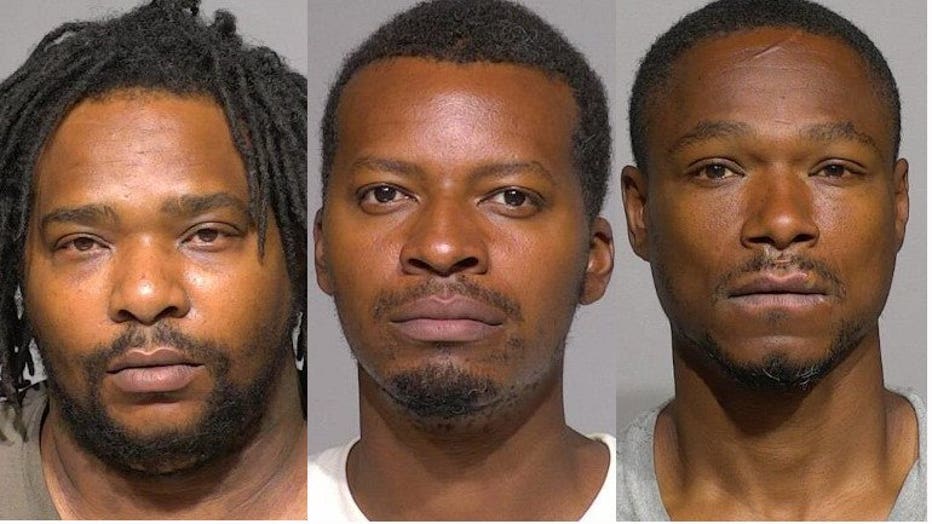 Solomon Austin III, Donte Gladney, Willie Pirtle, Jr.


MPD said Sunday the person who fired shots at officers is being sought by police.

Anyone with information was asked to please contact MPD at 414-935-7360 or Milwaukee Crime Stoppers at 414-224-TIPS.