Power outages follow tornado warnings; residents caught off guard
WAUKESHA COUNTY, Wis. - Severe storms pushed through southeastern Wisconsin Wednesday, Oct. 12, knocking out power for thousands of We Energies customers. 
As of 1 p.m. Wednesday, just before tornado warnings expired, the We Energies Outage Map showed more than 20,000 outages in southeast Wisconsin. In Waukesha County, a power outage forced the cancelation of a 400-person fundraiser. We Energies responded to a tree down on a power line near Lake Drive and Lacy's Lane.
Tornado warnings were issued across several counties, including Waukesha County, on Wednesday. The warnings caught many people off guard for this time of year.
SIGN UP TODAY: Get daily headlines, breaking news emails from FOX6 News
"We've had a couple like this, I've been here a long time, but it's unusual for October," said George Simos, manager of Golden Mast restaurant near Okauchee Lake. "You expect this mid-July on a really hot day, but in October you would never think it.
"The tornado warning went off on everybody's phone – you could hear it all through the restaurant – so we started moving people away from the windows and into the safest part of the restaurant."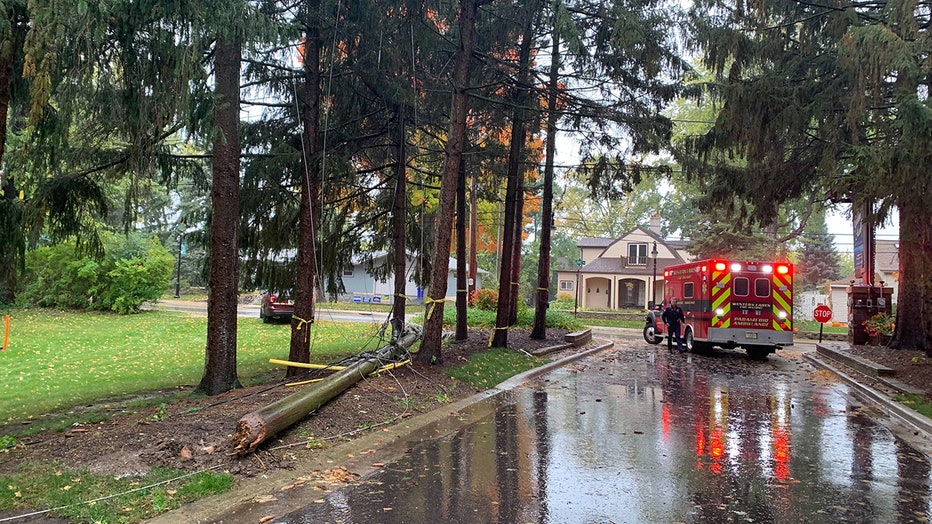 Storm damage in Okauchee Lake near Lake Drive and Lacy's Lane
Simos said they were about to serve lunch for a 400-person fundraising event when the storm hit. 
"It started blowing really heavy, the furniture outside started blowing around. It was obvious it was a pretty heavy storm," he said.
The restaurant, like many homes around it, lost power.
FREE DOWNLOAD: Get breaking news alerts in the FOX6 News app for iOS or Android.
"Ran up to see what was causing the power outage, and there's two power poles down, and a tree down and power lines sparking across the road," Simos said. "It was obvious we weren't going to get our power back, so we had to cancel the fundraiser. It was very disappointing."
A battalion chief for the Western Lakes Fire District said, fortunately, the tree on the power line that knocked out power was the only event they had to respond to during the storm. 
If your power is out, you should avoid any downed wires. We Energies officials say you should stay 25 feet away from them and report any downed wire to We Energies or law enforcement immediately. As for your outage, the best thing you can do is contact We Energies at 800-662-4797 to report your outage. They will then send you updates as your outage is resolved.