1 dead in fire at Lake Shore Tower Apartments in Cudahy, 50 residents displaced
CUDAHY - A 56-year-old woman was found dead after a two-alarm fire broke out at the Lake Shore Tower Apartments on S. Lake Drive in Cudahy on Sunday morning, Aug. 16. Another 50 residents were displaced -- and one firefighter was taken to the hospital for treatment of heat exhaustion, along with "several" residents.
The American Red Cross said they were assisting people from seven units, "providing families with assistance for short-term lodging and immediate needs, as well as access to mental health and basic health resources (like prescription refills or eyewear)," while "continuing to make connections with all residents who cannot return to the building to see where additional assistance may be needed."
"I started to smell the smoke in my apartment, so I instantly was thinking what are the five things I need to take with me in case my apartment goes up," said Jennifer Pelzek.
Pelzek said an odd crackling sound woke her up Sunday morning. 
"The hallway was starting to get smokey, the smoke alarms were all off," said Pelzek.
"When you looked up, I could see that some smoke was coming out," said Erika Blija.
Officials say the fire was first called in around 7:15 a.m. Firefighters found heavy, black smoke coming from an upper unit. Many residents had already evacuated, while many others were struggling to get through the smoke to get out. Multiple residents were assisted to safety. Some sheltered in place until they could be helped by firefighters.
The fire was contained to a single unit on the 10th floor, however, other nearby apartments suffered some smoke and water damage.
Cudahy Fire Chief Dan Mayer said the fire appears to have started in the kitchen or living room area of a single apartment -- and extended into a bedroom. The cause of the fire remains under investigation. Officials said the State Fire Marshal was being called in to investigate.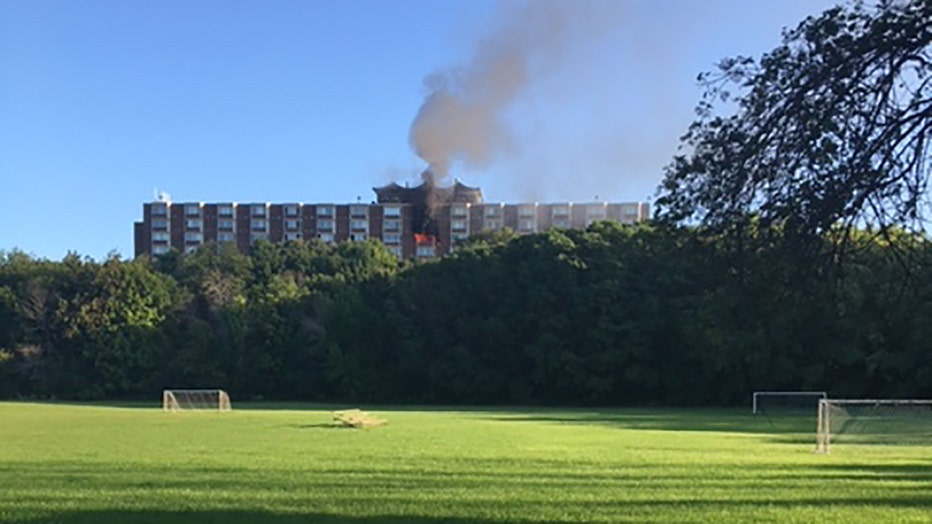 Fire at Lake Shore Tower Apartments, Cudahy (Credit: Bryan Bruno)
Chief Mayer said there were multiple challenges for fighting this fire. The first was that it was on the 10th floor -- beyond what ladder trucks can reach. Second, the parking lot was full of vehicles -- and did not allow a lot of access for emergency vehicles. But the chief indicated the biggest challenge Sunday was the heat -- as evidenced by one Oak Creek firefighter being treated for heat exhaustion.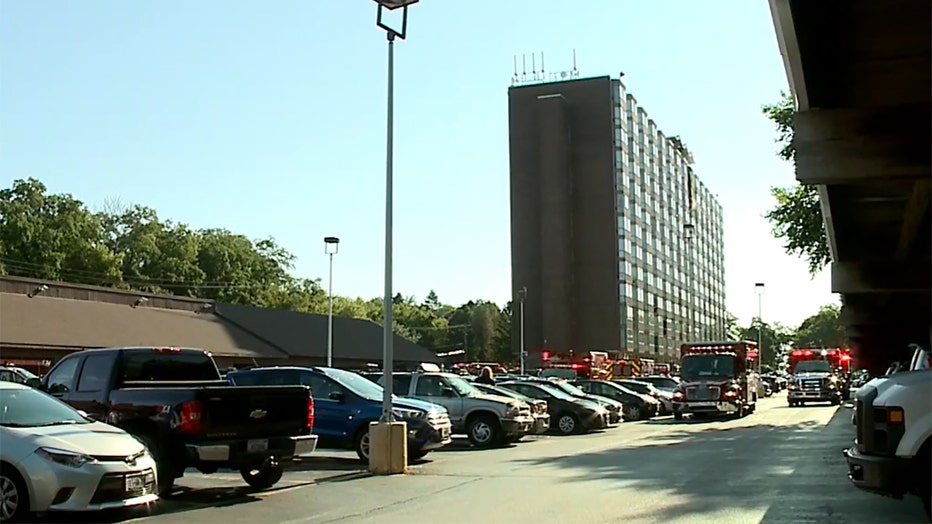 Fire at Lake Shore Tower Apartments, Cudahy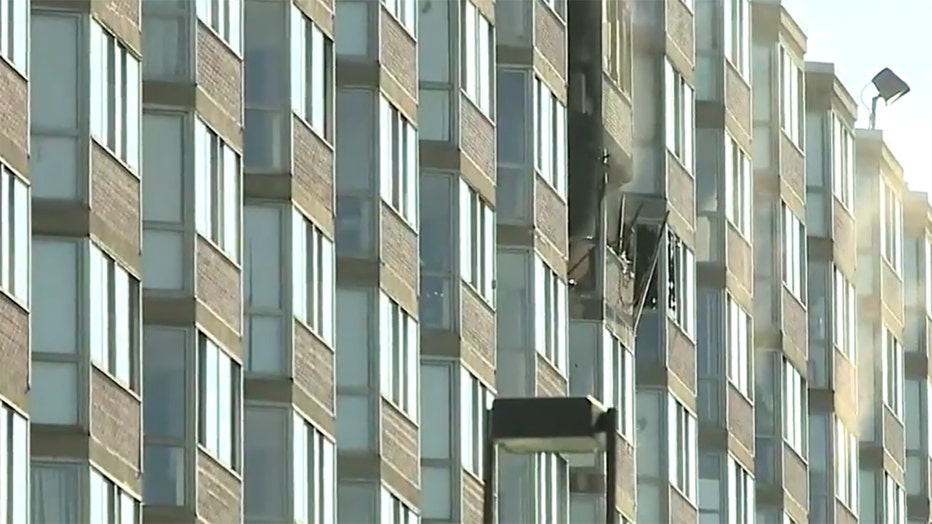 Fire at Lake Shore Tower Apartments, Cudahy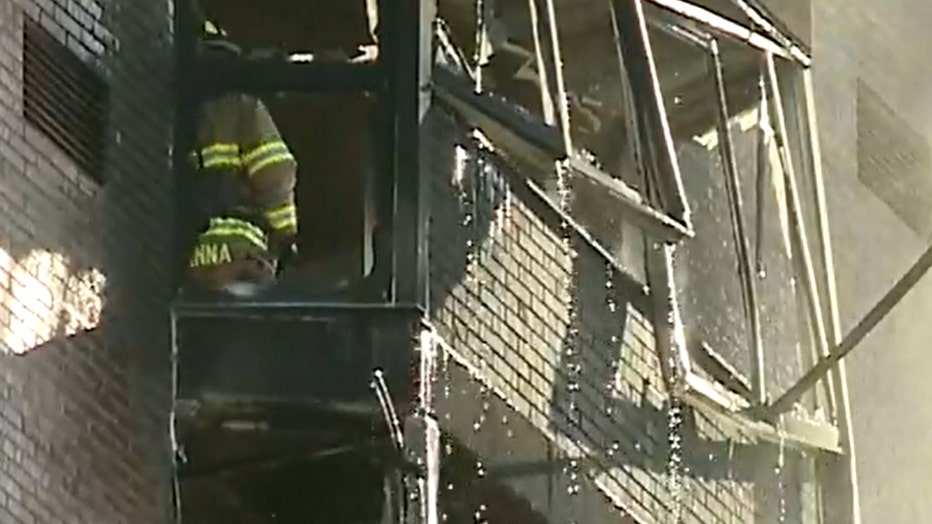 Fire at Lake Shore Tower Apartments, Cudahy
The fire was declared extinguished around 8:30 a.m. Fifteen departments assisted Cudahy in battling it.
The fire chief said to the best of his knowledge, the building has smoke detectors and alarms only in apartment common areas, and does not believe the units have sprinklers.
Cudahy Thomas Pavlic Mayor issued the following statement on Facebook:
"I am sad to report that a Cudahy resident died in a fire this morning at the Lake Shore Tower Apartments located on College & Lake Dr.
"My condolances (sp) go out to the victim and their family.
"A big thanks to our local fire and police department who were on the scene within minutes of the call coming it. Thanks do all the surronding departments who responded within Milwaukee County and as far away as Racine County. I am sure I will miss a department or two, but I saw fire departments respond from South Milwaukee, St. Francis, Oak Creek, Franklin, Greendale, Greenfield, Wauwatosa, West Allis, Milwaukee, the North Shore Fire department, and from Raymond.
"The Cudahy Police department thanks those departments that assisted from South Milwaukee, Oak Creek, St. Francis, as well as the Milwaukee County Sheriff's department.
"Thanks to the Milwaukee Fire Bell Club for providing food and water to the first responders. And last, I can't leave out one of our local residents who was distributing water to the residents displayed by the fire.
"If was an unfortunate event, but the residents of Cudahy much appreciate the great response and cooperation.
"If we get any information on how best to help those residents that were displaced by the fire, I will get that information out."