Snow forecast for southeast Wisconsin on Thursday, Feb. 16
MILWAUKEE - It has been a wild week of weather across southeast Wisconsin – and it's only going to get more interesting.
Southeast Wisconsin started with sunshine and temperatures in the 50s on Monday and Tuesday with rain forecasted to move in by Tuesday afternoon. On Thursday, we will transition into snow and colder temperatures – and then back in the 20s by Friday. So let's talk about the next impactful weather maker.
A low-pressure located near the southern tip of Nevada on Tuesday will begin to move east across the Midwest over the next few days. The center of low-pressure will remain south of Wisconsin putting us on the cold side of this system. Due to trend of the low staying further south, this has increased the potential for accumulating snowfall starting early Thursday through Thursday night.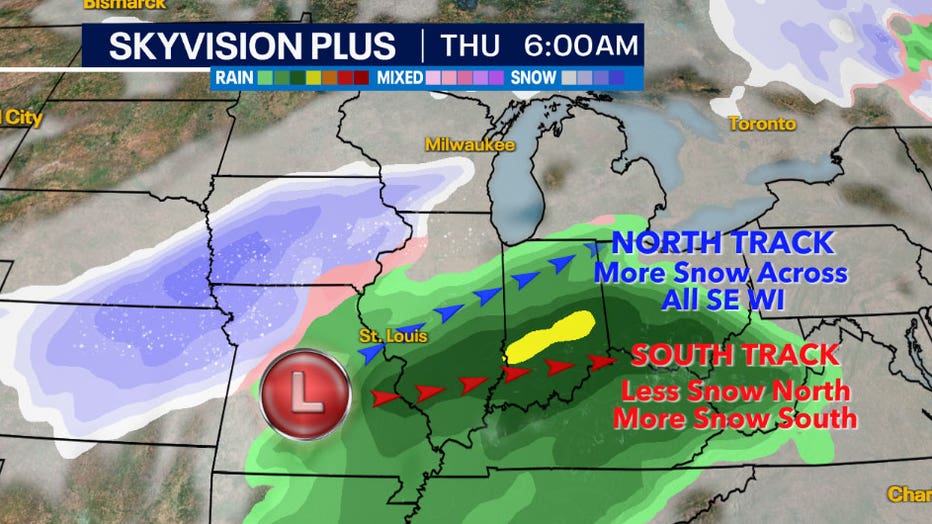 The big question remains the exact track of the low.
Working scenarios
If this system takes a northerly track across central Illinois and into northern Indiana, this would increase the chances for more widespread higher snowfall totals across all of southeast Wisconsin and cause lower totals near the cutoff zone in central Wisconsin. 
If the system takes a southerly track across southern Illinois and into southern Indiana, this will lower the chances for higher snowfall across our northern counties especially from Sheboygan to Fond du Lac and Beaver Dam where there will be a sharp cutoff on the edge of this system. Higher snow totals will still be favored for southern counties near the Wisconsin/Illinois border.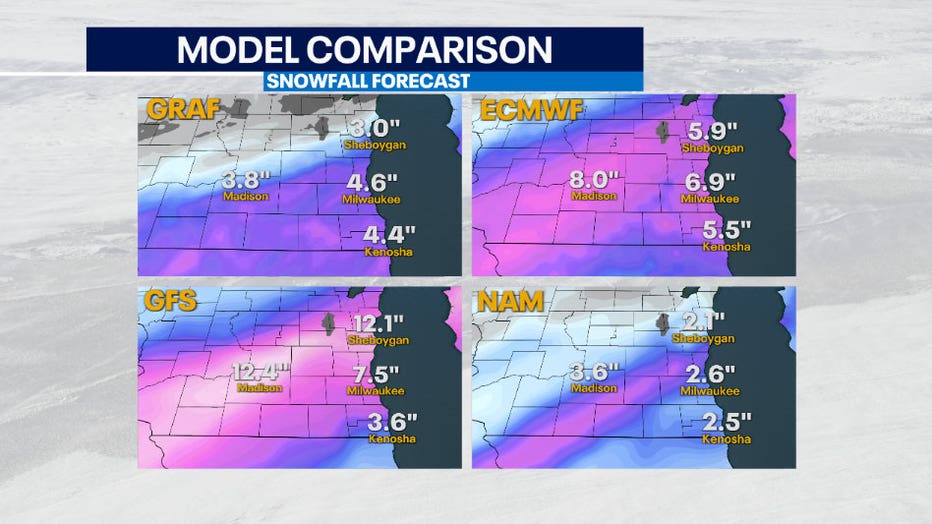 Due to the challenge of determining the exact track, it is hard to discern where there the heaviest snow will fall and where the cutoff to almost no snow will be. This is why forecast models compared above are all over the place in terms of snowfall accumulation amounts. The GFS and EURO are favoring the low to take a northerly track with more moisture in the system equating in higher amounts. While the NAM and GRAF are favoring the low to take a southerly track with a little less moisture equating in lower amounts. 
Instead of trying to pinpoint the exact snowfall amounts with uncertainties still in the forecast, it is easier to view the percentage or probability of receiving a range of snow.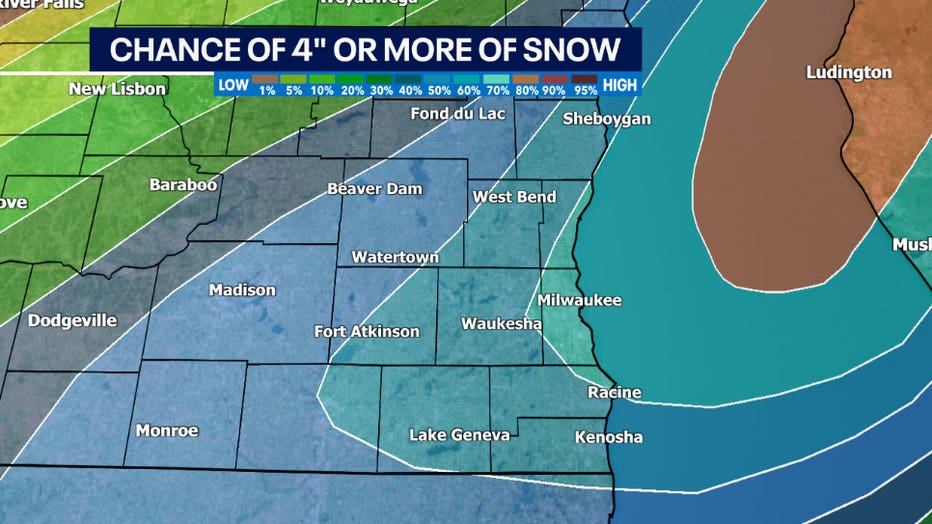 Most central and southern areas have a 60% to 70%+ chance of seeing at least four inches of snow.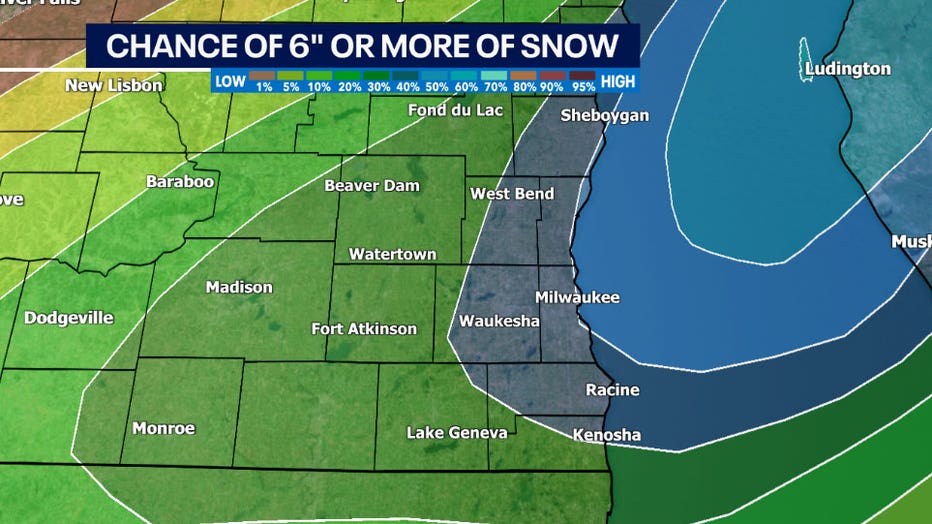 Areas closer to the lakefront and west into Waukesha County (in blue) have a 50% chance of seeing at least 6 inches of snow.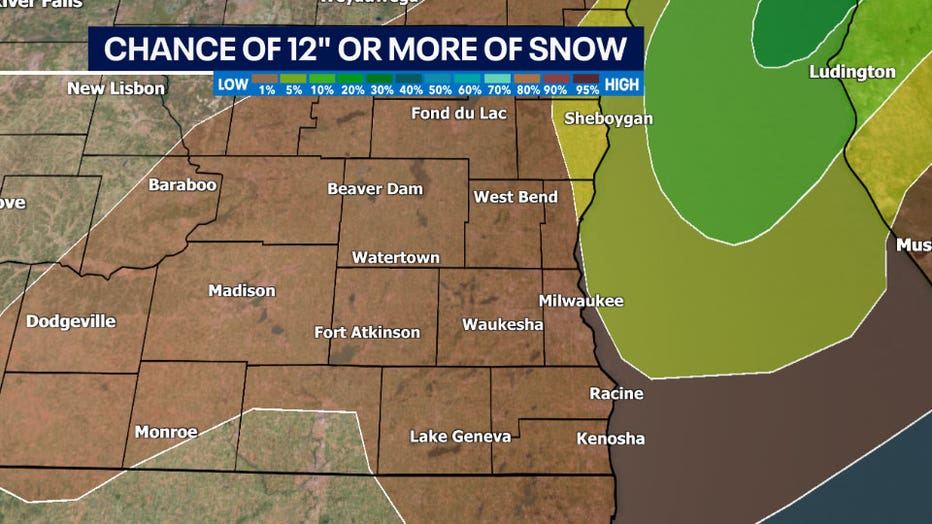 There is a 1% to 4% chance of seeing a foot of snow. While the GFS model shows areas close to a foot of snow in the comparison graphic earlier in this article, it is not likely and considered an outlier.
Points to take away
We will see accumulating snowfall on Thursday that will cause for a messy commute during the morning and evening.
A colder air mass will be in place causing liquid to snow ratios around 12:1. This means that for every 12" of snow there will be 1" of water. There is looking to be approximately 0.5" of moisture in this system which could produce at least 4-6" for many locations. Snow falling will also be composed of light flakes.
Strong northeasterly winds can gust between 25-40mph during this event.  Since snow will be light and airy, winds will easily cause blowing or drifting snow causing poor visibility for driving.
With high temperatures by the weekend forecasted to reach the 40s, snow will not impact roads for a long duration as it will start to melt over the weekend.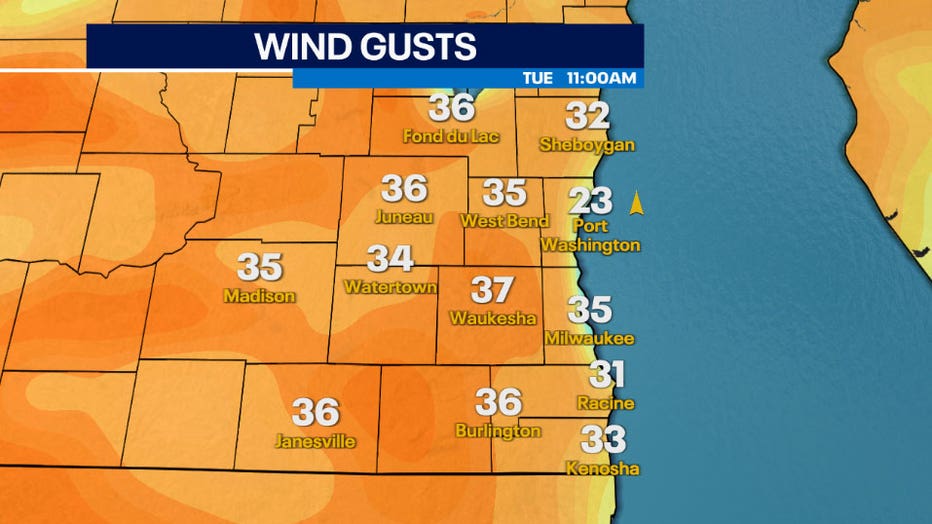 Check in on the FOX6 Weather Experts for the latest forecast information on this upcoming system.