Severe weather knocks out power, damages property in SE Wisconsin
MILWAUKEE - Another addition to 2020 -- November tornado warnings in southeastern Wisconsin. Heavy winds and rain associated with severe weather system swept across the southern part of the region on Tuesday afternoon into the early evening.
More than 28,000 We Energies customers lost power at one point Tuesday night. As of 6 a.m. Wednesday, Nov. 11, over 6,000 customers remain without power. The storm also caused some serious property damage, including in western Racine County, where there was more than just downed treed and powerlines.
Owners of one Waterford home told FOX6 News that they just finished a remodel. Now, a large tree fell onto their roof -- ripping the house open, toppling drywall and knocking out their power.
The owners said they will be staying with friends while they sort out the damage and repair work. FOX6 News saw crews using a chainsaw to cut up the fallen trees, which were then run through a woodchipper to clear the debris around 7 p.m.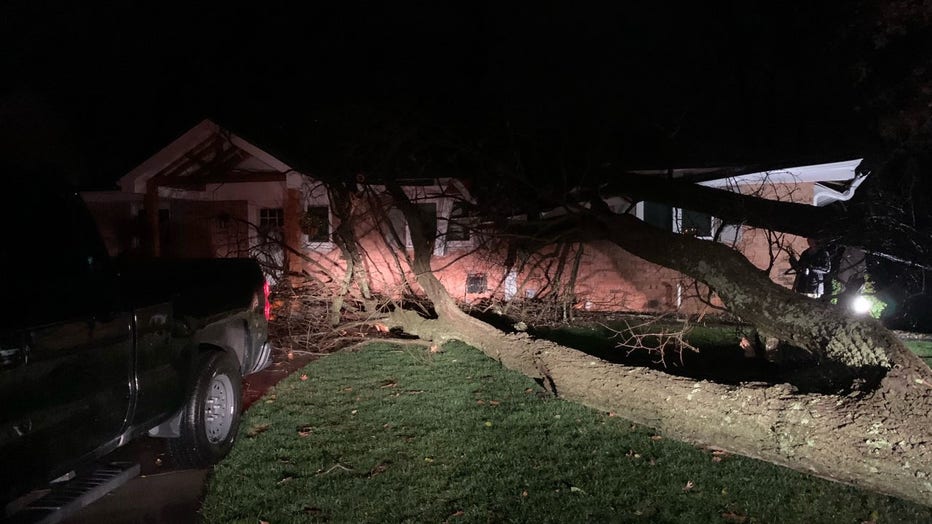 Tree downed in Waterford due to severe weather on Tuesday, Nov. 10.
A little up the road, a large tree was split with branches falling onto a car and boat in another home's driveway. The car's windshield was smashed, as were parts of the hood and roof.
Much like the homeowners who had recently remodeled, the car's owner, Scottie Walden, said she just bought it one week ago. She's thankful she has insurance, but couldn't believe how quickly it all happened.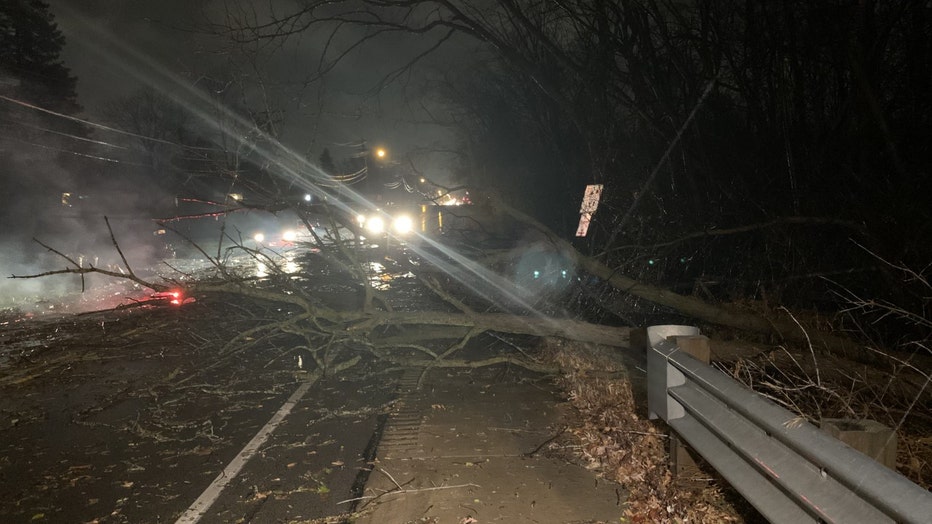 Trees down near 35th and College, Franklin
"Like in 10 minutes, it was gone. We saw the tree was on fire, so I called 911 to get the fire department and then we saw this when we came out," said Walden. 
Walden compared the sound to a large freight train passing by.
"It sounded like a train, like a 'woo, woo, woo.' And very loud, very loud. And when it hit the house, it sounded like bricks were hitting the house," Walden said.
FREE DOWNLOAD: Get breaking news alerts in the FOX6 News app for iOS or Android.
The good news, so far, it sounds like no one was hurt as part of Tuesday's storm damage.
CLICK HERE to view the current outages from the We Energies Outage Map.