Young man with autism, a hero to many, reunited with his hero -- NASCAR driver Kasey Kahne!


CHARLOTTE -- Like other 16-year-old boys, Monty Veres has a passion for sports. He's a NASCAR wiz, and recently got to meet up with his favorite driver. But what makes Veres special is his ability to teach us all a little something about dreaming big, and never giving up.

In 2009, Paul Veres took his then 10-year-old son Monty, a huge NASCAR fan to Charter Raceway in Beaver Dam.

To his surprise, Monty Veres got to meet NASCAR driver Kasey Kahne.

Six years later, Monty Veres was turning 16. His dad wanted to make it a memorable birthday, and he called Kahne's shop in the state of Washington, hoping for some memorabilia. What Paul Veres didn't know was that Kahne's mother Tammy was on the other line. She said she'd mention Monty to her son.

"Lo and behold, getting a phone call here in Wisconsin on Monty's birthday -- and it's Kasey Kahne! Calling him to wish him a happy birthday and just talk to him about NASCAR, about football, about life. Just making our son -- making his birthday an incredible birthday," Paul Veres said.

And Monty's birthday got even better. Monty Veres and his family were invited to see the Coca-Cola 600 in Charlotte -- Monty's dream NASCAR destination. Tammy Kahne arranged for him to be reunited with her son.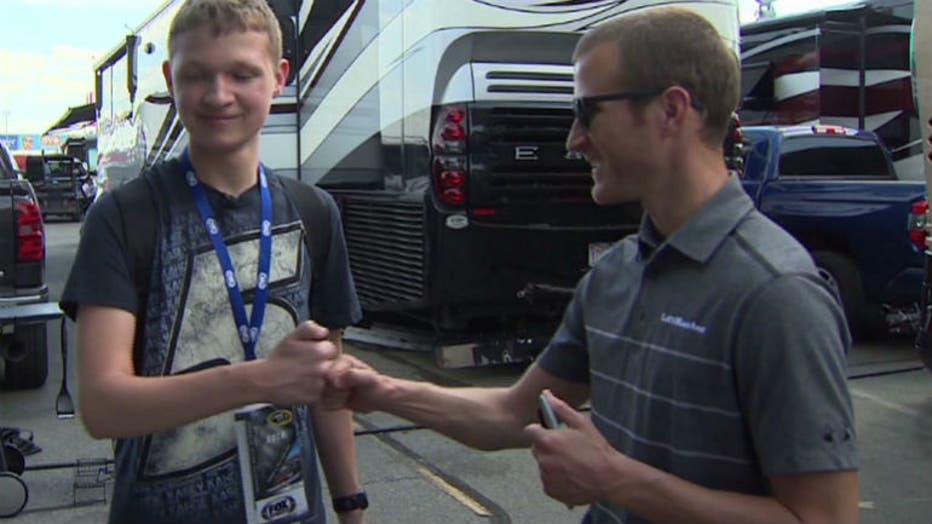 Monty Veres and Kasey Kahne


"That was also a surprise. I didn't know until the last minute," Monty Veres said.

"The first thing I thought of -- 'well, there's a size difference there over six years!' To see Monty light up like a top, like it was Christmas Day to see Kasey again, his racing hero -- it was great," Paul Veres said.

Monty even gave Kasey a Brewers uniform with his name and number on it. He knows everything there is to know about his favorite driver.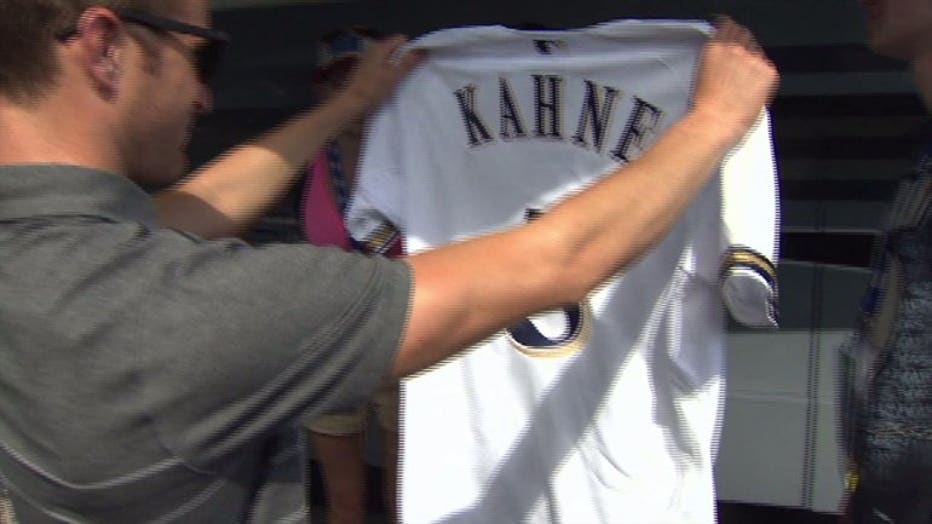 Kasey Kahne with Brewers jersey from Monty Veres


"He drives the 5 car and his sponsors are Farmers Insurance, Great Clips, LiftMaster, Pepsi Max. He hasn't won a race yet this year, but I hope he does later in the year," Monty Veres said.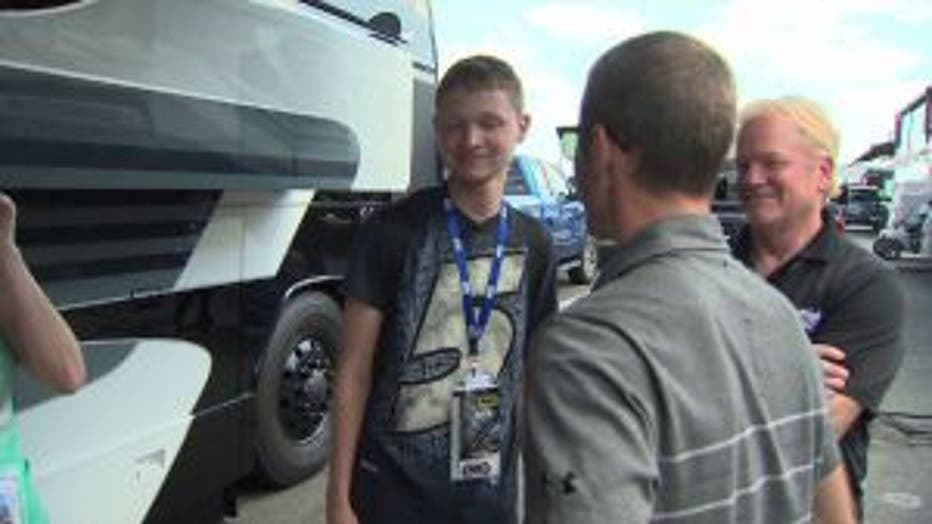 Monty Veres and Kasey Kahne


Kahne is Monty's hero, but Monty is a her too, because he's a young man with autism who has never let his challenge slow him down.

"It was like a full circle journey from the original autism diagnosis and what he maybe can and can't do to seeing how far he's come was really emotional. Monty, we could always tell that he had this drive in him to be so much more and he's our inspiration," Colleen Veres said.

"I'm able to just step back and see all of his success and that means a lot to me. He can stand up for himself and even sometimes for me. He's motivating me as a person to do what I want to do, and when I have hard days, I just remember that I have an amazing family and an amazing brother who's always there," Haley Veres said.

"From the first time that we heard him speak, to our trip in Charlotte, to his black belt -- just incredible, incredible steps that he's taken. It's a phenomenal journey," Paul Veres said.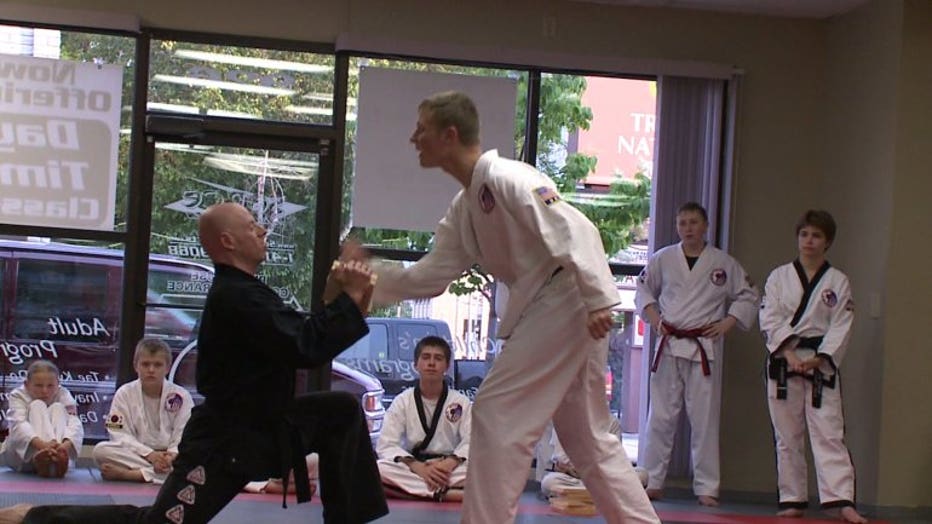 Recently, Monty Veres reached a milestone in his life when he earned that black belt in taekwondo. He'll never forget his first time breaking a board.

"I had to try multiple times to break that board. It was very hard, and people kept on cheering me on. It certainly did help me a lot to break my first board. It was truly one of the most thrilling experiences in my life, you know, to accomplish that goal. I had to be tested on my forms and I also had to break some boards. I broke four boards -- three of them on the first try. It was just fantastic for me to break most of those boards at the same time," Monty Veres said.

Monty has gained confidence from taekwondo, but he sees a bigger picture.

"It keeps moving me forward in order to accomplish all of those goals," Monty Veres said.

One of those goals is to become a member of a NASCAR driver's pit crew.

Monty Veres is driven to succeed, and if he motivates others along the way, the drive is even sweeter.

"For me to inspire everyone -- it's just awesome," Monty Veres said.

Both Paul and Colleen Veres want other parents of children with autism to know they are not alone. Colleen says it may be difficult to ask for help, but life changes once you do.

As for Monty -- along with meeting Kahne and earning his black belt, he also made the honor roll at school every quarter.