Wish granted! Dying man with cerebral palsy takes in Packers/Seahawks game at Lambeau!
GREEN BAY -- Josh McCall's final wish came true on Sunday, December 11th.

30-year-old McCall has cerebral palsy and is in hospice care after numerous surgeries and infections.

The below message was posted on a GoFundMe.com account established for McCall:

"Last year, some hard decisions were made and desperate attempts to give Josh a better life were futile.   After several surgeries and months of fighting infections Josh was recently placed on hospice."

He wants to be at peace -- but had one final wish.

"I wish that I would be able to meet players," Josh McCall said.

Despite living in Washington, Josh McCall's lifelong dream was to visit the Frozen Tundra. He wanted to meet the Green Bay Packers or Seattle Seahawks at Lambeau Field on December 11th -- and on Sunday, that wish came true!

"To watch his very first touchdown here at Lambeau Field, he was shaking like crazy!" said Jeff McCall, Josh's father.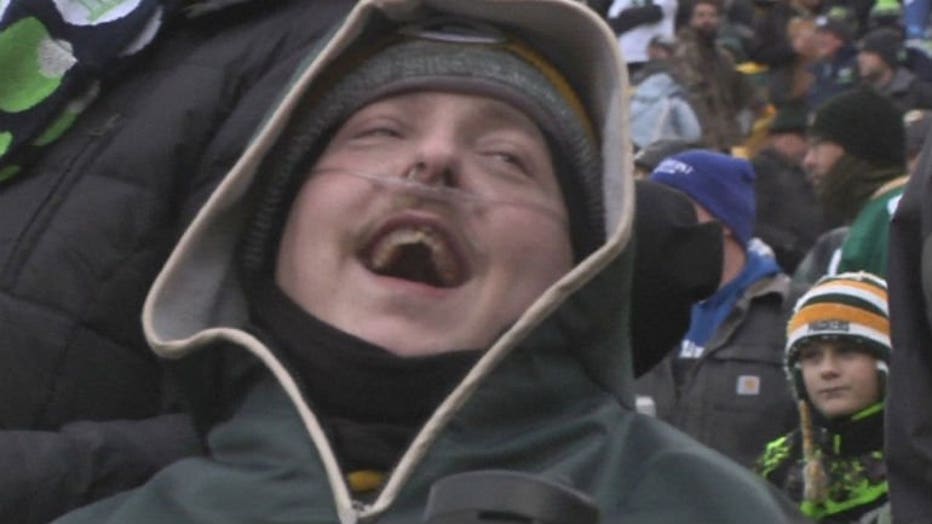 Josh McCall and his family arrived at Sea-Tac Airport Saturday, December 10th and flew out to Green Bay, arriving at Lambeau Field Sunday morning.

Taking in his first Packers game with a smile so big, Josh McCall got to his seat just in time to watch Davante Adams score for the green and gold!

His mom, Stacy McCall, said both the Seahawks and the Packers went out of their way to make McCall's final wish come true.

"He is very humbled by this because he has such a spirit of giving towards everybody else and he has always put everybody before him and this trip is all about him. He's fought hard this year, and just realizing that this will be his one and only time to be at Lambeau Field...I can't even believe we are here! It's going to take awhile for that to sink in," said Stacey McCall, Josh's mom.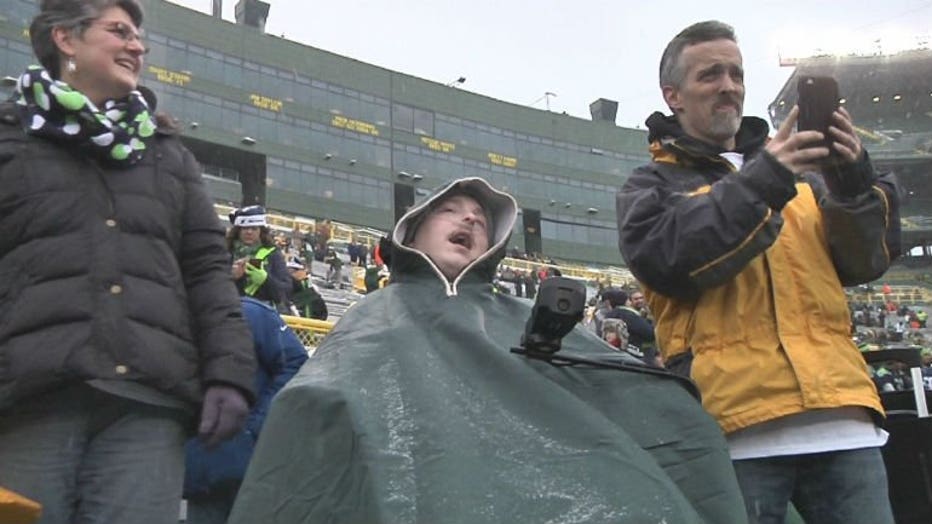 Josh McCall and family at Lambeau Field (PHOTO: WLUK)


Decked out from head to toe in his favorite green and gold attire, Josh McCall toured the Packers Hall of Fame with his family before the game. He made sure to stop and take pictures at an exhibit of his favorite player, Reggie White.

"He saw Reggie White play on TV and then saw him in a prayer cycle and watched a documentary on him and fell in love with Reggie White and the Packers," Stacey McCall said.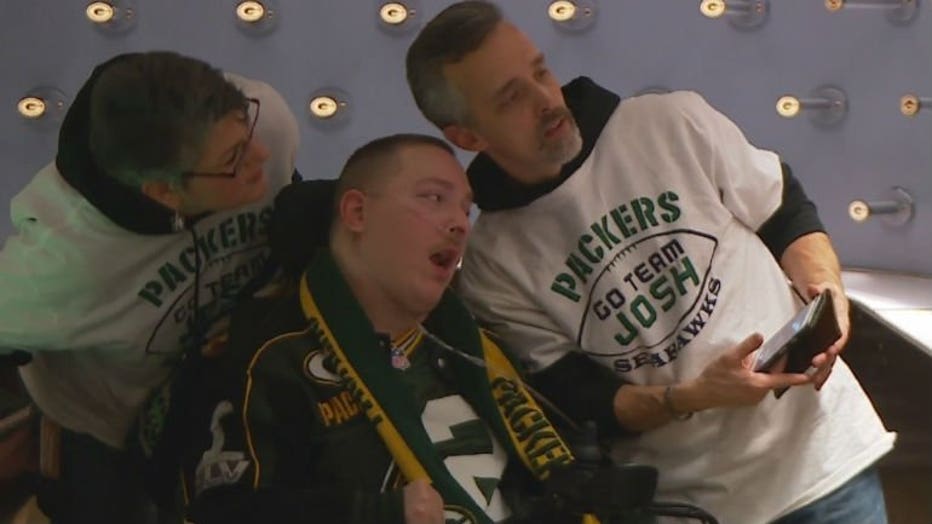 Josh McCall and family at Lambeau Field (PHOTO: WLUK)


One of the biggest highlights of the trip was watching warm-ups from the sidelines.

"He's been absolutely giddy through this whole thing; he's talking about how close he is to the actual field," said Jeff McCall.

On the way to his seats, Josh even met a few former Packers like LeRoy Butler and Ryan Longwell.

All the former players signed a cheesehead for him and posed for a picture.

"He was totally, totally blown away by that," said Jeff McCall.

It was a simple wish, really, for a guy who's been confined to a wheelchair his entire life, and has never complained.

"One of the things that has always touched my heart about Josh is that he always has a smile for everybody and a good word. He never gets upset. He's never gotten mad about his situation. He's never gotten down," Stacey McCall said.

Simply getting there would be a challenge.

"Everything is day by day. It could be six months, it could be a year, it could be next week. At this point you wait, wait, wait. Time is crunched right now, so we're just praying for a miracle that he makes it there and that we get back and everything's OK," Stacey McCall said ahead of the big trip.

The McCalls said the best part about this trip was seeing their son's big smile.

"Watching him laugh and smile and stuff is what every good parent dreams of, and being able to watch that with him today, and sharing this and just trying to document this as much as possible is just fantastic," Jeff McCall said.

"This is a memory for him that we will hold forever, and just getting to experience it with him finally is a big deal," added Stacey McCall.

Friends set up a Go Fund Me account to help Josh's family and caretaker pay for the trip expenses. Anything above that raised via this account will be used to make Josh McCall's time as happy as it can be.