"We can all do more to help:" NBA star Dwyane Wade gives back in big ways
MILWAUKEE (WITI) -- Do unto others as they'd do to you. It's a simple saying and one that former Marquette University star Dwyane Wade takes to heart.

For more than a decade, Wade has been bigger than life on the basketball court -- first at Marquette and then with the Miami Heat.

"God has given me this gift of life, you know to live life and to go places and meet different people and do different things," said Wade.

Part of that gift is his ability to stay close and have an impact on those who are currently following in his footsteps.

"I think it's great when you have a previous relationship with coach Wojo coming into it. So that makes it easier for me to be a part of the basketball program. Get an opportunity for our players to take a time out to come have a moment with me. He has a big job to do. That makes it easy for me to be a part of Marquette University," said Wade.

"Obviously we're very proud of you and all you've accomplished," said Michael Lovell, Marquette University President. "Obviously we know that Dwyane has had the highest level of success in his athletic career in the NBA and the Olympics. But I think what we're more proud of is the person that he is and his investment into the city of Milwaukee and Marquette University and really making a difference in the lives of youth today."

On a recent trip back to Milwaukee, Wade did more than just talk with the players on Marquette's basketball team. He teamed up with the university and its president to create a literacy program that will help young children in Milwaukee's central city.

"What the program is going to fund is the initiative called a "Live to Dream." And what it will do is during the summers, it will, to the near west side, children in the K thru 12 system to bus them to our campus and to get tutoring and to learn to read," said Lovell.

Through his Wade's World Foundation, Wade is giving $200,000 over three years to the Hartman Literacy and Learning Center and Marquette, which in turn, inspired the university to add to the total.

"We're committed to fund another three years and raise funds to make this a six-year commitment. So, the program will actually run from 2015 starting and go to 2020," said Lovell.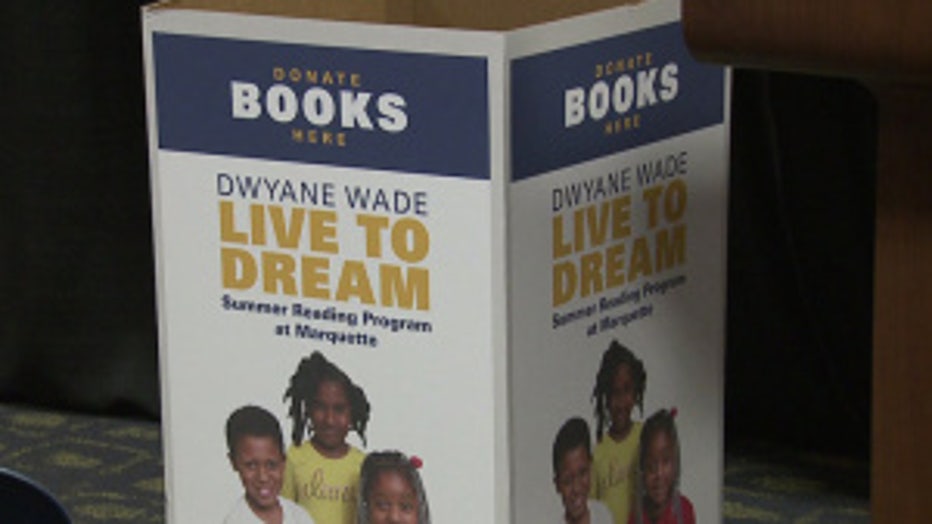 For Wade, having young children learn to read is very personal.

"I have a seven-year-old. He's, knock on wood, he's a very smart kid. He's excelled at a very young age. But, I also have a nephew that I took in and he's the total opposite," said Wade. "He came to us in the fourth grade on the kindergarten reading level. And at that moment for us, you know, it was red alert, you know that we had to step up."

So Wade created the Live to Dream Summer Reading Program in Chicago and later in Miami. Now, it's coming to Milwaukee, a community where some youngsters will be able to read how much bigger than life Wade really is.

"We can all do more to help, to help better certain communities and certain places. And that's all we're trying to do. We're one university. We're one foundation. But one person can make a difference. And we're just trying to make a difference," said Wade.

Wade and the university also hope businesses and others will donate money to the program so that it will continue. He feels helping our youth is helping our future as they become the leaders down the line.