Walker calls Bucks arena talks fluid, as new study touts economic impact on Milwaukee


MILWAUKEE — Governor Scott Walker says negotiations over a financing deal for a new Milwaukee Bucks arena are fluid, but he still hopes to have something to announce by the end of the week. This, as a new study by Marquette University estimates the new arena district would bring more than 2,000 permanent, non-construction jobs to Milwaukee.

Walker's office, team officials and state and local government leaders have been trying to hammer out a deal for weeks. Supporters say it would be cheaper for the state to build a new arena than it would be if they did nothing and the Bucks left Milwaukee.

Recent proposals had the state paying between $150 million and $220 million toward the project. Now, a source tells FOX6 News the state's contribution could be closer to $80 million -- $55 million in principal and the rest in interest.

FOX6's news partners at News/Talk 1130 say the city and county would provide $80 million.

FOX6's partners at the Milwaukee Business Journal say much of the city's contribution would be building a $35 million parking structure.

Walker says nothing that's been reported publicly so far has reached "an absolute conclusion."

Walker says the final proposal will be a "higher benefit to statewide taxpayers" than if there is no deal and the Bucks leave Wisconsin.

"This debate remains very fluid. It`s gotta go through different levels of government. I remain optimistic," Milwaukee Mayor Tom Barrett said.

Bucks officials have unveiled plans for a $500 million arena and $500 million sports and entertainment complex that would transform downtown Milwaukee. The entertainment district would be paid for mostly by private enterprises — but the arena requires public funding.

Bucks current and former owners have pledged $250 million towards the project. That leaves $250 million left in order to reach that $500 million goal.

The Metropolitan Milwaukee Association of Commerce is among those pushing hardest for a new Bucks arena in downtown Milwaukee. Steve Baas, MMAC's VP of government affairs says a new study by Marquette University should help win more support for the project.

"Everyone expected a big construction boom if we can get this done, but I don`t think people had a great idea of how many permanent jobs, non-construction, permanent jobs would be created by this project. When we have trade missions that go over to China, they know Milwaukee because of the Milwaukee Bucks," Baas said.

In addition to the jobs estimate, the Marquette study lays out the phases in which the sports and entertainment district would develop. First would come the arena, the parking garage, offices, bars, restaurants and the Bucks practice facility. Next would come a 300-bed hotel, along with more parking and retail space. The last phase includes more office and residential development, along with a new grocery store.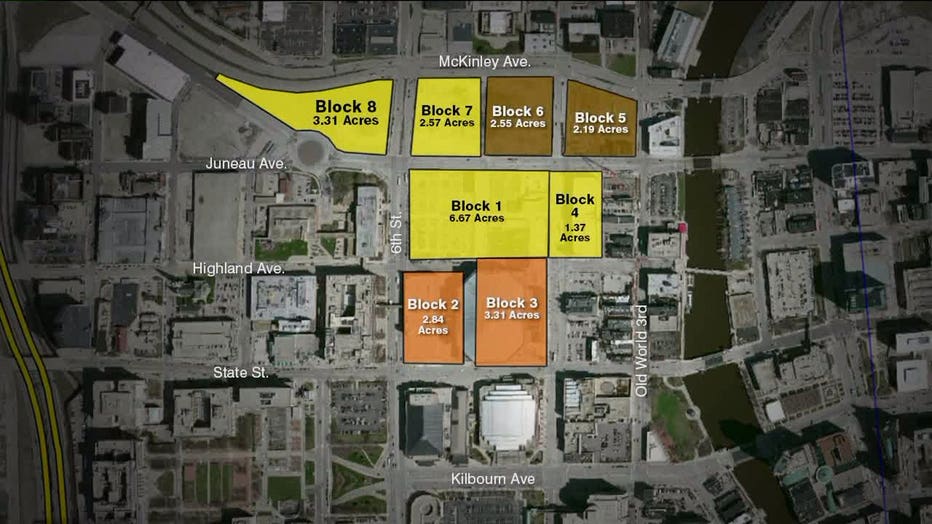 "I think this can be a neighborhood," local developer Blair Williams said of the vacant Park East property just north of the Bradley Center. "We should have offices here. We should have retail here. We should have a drug store, and a grocery store."

Mayor Barrett says one part of the ongoing talks involves determining where the city would be able to collect property taxes, since the arena itself will likely be tax-exempt.

"We`ve been very careful in looking at this to make sure that the area outside the arena proper would be taxable. That`s important for us," Mayor Barrett said.

Another concern is the amount of interest that would add up on the public funding.

"I think that`s something that`s important. Whether it`s done now or at a later stage, I wanna lessen that burden," Mayor Barrett said.

As talks continue, officials involved in those talks have long agreed losing the Bucks is not an option.

"We are one of 28 cities in the world that has this commodity," Baas said.

Governor Walker on Monday repeated his message that without an arena, the state would lose the income tax it gets from NBA players, and it would be on the hook for repairs to the Bradley Center, and the remaining $20 million in debt on the building.

"If we do nothing, we know we put a big hole in the next state budget and we`ve got a $100 million white elephant that the state`s responsible for because of the way the deal was set up for the Bradley Center in the first place," Walker said.

Under the current proposed plan, the state's contribution would be $80 million including interest -- less than the total Bradley Center obligations.

The NBA has said if a deal to a bring a new arena to the city is not in place by November 2017, the Bucks are gone.

"Let's look down on Milwaukee 20 years from now. What do we want our city to look like?" Williams said.