Timeless Ticket: A great gift for the ultimate Milwaukee Brewers fan
MILWAUKEE (WITI) -- For the Milwaukee Brewers fan who wants the ultimate gift, the Milwaukee Brewers are now offering a limited edition "Timeless Ticket" that guarantees a ticket to one future Brewers home game, including any postseason game.

The Timeless Ticket will consist of a brass ticket personalized with an engraving of the owner's name.
Only 1,000 of the items will be produced.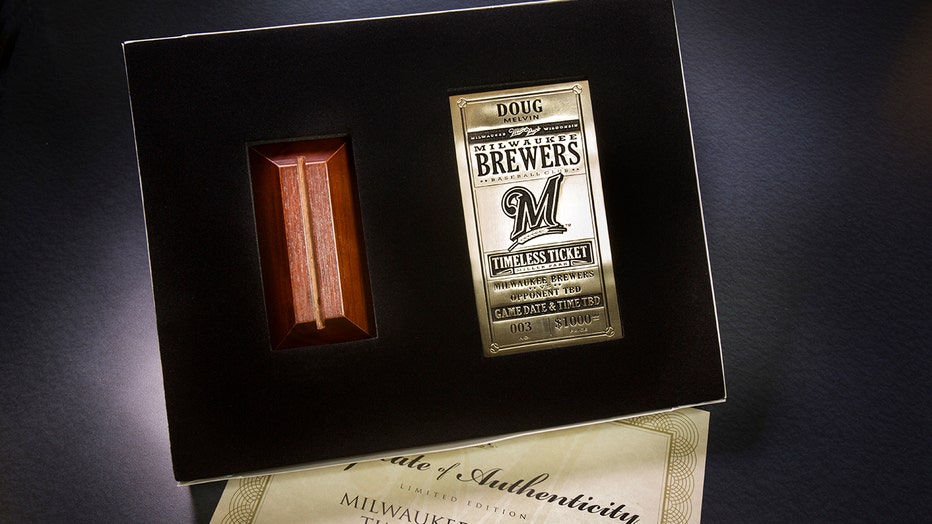 Additional facts about the Timeless Ticket: 


This unique opportunity allows the owner to redeem their Timeless Ticket for an actual ticket to any single future Brewers game at Miller Park, whether it's in 2015 or 2050 or whether it is Opening Day or the seventh game of the World Series.

To redeem the ticket, the owner just needs to contact the Brewers Box Office with their unique Timeless Ticket information as well as a photo ID and the date of the game he or she would like to attend. After redemption, the owner of the Timeless Ticket will keep the personalized brass statue to display. In addition, Timeless Ticket holders may purchase up to three additional companion tickets for the redeemed game at the single game box office price.
 
All ticket redemptions are subject to availability and owners of the Timeless Ticket are advised to contact the Brewers Box Office with their selected game as early as possible. Redemptions for the Timeless Ticket will be become available once dates for public ticket sales have been announced.

Fans may purchase the Timeless Ticket by calling 414-902-4609 or by sending an email to BrewersTeamStore@Brewers.com.