Thames hits walk-off home run, Brewers beat Padres 6-5
MILWAUKEE — Eric Thames hit the Brewers' first walk-off home run of the season in the bottom of the 10th inning, lifting Milwaukee to a 6-5 victory over the San Diego Padres on Friday night.

Thames hit his 19th home run of the season when he drove a 1-1 pitch from Ryan Butcher (3-3) off the top of the left-field fence. The ball bounced off the top of the yellow padding and into the Brewers' bullpen setting off a raucous celebration at home plate.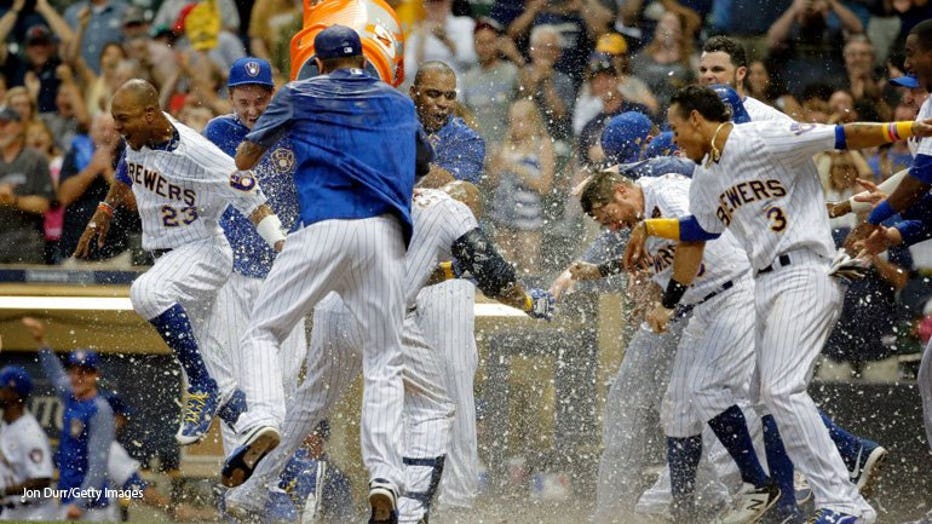 MILWAUKEE, WI - JUNE 16: Eric Thames #7 of the Milwaukee Brewers (C) is dunked after hitting a walkoff home run against the San Diego Padres during the tenth inning at Miller Park on June 16, 2017 in Milwaukee, Wisconsin. The Milwaukee Brewers won 6-


Jared Hughes (3-1) retired the side in order in the top of the 10th, helping the Brewers match their season-best four-game winning streak for the third time.

Manny Piña tied the game in the bottom of the eighth with a solo shot off Kirby Yates. Yangervis Solarte had just put the Padres ahead 5-4 in the top of the inning when he muscled a 2-2 pitch from right-hander Jacob Barnes just over the fence in right.